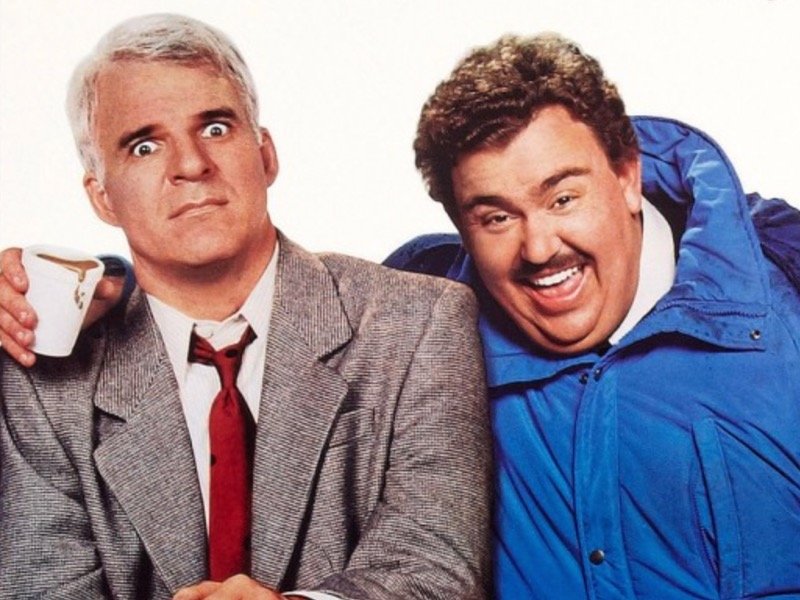 Give thanks for these five solid Thanksgiving movies
Thanksgiving gets none of the fun. Yeah, it gets football games and big delicious meals, but after Halloween (heck, before Halloween these days), Christmas gets all the spotlight. It becomes the loud party guest, hogging all of the attention, TV specials, special songs, movies and eggnog. Meanwhile, Thanksgiving sits quietly in the corner, watching his fellow holiday make a loud, garish spectacle of itself.
Every now and then, though, a Thanksgiving movie squeezes through all the Christmas craziness and makes its way into theaters. Here are five Thanksgiving-themed movies that are certainly worthy of giving thanks (and a Netflix rental).
"Planes, Trains and Automobiles"
Christmas may have a whole stockpile of cinematic classics ("A Christmas Story," "National Lampoon's Christmas Vacation," "The Grinch Who Stole Christmas"), but Thanksgiving has one undisputed reigning film champion: 1987's "Planes, Trains and Automobiles." It's funny, sometimes scathingly so (Steve Martin's car rental tirade is so profanity-laden, even "Bad Santa" would blush), but it's also remarkably sweet, charming and relatable. In other words, it's exactly what you would expect from a John Hughes movie.
Martin and Candy make for a dynamite comedic pairing as well, especially Candy. We should hate his character for all of his wildly destructive hijinks, but his sweet-natured charm and massive on-screen heart make him impossibly lovable. It's a balance that few of "Planes, Trains and Automobiles"' imitators ("Due Date" for instance) have managed to find. Maybe that's why it stands alone as the king of Thanksgiving movies.
"Hannah and Her Sisters"
OK, so only about 20 minutes of "Hannah and Her Sisters" takes place on Thanksgiving. But Woody Allen's film does feature not one, but two Thanksgiving meals, and they provide the all-important bookends to the prolific writer/director's web of gracefully intertwined family dramas.
Not only are the storylines all equal parts biting, sweet and rollickingly funny, but they're acted out by a massive, immensely talented cast. Barbara Hershey, Michael Caine and Dianne Wiest are all excellent, as well as Mia Farrow, Max von Sydow and of course Woody Allen, the walking neurosis. Even the bit roles feature stars (John Turturro, Julia Louis-Dreyfus, Sam Waterston) and ultra-capable character actors (Richard Jenkins, J.T. Walsh). Yet despite all the numerous plots and big names, Allen finds a way to get into the characters' heads, providing the kind of drama, humor and heart one expects around the holidays.
"The Ice Storm"
Ang Lee's 1997 dark family drama certainly isn't the kind of movie you gather the family around the television and watch for heartwarming sentiment. It's no surprise that it technically flopped when it first hit theaters. With sex, drugs, alcoholism, adultery and death all making an appearance, it's definitely a Thanksgiving movie for cynics and film connoisseurs.
Not that there's anything wrong with that. As expected from the director of "Crouching Tiger, Hidden Dragon" and most recently "Life of Pi," the film is gorgeously shot. Lee also gives "The Ice Storm" a suitably chilly tone that matches the frosty family relations but still keeps the audience emotionally intrigued. It's more depressing than most holiday movies (though a death late in the film edges close to "Final Destination"-esque silliness), but what's wrong with a little dark meat to go along with the lighter stuff? I'm really hungry.
"Pieces of April"
This might blow your holiday-themed socks off, but before Tom Cruise made her a tabloid mainstay, Katie Holmes was an actress. Stunning, right? It's too bad because she's not a horrible actress either, particularly in the sweet little 2003 indie charmer "Pieces of April."
As an estranged daughter attempting to make peace with her family by hosting Thanksgiving dinner, she makes for a surprisingly strong lead, finding the character's soul while also being pretty adept with the comedy. It also helps to have a terrific, Oscar-nominated supporting performance from Patricia Clarkson as April's sardonic cancer-stricken mother. Together, the two hold up Peter Hedges' directorial debut, making it as a warm and satisfying as a big spoonful of buttery mashed potatoes. Seriously, I'm so hungry.
"Grindhouse"
About two minutes of Quentin Tarantino and Robert Rodriguez's 191-minute opus to sleazy cinema is dedicated to Thanksgiving. They arrive in the form of the predictably titled "Thanksgiving," a short fake movie trailer for a grotesque horror movie featuring a murderous and depraved pilgrim.
And what a wildly entertaining two minutes of absurdity they are. Coming from Eli Roth, the writer/director behind the "Hostel" films, it's pretty much a guarantee that good taste isn't going to make an appearance. Still, the fake trailer packs its short runtime with ridiculous, devilishly comedic moments. It served as the perfect little holiday-themed treat, splitting up "Grindhouse"'s equally fun main stories of B-movie entertainment, gleeful gore, graphic dismemberment, bloody murder and oozing, decomposing zombies.
You know what? I'm not hungry anymore.
Talkbacks
TOJU | Nov. 23, 2012 at 2:09 p.m. (report)
*How about "HOME FOR THE HOLIDAYS" starring Holly Hunter, Robert Downey Jr, Anne Bancroft, Charles Durning, Dylan McDermott, Geraldine Chaplin, Steve Guttenberg, Claire Danes. http://www.imdb.com/title/tt0113321/
Facebook Comments
Disclaimer: Please note that Facebook comments are posted through Facebook and cannot be approved, edited or declined by OnMilwaukee.com. The opinions expressed in Facebook comments do not necessarily reflect those of OnMilwaukee.com or its staff.