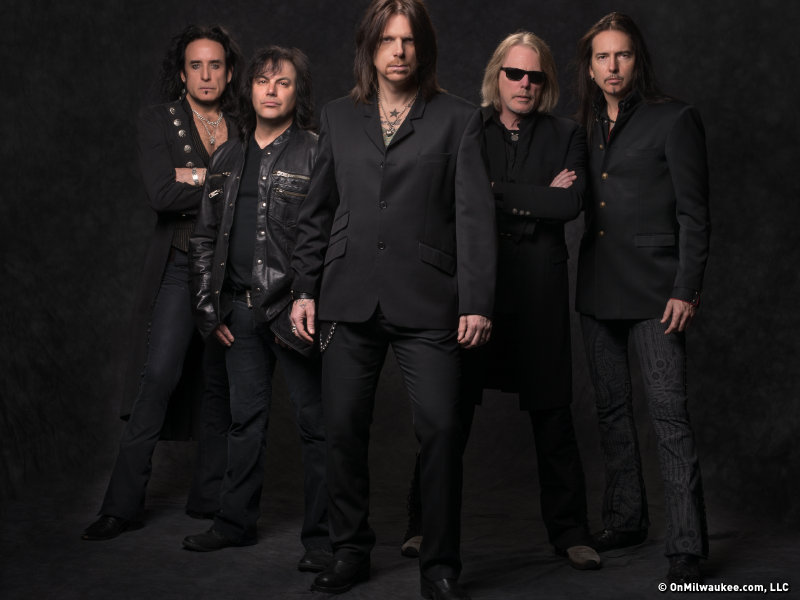 Black Star Riders roll into Milwaukee for victory lap
There's always a certain amount of risk in making a bold move.
After three years of touring the world, quite successfully, as the latest incarnation of hard rock legends Thin Lizzy, the easy thing for the band to do would be to soldier on, banking on the equity of the Lizzy name and a worldwide fan base.
"It was going great," says vocalist Ricky Warwick. "But we got to a point where after three years of solid road work, doing more than 300 shows as Thin Lizzy, we had basically played everywhere."
During that stretch, original Lizzy guitarist Scott Gorham made a number of public statements about the band planning to record and release new material in the near future.
"We took a break and started messing around with some demos and it was at that point that original Lizzy drummer Brian Downey and longtime keyboardist Darren Wharton decided to bow out of the new album and the roadwork required to support it," says Warwick.
It was a pivotal moment for the band.
"We decided to change the name of the band out of respect for Phil (Lynott, Thin Lizzy founder, bassist, lead vocalist and primary songwriter, who died in 1986) and the legacy. It just didn't feel right recording new music under the Thin Lizzy moniker after 30 years. It didn't sit right with anybody and the four of us decided to carry on with the name Black Star Riders."
Warwick continues, "I really wanted my name on a Thin Lizzy record, but asked myself, as a fan looking in on this, how would I react? Playing the songs live all over the world for young fans or people that may not have had a chance to see Phil and Thin Lizzy is one thing – but recording a new Thin Lizzy record without Phil on it – it just isn't right."
Certainly a tough decision, but one that seems to be paying off for Black Star Riders: Marco Mendoza (bass), Jimmy DeGrasso (drums), Ricky Warwick (vocals), Scott Gorham (guitar) and Damon Johnson (guitar).
They make their first Milwaukee appearance as Black Star Riders on Thursday, May 29, at Turner Hall.
"It was a big step – we had a record deal on the table with Nuclear Blast and obviously, on the name Thin Lizzy alone, that record was going to sell before people have even heard it," says Warwick. "Then suddenly, we pick up the phone and let the record company know that we're going to be doing the record under a different name … But they got it, they stayed with us."
Produced by hard-rock guru Kevin Shirley, "All Hell Breaks Loose" debuted last year and entered the Billboard Heatseekers chart at no. 5 and hard rock chart at no. 19.
Over the past 12 months, supported by steady touring by the band outside the US, the record has sold extremely well and built a solid following for this "new" band.
"Now we're in a situation where nobody can really have a pop at us anymore," says Warwick. "We can still go out and play Lizzy songs live, which we do, but the new Black Star Riders material has made the trolls out there (who criticized the band for leveraging the Lizzy name) go away."
The new BSR material has the tonal quality, texture and attitude that allows it to stand perfectly alongside Thin Lizzy classics and the band splits its live sets between the two.
"I'm blessed to share the stage with four guys who are amazing musicians, amazing performers and great people – it's a helluva show, it really is. We're still getting a good number of people coming to check out the Lizzy tunes, but many are there primarily for the new material."
Somewhat parallel to the original Thin Lizzy's career arc – Black Star Riders are big worldwide, but are still a bit of an unknown quantity here in the US. They started last year playing before hundreds of thousands of fans at the largest festivals in Europe, but are now moving on to small venues on their first tour of the US.
"We can take nothing for granted – we're a new band, albeit with a lot of old hands, but we understand we've got to go out and earn it – show people what we can do. That's fine. If we need to go out and play clubs, we're there. We love playing live and we're all up to do that."
After the U.S. tour and some U.K. and European dates this summer, the band will head into the studio in Dublin in October to work on their second album with Def Leppard vocalist Joe Elliott as producer.
"Joe's a great musician – not just a great singer, but a great guitarist, piano player and a great songwriter. It will be like having an extra guy in the band when it comes to arrangements, melodies. Sonically as well, he knows his stuff and will bring a wealth of experience to the process. It will be a lot of fun and I think we'll get some great songs and a killer album at the end of it."
For Black Star Riders, it certainly looks like the rewards were more than worth the risk.
Facebook Comments
Disclaimer: Please note that Facebook comments are posted through Facebook and cannot be approved, edited or declined by OnMilwaukee.com. The opinions expressed in Facebook comments do not necessarily reflect those of OnMilwaukee.com or its staff.