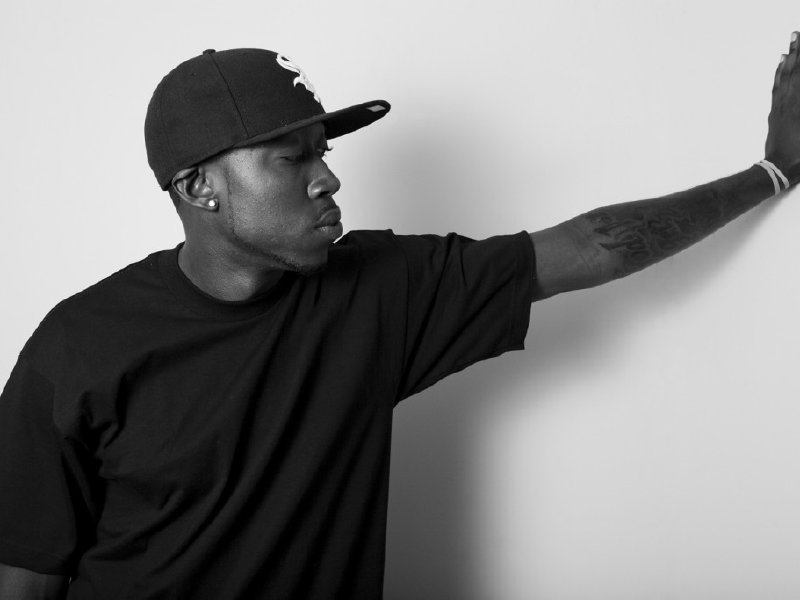 Freddie Gibbs channels the spirit of original gangster rap
If you ask somebody what they know about Gary, Ind., you'll probably get similar answers:
It's by Chicago.
It's a poor and violent city.
They have a lot of dirty industry there.
The Jackson family is from there.
If you ask a Milwaukeean, they might tell you that former Milwaukee Buck Glen "Big Dog" Robinson is from Gary and from a dedicated Brewers fan they might tell you that LaTroy Hawkins is from Gary.
Unfortunately, it is entirely possible that the average American couldn't give you any other information beyond that, beyond highlighting its violent past and present.
Gary, Ind., is absolutely a tough city and a city that is continually decaying as more and more industry moves elsewhere, government officials are indicted, the tax base shrinks and the city's debt grows.
A man who knows the struggle of life in Gary is aspiring gangster rapper Freddie Gibbs, a native of the city.
Gangster, a word that is misused quite often in modern rap music, truly applies to the genesis of the sub-genre and not the commercial recycling of a shock value platform infused with dance club beats. The music that is described in the latter is imitation by and large, because once N.W.A. showed violent rap music to be a financial success, the impostors would soon follow to quench the thirst for the new style of music that made parents insane with rage.
Gangster rap, when truly examined around its immediate origin, can be vile and disturbing. However, it can also be political and those topics that are vile and disturbing, when exposed as they are in gangster rap, rip society's collective head out of the sand to see the issues of the "inner city."
N.W.A.'s "F*ck The Police" exposed the strife caused through the beating and harassing of black youths in Los Angeles by the police who were given free reign to accost any person of color because they might be in a gang.
Dr. Dre's album "The Chronic" detailed the frustration of Los Angeles' black population after the acquittal of the police that viciously beat Rodney King.
Ice Cube's album "AmeriKKKa's Most Wanted" might have been the most dangerous album of that time period, as it showcased political awareness and aggressiveness towards the infrastructure and had the backing of New York's most important political rap group, Public Enemy.
But, dangerous to whom? The powers that be that continued to push Black America into a corner at that time, or those that they believed were doing so?
This was the era of crack cocaine permeating itself into every corner of urban America. This was the era of Reaganomics. The late '80s and early '90s were a very volatile time, and gangster rap was the product of the difficult conditions.
Fast-forward to the 2000s, and after sifting through all of the music that is considered gangster, it's difficult to come by artists that carry the same message and authenticity of the original form of the sub-genre.
Freddie Gibbs is one of the few artists that will remain after the inauthentic are taken out, and his albums "Str8 Killa" and "The Lord Giveth, The Lord Taketh Away" are a testament to him being a torch carrier for the music created by The Geto Boys and N.W.A.
Gibbs, a rapper that admits to having lived a life of crime, does not take pride in it, nor does he glamorize it. His attitude is very straight-forward about it, that it was purely an issue of survival and that they were not actions brought about by some strange desire to be Al Pacino's character in the Brian De Palma film "Scarface," as so many of the "gangster" rappers try to convince the public that they are.
One thing that he does take pride in, even if it wasn't the happiest of places with all the benefits of a bustling city, is the fact that he's from Gary and that's the same pride that he puts into the making of his music.
"I mean, it made me who I am, it's where I'm from so I'm a product of that. So it's like, you know, I just gotta go with what I feel when I'm making music, you know what I mean? It's just that whole blue collar mentality from that town. I just put that into my work ethic."
Though he's proud of where he's from, it doesn't mean he has on any blinders to Gary's continually rising problems.
"It's just a steady decay. I mean you see it. It's hard to look at. It's definitely uninspiring, you know what I mean? It's like no opportunity, so it's definitely tough growing up there. But what I did, I just used that negative energy that I draw from the city and turned it into something positive."
The positive being the move to music and using his work ethic to build a status that attracted platinum rapper and label head Young Jeezy. Another positive is the same as the positive of early gangster rap: exposure. His music exposes the lifestyle so many are living in, not only Gary, but in other decaying industrial cities around the country.
However, though rapping may be on the positive end of his personal spectrum, you quickly learn that he isn't exactly where he wants to be yet as his connection to the struggle of Gary – through friends, family and even himself still – is still looming over him.
"I mean, it's even hard for myself, you know what I mean? Rap ain't all that pays my bills. Sometimes I had to get out here and do things that I wasn't pleased about doing. But uh, I know they're just doing what they got to do to survive. It's tough out here, so I don't judge no more, you know? To look at they situation, you know, look at some of the things they got to do, I can totally understand it 'cause I've been there before."
As previously mentioned, the state of modern "gangster" glamorizes the criminal life, but Gibbs is quick to dissuade the youth from following the lies and even offers advice.
"Look for some kind of route. You definitely don't want to do the things that I had to do to coming up, you know what I mean, to eat. You don't want to do that your whole life. Every day is a risk and I don't wanna take them risks every day. Life's too short."
Gibbs is currently on tour with the aforementioned Young Jeezy, who brought Gibbs out on tour with him as his newest signee to his Corporate Thugz Entertainment label. The tour will be in Milwaukee this Friday at The Rave, and Gibbs, who is more used to smaller clubs and performing with smaller acts, admits that being Jeezy's opener is a tough job.
"It ain't easy cause you gotta go out right before him, and you know, rock fans that don't know you so you kinda gotta win them over. And then there are some people in the crowd that do know you, so you just rock with them and thankfully you gonna be introducing yourself to people from all over again. I did my own tours and my own shows, you know that's like my fan base, you know what I'm saying? My fan base be at those shows, but they rock. But, you know what I mean it's like now, I'm like grabbing a bigger and broader fan base so it's like I'm starting at square one and trying to win people over. But it's all in a day's work and I've been rocking every show of the tour so it's been good."
After being on tour with Jeezy for a little while now, Gibbs does draw some inspiration from his boss.
"You can't do nothing but, you know, draw some type of inspiration from a guy that's, you know, a platinum artist. You know, if you don't, I'd be wasting my time."
What can fans expect from Gibbs section of the show?
"For the most part, ain't nothing really changed from like when I do my own sh*t. I still bring that same energy, that same spit. You know, just basically showing people my ability, you know what I mean? Just get out there and move the crowd."
Facebook Comments
Disclaimer: Please note that Facebook comments are posted through Facebook and cannot be approved, edited or declined by OnMilwaukee.com. The opinions expressed in Facebook comments do not necessarily reflect those of OnMilwaukee.com or its staff.