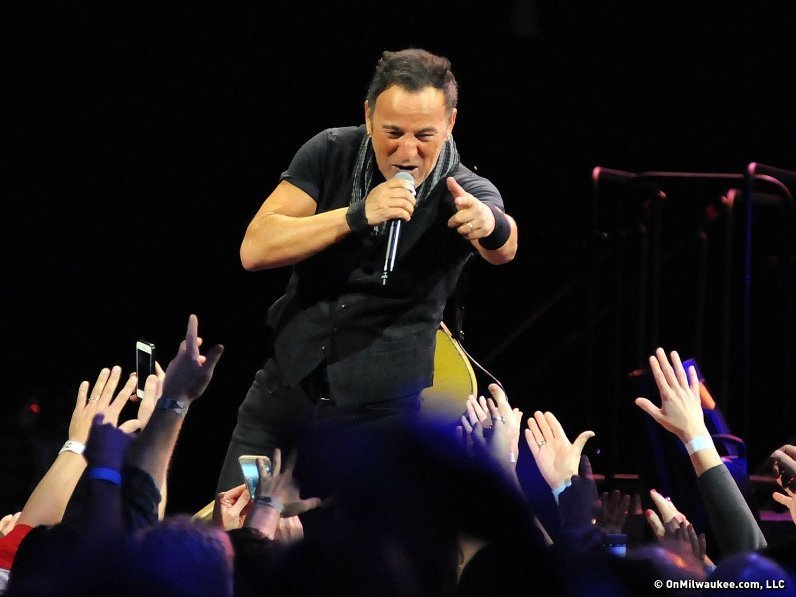 The Final Four: Who will be the final Summerfest headliners?
Last summer, we here at OnMilwaukee compiled a "wish list" of acts we thought would be perfect for celebrating a half-century of the Big Gig in Milwaukee.
So far, we're batting .000.
There's Tom Petty and the Red Hot Chili Peppers, Zac Brown and Luke Bryan, Pink and The Chainsmokers on the schedule, but no Adele, no Beyonce, no Boss, no Madonna, no U2, no Coldplay or any of the other blockbuster acts we'd had on our list.
But does that mean we'll finish without putting the ball in play?
Maybe so.
The problem as I see it for Bob Babisch and Summerfest – if you can call it a problem – is that they overachieved the past two years. Two years ago Bob booked The Rolling Stones.
The. Rolling. Stones. At Summerfest.
How could he ever hope to top that?
Well, last year he booked Paul McCartney. A Beatle. Not just A Beatle.
Paul. McCartney. At Summerfest.
How could he ever hope to top THAT?
Honestly, short of bringing John Lennon back to life or rousing Elvis and Hendrix from their rural Michigan hidey-holes, it's arguably an impossible task. And that's why our wish list – which wasn't so much who we personally want to see – was basically a long recitation of some of the biggest names in pop music.
The only way to top Mick and Macca is with sheer volume.
That's why I'm standing by our list. While the headliners so far make for a respectable Summerfest amp lineup, Summerfest 50 needs to be as much Big Bang as Big Gig.
There are four slots left and the obstacle that Bob Babisch faces is the same as ever: availability (that is, competition from European festivals, limitations like radius clauses preventing concerts too close to other nearby concerts, etc.)...
Bruce Springsteen doesn't have any dates on the books anymore this year ... yet. He wrapped up a down under tour last month, but at the moment, he appears to be wide open in June and July. Just sayin.
I really want to say U2, but I don't see it happening. They're already booked in the U.K. for two of the remaining open Amp dates and are surely traveling or resting for that trip for a third. The last one, June 30, falls between two already-booked dates and is most likely a travel day.
Alas, Coldplay is in Europe, too, during Summerfest.
Madonna, on the other hand, just wrapped up her own Aussie tour this past weekend. So, she's road-ready and at least publicly, her calendar looks open.
Garth Brooks? He's been playing pretty regularly the past couple years. Not an intensive tour but a long-running simmer of dates. These keep coming and nothing's been announced yet as far out as June/July, so it's a real possibility.
Taylor Swift is apparently not touring this year, and there's been speculation about a Katy Perry jaunt, but no solid news.
Justin Bieber is touring later in summer, but has one gig booked during Summerfest – in Texas – but is otherwise available. So mark him as "possible," though his currently booked shows are all in stadiums.
Lady Gaga, who is performing at Coachella, has a handful of August dates slated, so she's another with potential.
Bruno Mars is on the road this summer and free during the Big Gig, but he's in Chicago in August and that radius clause might kick in and put the kibosh on Brew City. Call him maybe.
Meanwhile, while Adele has U.K. gigs during Summerfest, she's tantalizingly free after a July 2 Wembley gig. Three of the remaining Amp gigs are July 7, 8 and 9. BUT! The singer recently said she's sick of touring and has referred to the Wembley gigs as "The Finale."
So, to go out on a limb one more time, I'm going to say we can make this a blockbuster with gigs by Bruce, Madonna, Garth and either Lady Gaga or, potentially, Bruno Mars.
Just please don't let it be Elton John.
Who's with me?
– Matt Mueller contributed to this article.
Talkbacks
zima927 | March 29, 2017 at 8:00 a.m. (report)
What's the routing like for Beck? I'd love to see him live (it's been a while), though he seems to prefer the festivals in Europe during the summer. Could this be the year we snag him for Summerfest?
mbradleyc | March 29, 2017 at 12:34 a.m. (report)
None of those bands appeal to me anyway.
Facebook Comments
Disclaimer: Please note that Facebook comments are posted through Facebook and cannot be approved, edited or declined by OnMilwaukee.com. The opinions expressed in Facebook comments do not necessarily reflect those of OnMilwaukee.com or its staff.