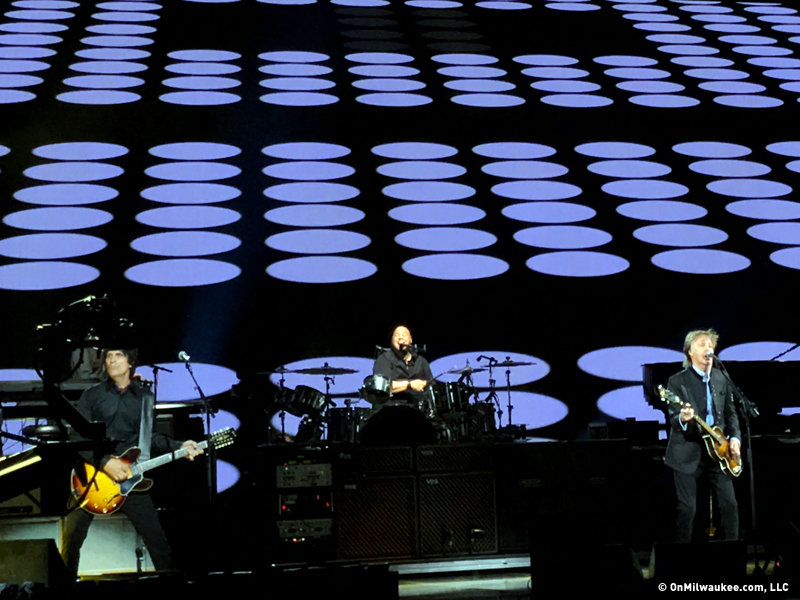 Third time's a charm for this McCartney fan
In the past couple years, I went from being the huge Beatles fan who, rather inexplicably, had never seen Paul McCartney live, to being the guy who has now seen him on stage three times.
So what if the set he played Wednesday night at the Hollywood Casino Amphitheater in Tinley Park, southwest of Chicago, was nearly identical to the one performed last year at Summerfest?
Both were pretty different than the set Macca played when I first saw him at Miller Park in 2013. And, anyway, who the hell cares? I drove 2.5 hours each way on a weeknight to see a Beatle I'd seen twice before and, you know what? I'd do it again.
The show was the second of a two-night stint at the venue, and part of McCartney's ongoing "One on One" tour, which began in April 2016 and has included – or will have included by the end of 2017 – around 50 North American shows, as well as gigs in Europe, Asia, South America, Australia and New Zealand.
The fact that the Summerfest gig was part of the same tour helps explain why the set list was virtually the same. McCartney's been playing basically the same 38 or 39 songs at each one of the gigs – and telling some of the same stories between songs – occasionally flipping out, say, "Junior's Farm" for "Save Us" and "Jet" for "Letting Go." Sometimes, as at the Big Gig last year, he adds "Birthday" the encore.
In a roughly three-hour show Wednesday night he choose "Junior's Farm" and "Jet" and eschewed "Birthday."

As at Summerfest last year, he did "FourFiveSeconds," his 2015 collaboration with Kanye West and Rihanna, as well as two songs, including the title track, from 2013's "New."
There was a smattering of Wings material and a whole lot of Beatles music, including "I Wanna Be Your Man," which he did not perform here last year.
Let Me Roll It. @PaulMcCartney pic.twitter.com/qYXZIhLOrU

— Bobby Tanzilo (@BobbyOnMKEcom) July 27, 2017
The one mild surprise for me was that McCartney played nothing from 1989's "Flowers in the Dirt," which just got a major reissue treatment earlier this year. Because he's got such a back catalogue to mine for his set lists, I didn't expect to see a focus, exactly, but thought perhaps he'd throw a song in as a chance to push the record.
Then again, he's Paul McCartney and has that wealth of songs from which to choose – and surely no cash flow issues – so he's one of the few artists who's been freed from doing any such onstage promo.
He did, however, play two songs from 1967's landmark "Sgt. Pepper's Lonely Hearts Club Band," which turned 50 this year and was celebrated with a special edition reissue of that Beatles classic. But, he'd have done those anyway (he did 'em last year, after all).
After a couple of false starts early on – including in the opening of the first song, "A Hard Day's Night," which led Sir Paul to quip, "This really proves we're live" – McCartney's band, as always, was top-notch in both musicianship and showmanship.
The light show was a great complement to the music, creating backgrounds often as stunning as the sound coming from the stage.
With his voice in great shape and his 75 years barely showing – he puts on an energetic and lengthy show – McCartney doesn't appear to be slowing down at all. And that's great, because I hear that the fourth time can be the best of all.

First album I ever bought with my own money. $1.99 at Backstreet Records on Kings Highway in Brooklyn. @paulmccartney @thebeatles pic.twitter.com/zl4LmN73NY

— Bobby Tanzilo (@BobbyOnMKEcom) July 27, 2017
Set list
A Hard Day's Night
Junior's Farm
Can't Buy Me Love
Jet
Temporary Secretary
Let Me Roll It
I've Got a Feeling
My Valentine
Nineteen Hundred and Eighty-Five
Maybe I'm Amazed
We Can Work It Out
In Spite of All the Danger
You Won't See Me
Love Me Do
And I Love Her
Blackbird
Here Today
Queenie Eye
New
The Fool on the Hill
Lady Madonna
FourFiveSeconds
Eleanor Rigby
I Wanna Be Your Man
Being for the Benefit of Mr. Kite!
Something
Ob-La-Di, Ob-La-Da
Band on the Run
Back in the U.S.S.R.
Let It Be
Live and Let Die
Hey Jude
Encore:
Yesterday
Sgt. Pepper's Lonely Hearts Club Band
Hi, Hi, Hi
Get Back
Golden Slumbers
Carry That Weight
The End
Facebook Comments
Disclaimer: Please note that Facebook comments are posted through Facebook and cannot be approved, edited or declined by OnMilwaukee.com. The opinions expressed in Facebook comments do not necessarily reflect those of OnMilwaukee.com or its staff.