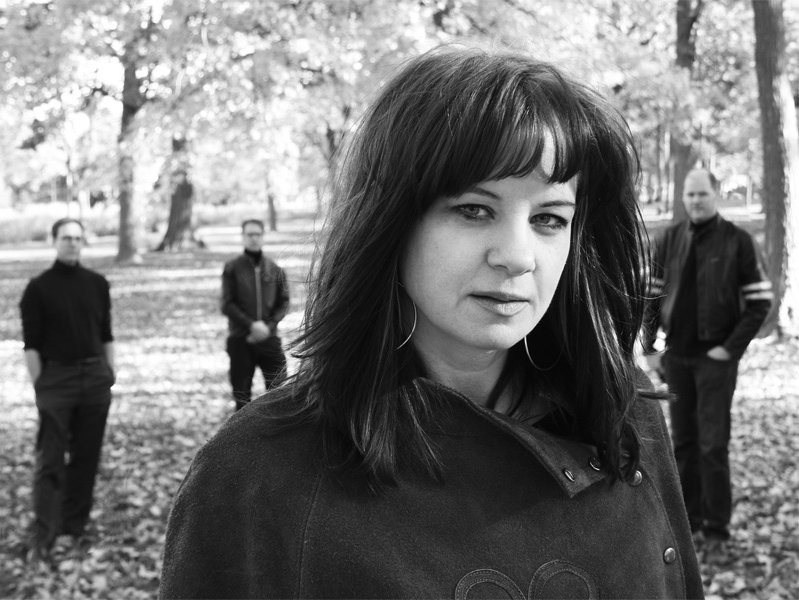 Low-pressure Testa Rosa creates high-energy pop
(page 2)




OMC: Did you start the record at Smart and finish at Howl? Did that transition -- and/or the personnel stuff -- affect the final product in any way?

DS: We began recording the first half at Smart and were about 75 percent done when we got the news of the closing. Needless to say we were really saddened by it. That studio definitely holds a special place in our hearts. Beau (Sorenson) and Mike (Zirkel) were always so comfortable to work with.

When things started to wrap up there, we realized we had about a half dozen more songs so we took four of them to Howl Street Studios with Shane Hochstetler -- another really gifted, patient engineer. Howl is about a half mile from our house and the convenience of working in Bay View was really nice.

With Shane being a drummer he has a way of micing and recording drums that is amazing. Then the remaining two songs were recorded by Beau right in our basement. He brought in a suitcase full of mics / gear, set up shop and got some great sounds. It was really perfect for those two particular songs ("Cavalier Mystere'" and "Carpet Cube"). I don't know if we would have been able to achieve sonically what we were looking for with some of the "bigger" sounding songs in our basement.

Smart had a live room with plate and spring reverbs that really suited our sound. But all in all, I don't feel that the record sounds disjointed at all. I think both producers / engineers really understood what we were trying to achieve and approached it in their own way.

BBS: Smart had really become this sort creative retreat for Testa Rosa and we were all very comfortable working with Beau. I guess if there is any silver lining with Smart closing, it was learning that it wasn't all just a fluke and that, with any luck, I could feel at home in another studio, too. Of course, like the songs, each producer has their own sound and style and we were insanely lucky to have them both nearby. Actually, I think we might be dealing with two flukes here.

OMC: Obviously, this is the second record, but why the name "II"?

DS: "Queen II," "Pretenders II," "Led Zeppelin II," "Van Halen II," "Chicago II." Perhaps we'll adopt the Chicago model and name them all numerically / chronologically. "Testa Rosa VIII." At our rate, that'll come out in 2029.

BBS: Some people might think that is pretentious, but to me it's the opposite -- more like a document; a record in the true sense of the word. A time capsule, a volume... It's like, why would anyone name a photo album? "This one is just the first one, but this second one is called.. 'Shades of Something I Want You to Think It Is'." Darn, I actually kind of like that as an album name.

OMC: How is that Testa Rosa still feels a bit like a secret even in Milwaukee? How are we gonna blow this thing up internationally?

DS: I guess we've taken a bit of a hiatus but like I said earlier, we're pretty low-pressure as far as our agenda goes. We probably don't apply as much pressure as we should when it comes to promoting, etc. I think this new record has given us all a bit of a shot in the arm. We're all itching to play again and it's exciting.

BBS: So, you haven't seen the Thule Web site yet then. We are HUGE in Sweden ... just kidding. I don't even know if blowing up is a possibility for anyone like us. Maybe we are too wise, or scared or lazy to even do what that would take -- if we could. So far licensing has been somewhat promising -- and I still do have a naive hope that if something is truly worthy, people will remember you.

<< Back

Page 2 of 2 (view all on one page)


twutxyvyxuwvevrbvsxttbbewaxuzywfsvzxy
Talkbacks
thomasdecker | Nov. 16, 2010 at 9:03 a.m. (report)
We can certainly agree on that sandstorm!
sijan_heights | Nov. 16, 2010 at 8:52 a.m. (report)
I echo Sandstorms sentiment. One of the great couples you will ever meet.
sandstorm | Nov. 16, 2010 at 8:12 a.m. (report)
great people, great band, great music, great disc.
twutxyvyxuwvevrbvsxttbbewaxuzywfsvzxy
Facebook Comments
Disclaimer: Please note that Facebook comments are posted through Facebook and cannot be approved, edited or declined by OnMilwaukee.com. The opinions expressed in Facebook comments do not necessarily reflect those of OnMilwaukee.com or its staff.