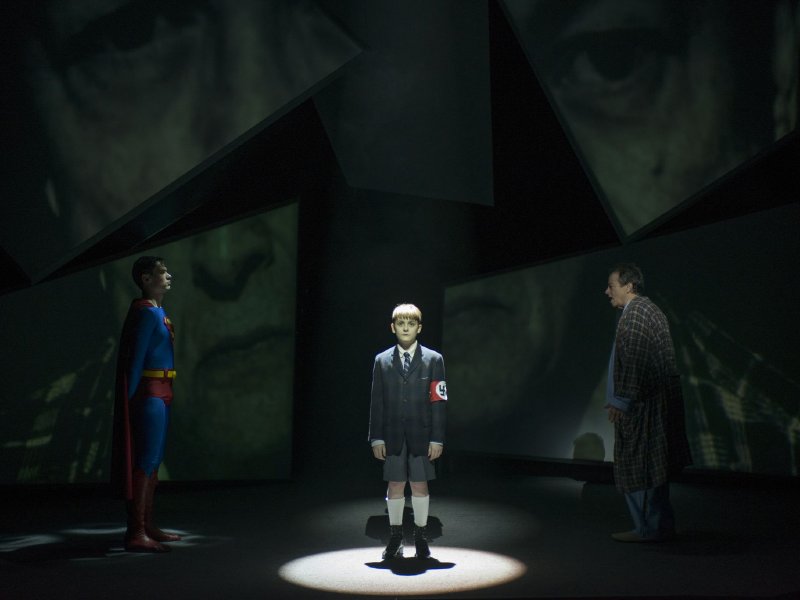 Ever since he made his debut into the American pop culture world, Superman has been a character who made people wonder what he really was.  After all, he's technically an alien disguised as a human.
"Look. Up in the Sky. Is it a bird? Is it a plane? No, it's Superman."
That was kind of the way I felt walking out of the opening night of "The History of Invulnerability" at the Milwaukee Rep, which runs through May 4. I wasn't totally sure what I had just watched, but I knew whatever it was had made me a little uncomfortable.
Playwright David Bar Katz sets out to tell the story of Jerry Siegel, who along with artist Joe Shuster, created Superman.
It's an interesting and even fascinating story, full of factoids sure to summon a lot of "I didn't know that" crowd reactions in the early going.
Siegel and Shuster were Jewish. Jews also created Batman, Spiderman, Popeye, Tarzan, Zorro and the Incredible Hulk, among many others. Katz's script posits that it is their very Jewishness that drove Siegel and Shuster to create what may well be the most enduring fictional character ever made. 
And once that part of the door is opened – being Jewish – the door becomes a swinging door like the old time cowboy westerns used to have. The audience is dragged along, first one side, then the other, then back again, then once more through the door.
But I wonder about that initial claim. The two were teenagers when they had the idea for Superman, and it took them six years to get someone to buy in. Certainly the kind of person Siegel was played a big role in his signature creation.
"Make him everything that I wasn't," he says. "Look me over, then draw the opposite."
The story has all of the elements of a good play: creativity, the struggle to escape obscurity, being ripped off by businessmen, years of suffering and a failed attempt to win back your hero, and an eventual moment of recognition, finally.
What happened was that Siegel and Shuster sold the rights to Superman for $130. The hero went on to earn millions and millions, while none of it went to the creators.
For some reason, however, Katz isn't satisfied with that story. Instead, he makes Siegel's life a metaphor for the historic struggle of Jews.
Alternating between scenes of reality and fantasy, "The History of Invulnerability" takes us to the drama of a Nazi prison camp, complete with three male prisoners in those familiar vertical striped uniforms.
This was where the Jewish blood that courses through my veins began to curdle a bit.
Here we were in the middle of a play, and we faced two compelling and familiar stories: the artist tortured by the creative process and one of the darkest periods of the 20th century.
These two stories are carried on the wings of one of the most inventive and creative sets I've ever seen. Eight multi-edged screens are home to a wide variety of slides and videos, accompanied by a soundtrack of life as a superhero and life as a Jewish prisoner of war. The video production designed by Jared Mezzocchi fits beautifully into the set designed by Todd Edward Ivins.
The cast, under Mark Clements careful and stunning direction, wrung every emotion possible out of this script. Bob Amaral as Siegel and JJ Phillips as Superman, were also outstanding.
But in the end, this play can't quite grasp what it wants to be, and I was left in the lurch created by this schizophrenia.
I can relate to the historical discrimination against Jews. I can also relate to the difficulties of the creative process and being ripped off. What was problematic for me was that I felt that the play, taking place in Siegel's memory just hours before he dies, doesn't really go anywhere important.
I understand Siegel's feeling that his hero has been exploited. It was almost as if Katz had decided to add all the Holocaust stuff to make his play seem more important. What it did was muddy the waters of a pretty good story.
Jews are very sensitive to their history, and the tales that have taken place in books, plays and movies are very moving. What's not moving is the feeling that your faith is being used for some minor purpose.
At one point near the end of the play, Superman argues that he has outgrown Siegel's simple creation and has become a hero with powers unknown to Siegel. Siegel is horrified by the prideful Superman who is moving into realms that are totally foreign to Siegel. 
"You are golem," he screams at Superman. "Golem." 
"Golem" is a Jewish term used to describe an artificial character who is usually created by a kind of magic. Most often the golem is a servant of the creator.
After that moment, the stage filled with about a dozen naked actors who stood underneath a nozzle that spread gas on them, and one by one, they fell to the floor. 
It was at that moment I began to realize that this play was golem as well, something artificial made to serve its creator, not the rest of us.
Talkbacks
ShermanParkMark | April 17, 2014 at 7:26 a.m. (report)
Thanks for the review but please figure out how to write a review without giving away the ending. If you can't do that, please post a 'spoiler alert' to warn your readers. Otherwise, I won't be able to read your reviews until after I see the show.
Facebook comments
Disclaimer: Please note that Facebook comments are posted through Facebook and cannot be approved, edited or declined by OnMilwaukee.com. The opinions expressed in Facebook comments do not necessarily reflect those of OnMilwaukee.com or its staff.
Recent Articles & Blogs by Dave Begel