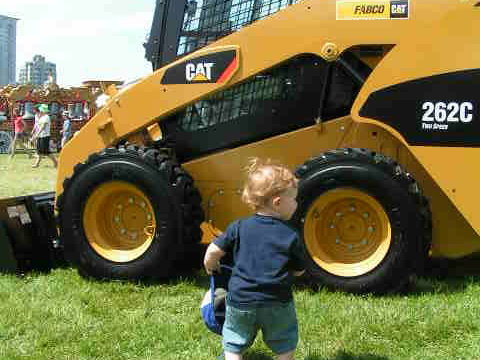 Summerfest drew 835,679 people down to the Lakefront this year, but the big Milwaukee events aren't over as the Great Circus Parade Festival is set up and rocking at Veterans Park.
And, since it's been gone for the past six years the crowds were huge and happy on Thursday afternoon.
The grounds offer a sneak peek of Sunday's big parade (which steps off at 1:30 p.m.) with live, tented circus performances from the Kelly Miller Circus, food, beverages, souvenir vendors, animal rides, those beautiful authentic circus wagon, clowns and, of course, the horses preparing for the Great Circus Parade.
I love this event because it touches all ages. Two-year-olds love it and 82-year-olds revel in the memories. It's free, family fun in the true spirit of a great Milwaukee summer.
Check out the photos above and get to the grounds to check it all out. The festival is open Friday and Saturday 9 a.m. - 10 p.m. Details are here.
Talkbacks
Deanna52 | July 12, 2009 at 4:52 p.m. (report)
Somehow I would like to be able to extend a thank you to all the people who contributed to this event. I hope those who were visiting Milwaukee for the first time had a warm welcome. There had to be many volunteers; individuals who do this for the love of it--to them and all I say thank you, thank you, thank you!!!
Facebook comments
Disclaimer: Please note that Facebook comments are posted through Facebook and cannot be approved, edited or declined by OnMilwaukee.com. The opinions expressed in Facebook comments do not necessarily reflect those of OnMilwaukee.com or its staff.
Recent Articles & Blogs by Jeff Sherman