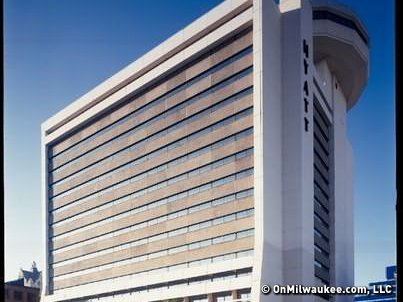 Milwaukee's iconic revolving restaurant, Polaris, is closing.
I was just having a conversation about the Hyatt Regency Milwaukee the other day. It centered on the fact that this circle in Milwaukee's skyline had kind of lost is way and its buzz. A friend and I remarked that it had been years since we'd been to Polaris and the while we dine and drink at other Downtown hotels regularly, the Hyatt's just not on our list.
Well, maybe this is all about to change as today I got word that Milwaukee's iconic revolving restaurant, Polaris, is closing (to the public, at least). It will reopen for private events, though. Polaris opened in 1980. It completes one revolution every 70 minutes, offering diners a panoramic view of the city.
For nearly three decades, Milwaukeeans and visitors have ascended to the 20th floor of the Hyatt Regency Milwaukee for some of the city's best views. As Wisconsin's only revolving rooftop restaurant and lounge, Polaris has been home to engagements, first dates, anniversaries, Valentine's Day celebrations and many other special occasions. Personally, I remember Easter Brunch and watching the fireworks (on July 3 and 4 you could see at least five displays at once).
"Polaris is a legendary restaurant dear to many Milwaukeeans hearts," said Gerald Rappaport, general manager of Hyatt Regency Milwaukee. "While we're sad to see it close, we're also very excited to unveil a fresh restaurant concept that will focus on new American cuisine with a local twist," said Rappaport.
The restaurant will close its doors at the conclusion of Easter brunch on April 12. The closure is part of the hotel's massive renovation project, which will introduce a new signature restaurant for the hotel on the lobby level in the former Knuckles Sports Bar in May. The Polaris space, as I mentioned, will only be utilized for private functions.
Bigger news, though, is that by May the Hyatt will be practically brand new.  With its location near the Bradley Center and U.S. Cellular Arena, it's a signature building in Milwaukee, and a fresh, new look is more than welcome.
Noble Investment Group bought the 483-room hotel in 2007. The privately held Noble will spend more than $19 million by the time the renovation is completed.
As a final farewell to Polaris, Hyatt Regency Milwaukee will collect Milwaukeeans most memorable moments at the revolving rooftop eatery. The contest, "Remembering Polaris," will award the diner with the most romantic story or photo with a grand romance package that will include an overnight stay in a newly renovated suite, dinner for two, tickets for two to a show, Champagne and strawberries at turndown, breakfast delivered to the room and a late checkout.
Entries can be e-mailed to George Herrera at george.herrera@hyatt.com or mailed to Hyatt Regency Milwaukee, c/o Remembering Polaris, 333 W. Kilbourn Ave., Milwaukee, WI 53203. The deadline for submission is Friday, April 10.
In addition, all who dine at Polaris through April 12 will receive a complimentary glass of Champagne when they mention the Remembering Polaris promotion.
Keep reading OnMilwaukee.com as I'll have a "Milwaukee Talks" with Gerald Rappaport, general manager of Hyatt Regency Milwaukee, in the coming weeks. 
Talkbacks
Mazzers | March 9, 2009 at 10:33 p.m. (report)
Bad restaurant or not, I have fond memories dating back to childhood watching Milwaukee magically rotate around me. Bummer.
CarolV | March 9, 2009 at 4:25 p.m. (report)
Very sad for me. It was where I was taken on the night I got engaged to my husband (before a carriage ride). It is where I like to take our son and my niece for a special dessert before or after "The Nutcracker" or "A Christmas Carol" each year too. We'll try to get in there before it shuts down its regular hours for sure!
Facebook comments
Disclaimer: Please note that Facebook comments are posted through Facebook and cannot be approved, edited or declined by OnMilwaukee.com. The opinions expressed in Facebook comments do not necessarily reflect those of OnMilwaukee.com or its staff.
Recent Articles & Blogs by Jeff Sherman