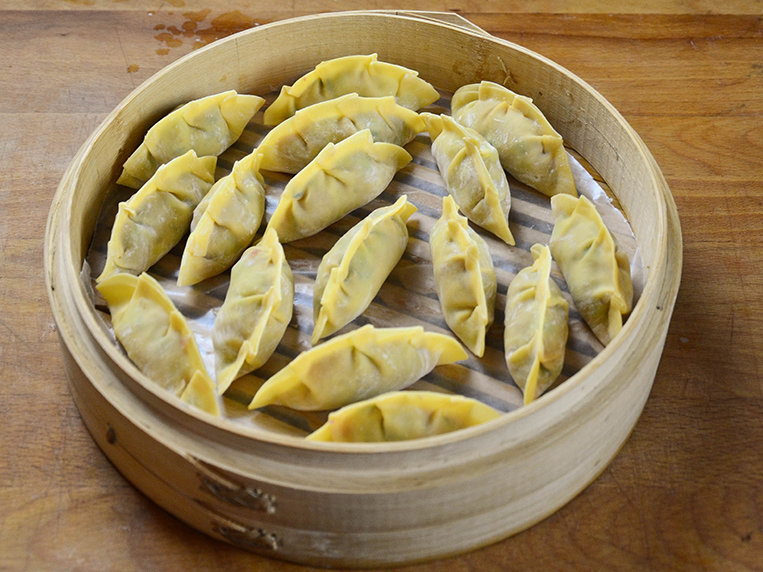 As the tiny shallots, baby bok choy and dried birds-eye chilis begin to appear in local markets, I start to get excited about Thai food.
I love Thai cuisine – bitter, sour, spicy, a little sweet and lots of umami backbone. This week, I thought I'd try a spin on steamed dumplings. The Thai version is called pun sip neung, or "sealed, steamed roll."
Dumplings are a great way to use odds and ends, from leafy greens to meat scraps, and in this recipe, I'll be using broccoli stalks. The stalk is an underused and really tasty part of the plant, and it usually gets tossed in the compost or the stock pot. After you peel off the outer stalk using a vegetable peeler, the inner flesh is crisp and tender. Along with the dumplings is jaew, a chili and lemongrass dipping sauce that is super addictive. I want to put it on everything. Just make sure you make it ahead of time, because it needs about an hour for the flavors to steep.
A quick note on fried shallots: The near-ubiquitous condiment in Thai cuisine can be kind of a pain to make yourself on the stovetop. Fortunately, they are dead simple to make in the microwave – quicker, using less oil and with less to clean up. First, slice your peeled whole shallots thinly using your knife or preferably a mandolin. When you have about 1/2 a cup, put them in a shallow microwave-safe bowl and add vegetable oil until they are just barely covered. Microwave on high for 2 minutes, then stir and microwave in 30-second increments until they start to get golden. Mine took about 5 minutes total, and as a bonus, you can use the shallot-infused oil for sautéing the dumpling filling.
Thai Steamed Dumplings (pun sip neung) with Birds-Eye Chili Dipping Sauce (jaew)
1/2 pound ground pork
1/4 cup cilantro, chopped
3 cloves garlic, diced
1 tbsp fish sauce
1 dried thai bird chili
1 large broccoli stalk, peeled and diced
1 head baby bok choy, chopped
2 shallots, diced
1 tsp ginger, grated
1 tsp rice vinegar
16 dumpling wrappers
1. In 2 tbsp oil over medium high heat, sauté the shallots, bok choy, broccoli stalk, garlic, chili and a pinch of salt for 5 minutes, until soft. Add fish sauce and ginger, cook an additional minute.
2. In the bowl of your mixer – fitted with the paddle attachment – mix the pork, cilantro, cooked vegetables and rice vinegar on high, until it starts to form a paste, about 1 minute.  You can do this by hand, and it will still taste just fine; the texture will just be different.
3. Place your dumpling wrapper on your cutting board and fill with a heaping teaspoon of filling. Using your finger, circle the outer edge of the wrapper with water, then pinch the dumpling closed, trying to remove as much air trapped inside as you can.  You can then make additional creases, but they're not necessary; they just look pretty.
4. Place the dumplings in a bamboo steamer or lined steamer basket over boiling water, steam for 5 minutes, enough for the pork to cook through. Serve with crispy fried shallots and jaew (recipe below).
1/4 cup thinly sliced shallots
1/4 cup chopped cilantro
1/3 cup fish sauce
juice of 2 limes
2 tsp brown sugar
3 dried thai bird chilis
1 stalk lemongrass
1 1/2 tbsp soy sauce
1 tsp ginger
1. In a mortar and pestle, crush the lemongrass and ginger until they release some of their oil. Place in a shallow bowl with the shallots, cilantro and chilies.
2. Whisk together the fish sauce, lime juice, soy sauce and brown sugar, until the sugar is dissolved. Combine with the lemongrass mixture and let steep for an hour before serving.
Facebook comments
Disclaimer: Please note that Facebook comments are posted through Facebook and cannot be approved, edited or declined by OnMilwaukee.com. The opinions expressed in Facebook comments do not necessarily reflect those of OnMilwaukee.com or its staff.
Recent Articles & Blogs by Matt Smith
Published July 21, 2014
With tomatoes and all sorts of mid-season vegetables coming into the markets, my mind immediately goes to pizza. We make at least two pizzas a week in my house, and I've got a no-knead dough that couldn't be simpler.
Published June 24, 2014
Early summer at Milwaukee area farmers markets is always kind of a mixed bag, even more so this year after the long, persistent winter. We ventured out to the Tosa Farmers Market this weekend and were pleasantly surprised. I wanted to make something that showcased the mushrooms from the market and made use of the avalanche of spring onions at every produce stand, so I thought a tart was a nice choice, topped with some fresh chèvre.