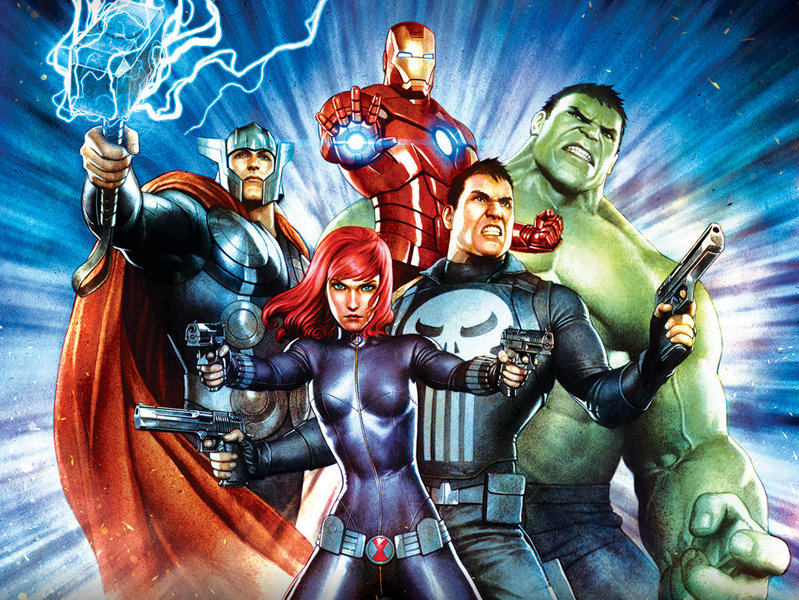 When storylines overlap into the life and times of multiple characters through a number of short pieces, something bigger is created.
In the Marvel comic book world, it doesn't matter if the medium is print, panels, animation, or live action on the large and small screens. A universe has been created and has entertained millions of people over a number of decades.
That tradition continues for the latest Sony Home Theater release of "Avengers Confidential: Black Widow & Punisher" out on Blu-ray, DVD and digital copy on Tuesday. Marvel, working with Japanese animation experts at Madhouse, get to tell a deeper story involving two of the more dark heroes on the Disney-owned Marvel-created character roster.
I had the opportunity to screen the DVD over the weekend.
Those who have been introduced to the Marvel world through the latest films of "Iron Man" or the "Avengers" will recognize the red-headed super spy Natasha Romanoff and her persona of a deadly assassin and S.H.I.E.L.D. agent known as the Black Widow. In this direct-to-video presentation, Romanoff apprehends The Punisher, Frank Castle, after he interferes with a deeper operation with his vigilante killing spree.
The role of the Punisher has been played by different actors in different live-action movies, including Dolf Lundgren, who is better known as the Russian boxer on "Rocky 4" and the main character He-Man in 1987's "Masters of the Universe."
But if you are familiar with the comic books, the character in "Avengers Confidential" follows the graphic novel version a little closer for this former – and always – Marine and New York Police Officer who takes vengeance as the judge, jury and executioner after witnessing the killing of his wife and children.
Although these two characters have only teamed up a couple of times in the comic books, their character traits are perfect for re-imagination of the heroes in a modern Japanese anime style. Because of the blood on their hands from darker times of their past, their methods are a bit different while on a path of vengeance and redemption.
Nick Fury, as the director of S.H.I.E.L.D., sends in Romanoff and Castle to infiltrate a terrorist group. And as the two are without super powers, they are better suited for a mission where they are a lesser liability if they get brain washed. More popular members of the Avengers (Thor, Hulk, Iron Man, Hawkeye, War Machine, Miss Marvel) come into the film, batting cleanup, to help in the final battle.
Marvel executive Joe Quesada mentions in one of the DVD extras that this format allows for the story telling of a harder and darker subject matter, and the level of violence makes the film's PG-13 rating understandable.
I love the fact that Marvel is expanding enough to tell more stories to more people on different platforms.
There are some cartoons on cable outlets that are fine for young ones, and children that are a little bit older. This DVD and Blu-ray isn't like those. Instead, it is perfect for teenagers and adults who like to follow some of their favorites from the Avengers stories, or get introduced to new characters they recently discovered.
Facebook comments
Disclaimer: Please note that Facebook comments are posted through Facebook and cannot be approved, edited or declined by OnMilwaukee.com. The opinions expressed in Facebook comments do not necessarily reflect those of OnMilwaukee.com or its staff.
Recent Articles & Blogs by Steve Kabelowsky