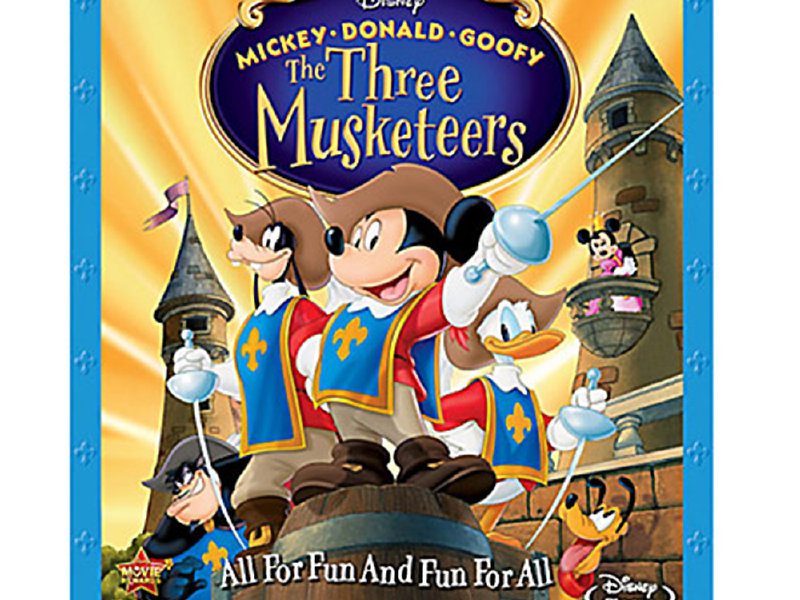 It was 10 years ago when Disney decided it would do something for the first time that most fans of classic characters thought would have happened long ago.
The historic achievement -- Mickey Mouse, Donald Duck and Goofy would star in a feature-length film.
You see, in the past the three only appeared in film shorts, or small television projects. Mickey was the sorcerer's apprentice in "Fantasia," but that was only a smaller part in a greater film.
Looking back at the stories that the early animators and Walt Disney himself wanted to work on, studio and animation managers decided the three classic characters would appear together in the "Three Musketeers."
Earlier this month, Disney Home Entertainment released a number of films on Blu-ray and digital copy for the first time. I had the opportunity to review a number of them, and for sentimental reasons I chose this one first. "Mickey is the man," as my nephew would say.
The story clips along at a pretty good pace, yet is a little slower than other animated films Disney is known for (like "Hercules" and "Tarzan," which were also released on Blu-ray and are in stores now). I'm sure the writers made the deliberate move so that the youngest of fans could enjoy the main story with Mickey and Minnie in the spotlight.
The Blu-ray and high definition digital download have been re-mastered and the video is brighter and clearer than it ever appeared on the big screen.
There is an audio commentary from Mickey, Donald, Goofy and Peg Leg Pete which is as wonderfully funny as it is twisted to hear Pete talk about method acting to bring more to his character. The kids won't get it, but there's enough gags on the video that they won't care about the adults and teen family members are listening to the other voices on the film.
Trust me, I've been there. When you are watching the same film for what seems like the 20th time in the same day, any variation would be welcome.
The 10th Anniversary edition is filled with swashbuckling fun where Mickey, Donald and Goofy play janitors who have big dreams of becoming Musketeers. Through their friendship and hard work, the trio find out they are truly heroes. 
Facebook comments
Disclaimer: Please note that Facebook comments are posted through Facebook and cannot be approved, edited or declined by OnMilwaukee.com. The opinions expressed in Facebook comments do not necessarily reflect those of OnMilwaukee.com or its staff.
Recent Articles & Blogs by Steve Kabelowsky