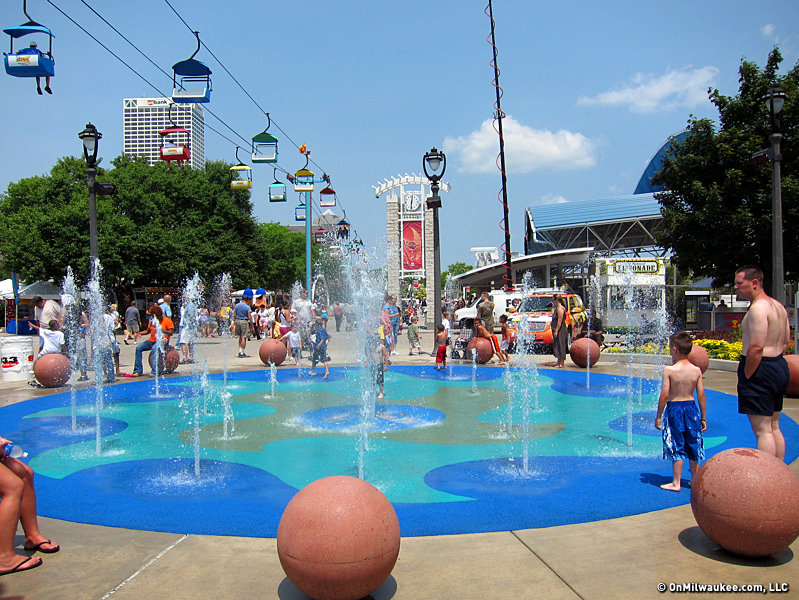 100 things to do at Summerfest
The OnMilwaukee Summer Festivals Guide is presented by Potawatomi Hotel & Casino. Create your summer story by participating in casino wide promotions with the chance to win big. This summer I will own it! Click here for more details.
Each year, the OnMilwaukee.com editorial staff puts its decades of combined Summerfest experience to good use by publishing this very important article: 100 things to do at Summerfest.
Updated for 2017, it's a quick look at the best ways to enjoy the Big Gig. Just don't forget to wear sunscreen ...
First, figure out how to get in for free here

Take a Summerfest shuttle

Eat Saz's mozzarella sticks

Ride the Skyglider (no spitting, please)

Drink freshly squeezed lemonade

Check out all the bikes in the Harley-Davidson parking area

Watch the Big Bang opening night

Bring floss if you're planning on eating corn – and you should plan on eating corn

Use the recycling bins for plastic bottles and cups

Get a temporary tattoo

Dance on a picnic table

Buy an airbrushed T-shirt with your and your honey's name on it

Download the 2017 Summerfest app

Suck in your gut

Sample every beer

If you're a diehard, save some cash with the multi-day pass

Enjoy the housemade wine coolers

Support local music by checking out and cheering on Milwaukee bands

Watch a live newscast

Get a foot massage

Take a boat excursion on the Iroquois

Make some artwork with the kids at the Milwaukee Art Museum/Kohl's Art Generation area

Meet up at the fountain, the "official" Summerfest meeting place

Play in the children's PlayZone

Get a healthy snack at Catalano's

Tip the strolling performers and that guy who plays six instruments at once

Be leery of the ticket guys on the street; they might be selling fakes

Wear shoes at all times, please

Try to hit a hole in one

Eat those huge turkey legs

Buy some big cheap sunglasses

Have your caricature drawn

Catch a breeze on the rocks

Check out the water ski show

Ride a Bublr bike to the grounds

Play a little bingo

Play beach volleyball

If you're going to see a band early before the crowds arrive, bring ear plugs

Take a photo at the big guitar

Enjoy a Sno Cone

Buy a soda from a massive root beer barrel

When it's crowded, walk along the lake to get from one end of the grounds to the other

Come at noon, leave at midnight

Hit an ATM machine outside the mid-gate or inside the grounds

Park far away for free and use parkmilwaukee.com to find good parking

Cheer at the SportsZone

Don't urinate in the Third Ward

Have a rooftop cocktail at The Outsider atop the Kimpton

Watch for falling objects under the Hoan Bridge

Catch a nooner (noon concert, that is)

Celebrate Military Appreciation Day (July 2, 2017) with displays, drill teams and more

Buy popcorn from a Koepsell's popcorn wagon

Buy your grandma a Summerfest hat

Take a beer break and have a martini at Jo Jo's Martini Lounge on the south end

As you finish a beer, stack it on top of your other empties until you get the Slinky effect goin' on

Ride the Ferris wheel

Take a romantic stroll by the lake

One word: Zumba

Read the concert reviews on OnMilwaukee and talkback with your own opinions

Celebrate Latin Music Day on July 9, 2017

Buy a beer for a friend

Tip your bartenders

Grab a lawn seat at the Marcus to see the biggest names at the Biggest Gig

Get beer spilled on you early, for that cool, sticky feeling

Crunch some almonds

Buy a pewter dragon or a unicorn T-shirt in the shopping area

Try to get a juggler to drop his balls

Download OnMilwaukee's Locamoji and text your own Summerfest emojis

Kick back on a bench and get a tan

Resist the urge to joyride in an official golf cart; trust us, you'll be ejected

Bring your own toilet paper

Assign a meeting place with your pals before you get lost

Buy a toe ring or hippie dress

Leave the really young babies at home, please

Check out the new Miller Lite Oasis

Marvel at the magic show

Get autographs from band members

Don't bring pets, laser pointers or skateboards

Sneak a kiss near the lake

Stand at the north end of the grounds and watch the Milwaukee Art Museum's wings open (or close)

Take the kids to see the talent on the Children's Theater

Park close to Water Street and walk in and out

Buy the most decadent dessert you can find

Make faces at the radio people as they broadcast live

Laugh at all the men who wear socks with their sandals

Count bald heads, naked bellies and mullets

Run into "everyone" from your high school class

Eat funnel cakes

Don't forget your manners, apologize when you bump into someone and buy the guy or gal a beer if you spill one

Breathe in and savor the scent of Sil's mini donuts

Kick back and chill in the air-conditioned Cool Down Lounge

Relive some classic music at Throwback Thursday on June 29, 2017

Check out the bands on the Rebel Stage, the only one not booked by Summerfest

Laugh at ComedySportz

Enjoy Milwaukee's best sausage at the Usinger's Wurst Garden

Watch for Milwaukee's best dining spots, presented by OnMilwaukee, on the big screen at the BMO Harris Pavilion

Relive the past 50 years of Summerfest buy purchasing a commemorative Summerfest 50 Book

Enjoy beer straight from the Miller Valley in the new Brew House at the revamped Miller Lite Oasis
Facebook Comments
Disclaimer: Please note that Facebook comments are posted through Facebook and cannot be approved, edited or declined by OnMilwaukee.com. The opinions expressed in Facebook comments do not necessarily reflect those of OnMilwaukee.com or its staff.