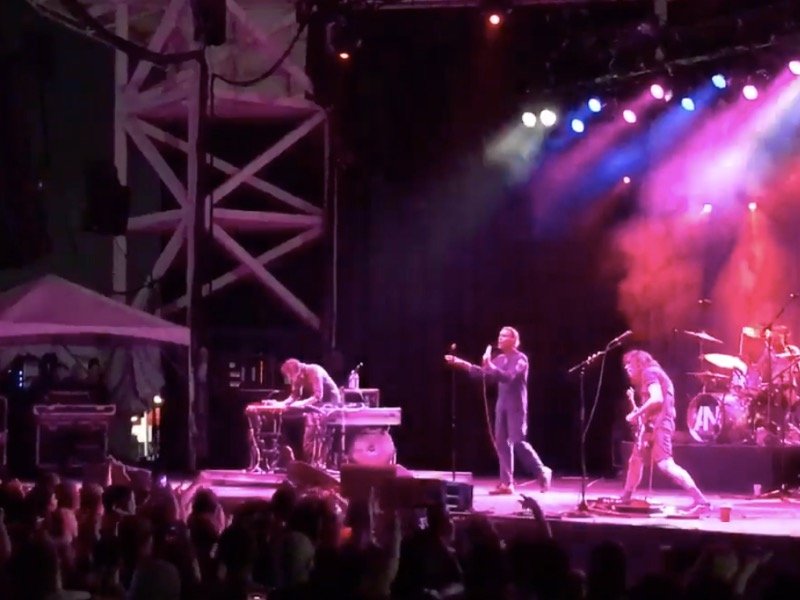 AWOLNATION sails through another memorable Summerfest performance
AWOLNATION'S show at the Uline Warehouse actually appeared to start early when the opener, IRONTOM, came out.
This L.A. based group is intertwined to the headliner, sharing two members, Zach Irons (son of Red Hot Chili Peppers/ Pearl Jam drummer Jack) and keyboard ace Daniel Saslow. IRONTOM'S EP was also produced by none other than Aaron Bruno, the founder and leader of AWOLNATION. The song "Be Bold Like Elijah" defines the band's sound, a hyper pop fused with surf electro punk. They did their job warming up the crowd, which seemed intrigued and rolled with the short set.
After that little appetizer, AWOLNATION took to the stage for its fifth Summerfest appearance. Its first one in 2011 was a work in progress performance which can be common coming from a studio band out on the road for the first time and working out the logistics. As it developed and became the headliner in 2012 and 2013, the band became more polished with outstanding and powerful shows. I admit to missing the 2015 set, but heard good things.
Just kicking into gear with a light summer tour schedule, this was only AWOLNATION'S third show of the year. Frontman Bruno rolled out to a long casual lead on "Run." After getting more comfortable and confident, he rolled into "Hollow Moon (Bad Wolf)" and smoothly through "THISKIDSNOTALRIGHT."
Things started to heat up a bit as the set moved into "Kill Your Heroes." Bruno's stage presence was much more approachable and personable than past appearances. It could have been the freshness of being back out performing or the fact the group was playing the Uline Warehouse for the first time. Freed from the familiar U.S. Cellular Stage, which hosted its previous four appearances, the band enjoyed proper sound and mixing. It just plain sounded better. The five-piece has come together over the years and has really solidified with the current line up.
The improvement could also have derived from confidence with the material. AWOLNATION has a rather limited song list, as a 7-year-old outfit with only two full-length releases: 2011's "Megalithic Symphony" and 2015's "Run." The rest are a plethora of re-releases, including some extremely special versions like a Robert Delong remix of "Not Your Fault" and a Kendrick Lamar collaborative take on "Sail." The band was an early adopter of Red Bull Records – yes, a splinter off the energy drink – and are by far the label's most successful act.
Speaking playfully, Bruno's interaction with the fans was all positive, commending them on their participation in singing along with the track, saying, "I'm doing my best 'American Idol' with you."
During the band's first Summerfest show back in 2011, Bruno proudly proclaimed, "Thanks for listening again for the first time or the last time." My memory of it is that it was a hot and sticky evening set. How history can repeat itself as he used the same exact wording during this year's show. Clearly a Summerfest loyalist, he also informed the fans that he "left sunny California especially for this." And the near capacity crowd drank it in.
For the encore, the fans chanted for one more song, and they got two. The first, a great take on Springsteen's "I'm on Fire," was well received. And then, in one of those transcendent Summerfest moments, a breeze seemed to blow throw the stagnant air and the drizzle began just as the band drove into "Sail."
After my fourth time hearing the band perform this hit live, this was the one I'll remember.
Set list
"Run"
"Hollow Moon"
"People"
"Not Your Fault"
"KIDSARENOTALRIGHT"
"Kooks Everywhere"
"Soul Wars"
"Woman Woman"
"All I Need"
"Drum Solo
"Burn it Down"
Encore
"I'm On Fire" (Bruce Springsteen cover)
"Sail"
ctcyfztdbvrefduyvtvvzb
Facebook Comments
Disclaimer: Please note that Facebook comments are posted through Facebook and cannot be approved, edited or declined by OnMilwaukee.com. The opinions expressed in Facebook comments do not necessarily reflect those of OnMilwaukee.com or its staff.