Girl Talk throws the classic dance party at Summerfest 50
Imagine going into a nightclub where the DJ is spinning tracks nonstop and playing hit after hit. That's the best way to describe Girl Talk on Wednesday night, as he brought a dance-party atmosphere to the Harley-Davidson Roadhouse at Summerfest.
For the average-sized crowd that went to his show expecting a party atmosphere, they got it. The larger-than-life blow-up hands and feet-with-basketball-shoes-on props, the lights, sounds, confetti and even toilet paper that was being slung around by air blowers all added to the experience.
Honestly, what else would you expect from an EDM artist whose career began back in 2001? He's been around the party block before, and it was clear that he knows it like the back of his hand. It seemed like it was not the first time around for the fans who were there either, many of them were saying how Girl Talk was their first EDM concert.
At 10 p.m., Girl Talk's Gregg Gillis came out, hit the play button and the party got started instantly. Fans from the crowd were selected prior to the start of the show and were dancing on stage the whole set. On a pretty warm night, everyone was dancing, which is why it didn't take long for Gillis to take his sweatshirt off and throw it into the crowd. It was about halfway through the show that he took his shirt off, as well.
Talking was to a minimum and the dancing was to a maximum. It was only once that Gillis actually stopped his show to give a shout-out to Summerfest for bringing him back for his second show at the World's Largest Music Festival.
Also on stage with the dancing fans was his pump-up crew, and they were doing a good job. It seemed like they were trying to think of the most obnoxious party accessories to throw around: a year's supply of toilet paper, balloons, T-shirt shooters, water guns and, of course, party-favorite confetti. Name it and odds are they had it.
The whole show had a real retro feel, and that's what Girl Talk is. He is a classic EDM artist if there is one, and as the night went on, that became more clear. If you were to look into the crowd at the Steve Aoki show, you would have seen nothing but young adults; at Girl Talk, the ages varied. There were grownups there (some even with their children), teenagers and, of course, young adults, as well. It was, without a doubt, the most diverse crowd I have personally ever witnessed.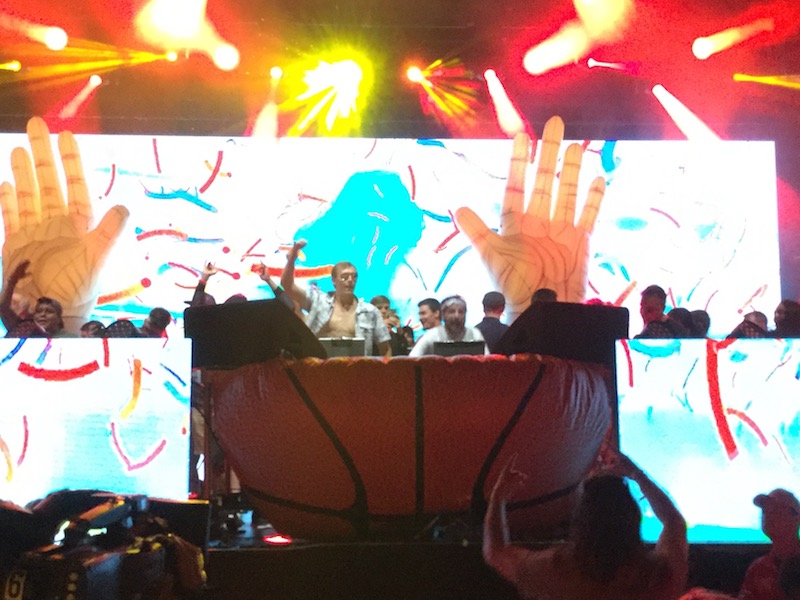 If you want to imagine what the show was like, get a strobe light, search for one of those 90-minute DJ sets on YouTube, sit back and take it all in.
For an artist whose name may have slipped past the eyes of the younger Summerfest goers while looking at this year's lineup, it was clear that Girl Talk has a loyal fan base that showed up and was not disappointed.
wyxufzqbeteb
Facebook Comments
Disclaimer: Please note that Facebook comments are posted through Facebook and cannot be approved, edited or declined by OnMilwaukee.com. The opinions expressed in Facebook comments do not necessarily reflect those of OnMilwaukee.com or its staff.