Summerfesters still swoon for Huey
It's not often in this business that us writers get third chances. But the previous two times I saw Huey Lewis and the News – in 1996 and 2009 – I blew it. Let's just say that my shenanigan-inspiring friends made sure I didn't play close attention to one of my favorite '80s acts; like I said of Huey's performance in '09, I also mailed in my review. I don't really remember much about the one in '96, but that predates OnMilwaukee and I was 22, so there's no written record of my attendance to that show.
Anyway, this time, I was paying close attention to the 9:45 p.m. performance at the BMO. I was here tonight to make amends. Lewis made that pretty easy.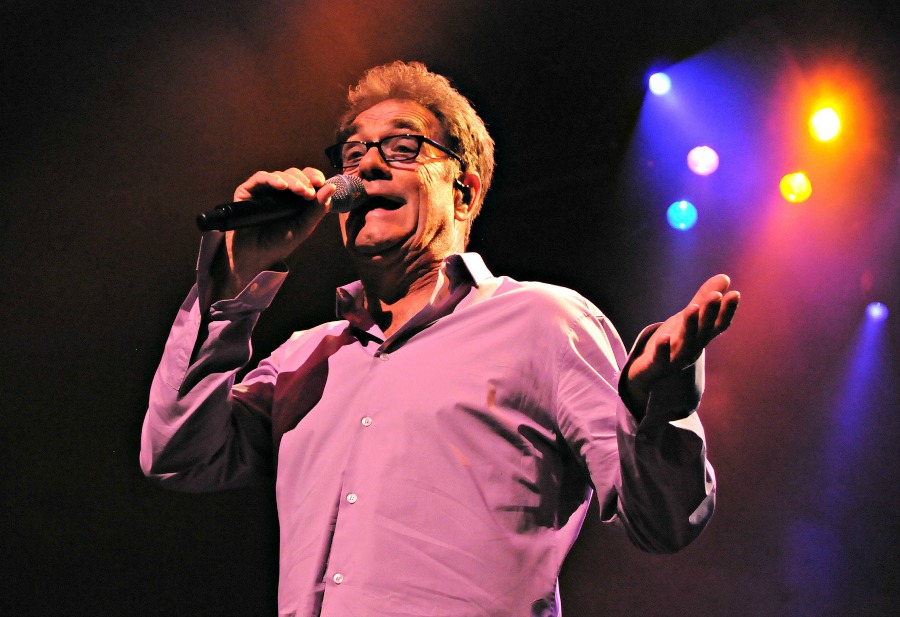 (PHOTO: David Bernacchi)
Rereading my review from 2009, I see that Lewis' set list hasn't changed much in the last seven years … and why would it? The order has flipped: he opened with "The Heart of Rock & Roll" this time instead off closing with it (and yes, he added in "Milwaukee, Wisconsin"). But this very tight band – which has been performing in almost the same incarnation since 1979 – played hit after '80s hit. That included, naturally, "I Want a New Drug," "Doing It All For My Baby," "Hip To Be Square," "Back in Time" and "Heart & Soul."
And I still don't care what anyone thinks about this statement: I could listen to Lewis play "The Power of Love" every day for the rest of my life. It's currently, in fact, my go-to karaoke song.
Lest I sound like a Huey Lewis super fan, I'll point out that not all of his songs have aged as well as the 67-year-old San Franciscan. At least half of these tunes would now qualify as soft rock, not the blue-eyed soul we remembered. In fact, seeing Huey Lewis tonight reminded me of the Hall & Oates show I reviewed this spring; some of these hits are left better in the past. For example, I could probably live without the three a cappella songs.
But Summerfest fans, and Milwaukeeans in general, love our nostalgia, and Lewis would not be raining on anyone's parade tonight – though it rained enough before the set for all of us to be pretty soggy. In their 85-minute performance, there was lots of singing along to the songs practically heard on a loop on the old WKTI. To the News' credit, they have recorded a handful of tracks in the last decade or so and have a new record coming soon (including "While We're Young," which was played tonight).
Earlier in the afternoon, Lewis held a press conference at the Summerfest offices, which is something I've never seen before. He talked about his 1984 show at the old main stage, which was such an oversold mess that it encouraged Summerfest to build the Amp and expand what is today. Huey wasn't just paying lip service to Milwaukee (other than the usual "blue collar" accolades), he remembered specific Brewers in the audience and jokingly suggested that Summerfest name a stage after him.
(And for the record, I asked him some details about "Back To The Future" and his backing band for Elvis Costello; see the embedded Facebook Live for more.)
But no one, Lewis included, came for the new stuff, and he readily admitted that at the presser. "I know this is a probably a mistake, but we're gonna do it, anyway," he said before "While We're Young." I saw people sitting down for "Remind Me Of Why I Love You Again," which was only the second song out of the gate. Come on, Milwaukee; at least their new music sounds like their old music.
I wrote in 2009 that this band was my guilty pleasure. Hearing Lewis talk about his music before the show, then watching and listening carefully during it – and without the shenanigan-inducing pals prodding me on this time – it still is. If that's not hip, then I'll just have to be square.
Set list:
The Heart of Rock & Roll
Remind Me Why Love You Again
If This Is It
I Want a New Drug
Her Love Is Killing Me
Doing It All for My Baby
Hip to Be Square
Um, Um, Um, Um, Um, Um, Um
Lookin' for a Love
While We're Young
Back in Time
Heart & Soul
But It's Alright
We're Not Here for a Long Time (We're Here for a Good Time)
Encore:
The Power of Love
Stuck With You
Workin' for a Livin'
rtuqbtxyct
Facebook Comments
Disclaimer: Please note that Facebook comments are posted through Facebook and cannot be approved, edited or declined by OnMilwaukee.com. The opinions expressed in Facebook comments do not necessarily reflect those of OnMilwaukee.com or its staff.