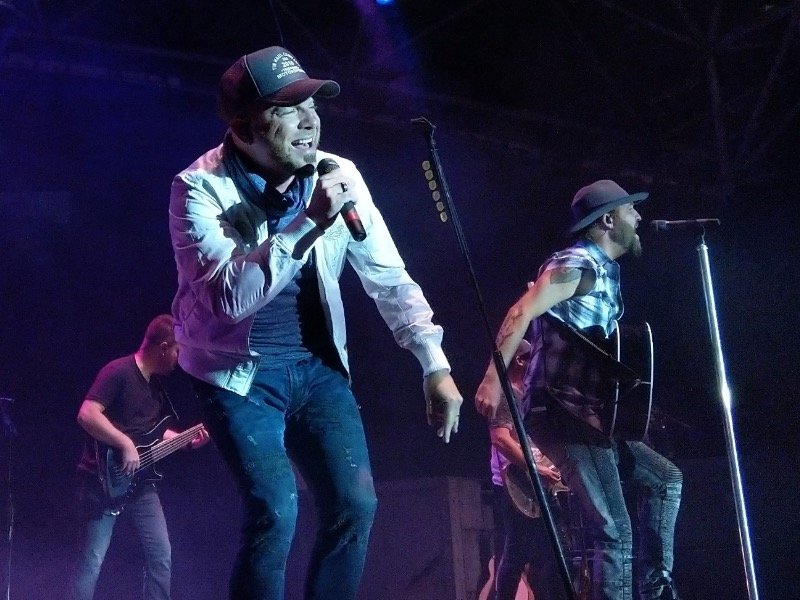 LOCASH lives loud and dances hard at Summerfest
"We just wanna tell you guys we're Summerfest virgins. And this is our first time at Summerfest … and you always remember your first. So we gotta make this special!" Insert cheers of amped up crowd here.
That announcement from LOCASH came after three insanely wild songs: "Ain't Startin' Tonight," "You Gonna Fly," and "ALLL DAY" (proper spelling).
It's pretty safe to say that even if LOCASH didn't feel like tonight was special (but I'm 99 percent positive they did), the packed house at the U.S. Cellular Connection Stage did. Because it pretty much went like this all night long:
LOCASH: "You guys ready to party?"

Crowd: *ROARS*
But beyond the roaring, this was a LOCASH crowd, a country music crowd, a sing every word to every song crowd. And was it a total blast!
So, let's step back a sec. I was really looking forward to Saturday night's headliner because there's this thing about country music: It's got this crazy broad wing span. From traditional and neo-traditional, all the way over to pop, rock and electronica, country music is all inclusive (Yes, electronica. If you've never heard D.J. Hish spin, you've missed out on life). If you look, there's really something for everyone.
One thing all these different types of country share is dance. Everyone dances. Everyone loves to dance. Whether it's two-stepping, "Devil Went Down to Georgia" and "Achy Breaky Heart"-style line dancing, Garth Brooks' "Baby Let's Lay Down and Dance" style, slow, swing, square. All of it. We love it.
Enter LOCASH, a country band who puts dancing at the heart of who they are. It might seem to some that LOCASH crosses over to pop – and they really might. But we claim them, first and foremost, as ours, as country.
So it's safe to say that I was expecting a barn-burning dance party on Saturday night at the U.S. Cellular Connection Stage. And oh boy, we got one!
After the fantastical dance party opening three, LOCASH didn't slow down. Not a wit. They rolled into "I Know Somebody," then they moved onto one of my favs, the reggae influenced and country fried "Drunk Drunk," by saying that the next song is about drinking. "You *are* known as the Brewers, and your team is on fire!" they noted to a roaring crowd. I mean, hey, it is Milwaukee after all. We love our brew, and we love our team.
LOCASH's play with the audience was a beautiful thing to behold. Clearly they not only love what they do, but love the people they do it for. When they rolled on to "Truck Yeah" – a song they wrote for Tim McGraw (you know, that artist that's brand new to country music, LOCASH joked), they quipped that they were told, "No one is going to record this song. No one drives a truck anymore. Obviously, they've never been to Milwaukee!" They may say that on every stop. But of Milwaukee, it's definitely true.
Maybe it was the full moon, I don't know, but the night seemed alive and on fire – all the things you think of when you think of the perfect concert.
The chants of "U.S.A.! U.S.A.!" before "The Fighters," a song LOCASH dedicated to the armed services and first responders, was touching and exhilarating. At the end, vocalist Chris Lucas filmed a video of the crowd repeating the chant for his cousin, who's overseas fighting as an army ranger.
And then there was fellow vocalist Preston Trust, who spent a good portion most of four songs out in the audience – literally. He started out in the pit and worked his way back. How far he got, I have no clue. But it was a pretty sweet way to interact – all the while singing and letting the audience sing into his mic.
As if there weren't enough highlights, towards the end of the show, LOCASH brought out Shane Minor, who was with them on this stop because he's co-writing songs with LOCASH for their new album. Shane Minor, with more number ones than you can count. Shane Minor, the awesome. Shane Minor, who's not afraid to come on stage and jam in his sweats.
Three killer songs later, LOCASH said good-bye to Shane, and it was time to close the show with – what else? – "I Love This Life," of course!
This was one concert I really didn't want to end. They were hilarious. They were fun. They are talented, with a capital please play one more song. They were already a few minutes past their allotted 90 minutes, though, and so there was, with much regret, no encore.
But for 90 minutes, they absolutely branded themselves as the next big act country act. These boys won't spend long headlining side stages. No way.
It probably seems, to most, that Brust and Lucas are fairly new on the country music scene. But they've been in the business seemingly forever. They started out, each of them, trying to make on their own in Nashville. Both DJing at the Wild Horse Saloon, the singer-songwriters partnered up about ten years ago signing a contract with R&J Records and cutting their first record. By accounts, though, the fit wasn't right. It wasn't the kind of music they felt comfortable with, though their freshman efforts did yield some good songs like "Best Seat in the House" and "Here Comes Summer."
After R&J folded, LOCASH rebranded itself, picked up a new label (Reviver Records) and found their sound. They shot to the top, reaching #2 on the U.S. Country Airplay chart with "I Love This Life," the first single from their sophomore album, "The Fighters." The second single from that album, "I Know Somebody," reached number one on the U.S. Country Airplay chart.
They've kept their feet on the ground all the while. LOCASH supports St. Jude's, D.A.R.E. and the TJ Martell Foundation. They've said that the band's name LOCASH is a reminder of where they come from and their roots.
It's safe to say that the boys of LOCASH, with their particular brand of dance country, are quickly cementing their place in Nashville. It couldn't happen to two nicer, more grounded guys. Totally looking forward to seeing what comes next for their band.
And for the record, I'm glad I didn't have a heart attack dancing tonight.
Setlist
"Ain't Startin' Tonight"
"You Gonna Fly" (written by LoCash, recorded by Keith Urban)
"ALLL DAY"
"I Know Somebody"
"Drunk Drunk"
"Ring on Every Finger"
"Truck Yeah" (written by LoCash, recorded by Tim McGraw)
"Tush" – ZZ Top cover
"Man in the Mirror" (Michael Jackson cover)
"Don't Stop Believin'" (Journey cover)
"For My Eyes Only"
"The Fighters"
"Dust on the Bottle" (David Lee Murphy cover)
"Pick Up Man" (Joe Diffie cover)
"Chattahoochee" (Alan Jackson cover)
"Friends in Low Places" (Garth Brooks cover)
"Neon Moon" (Brooks & Dunn cover)
"Chillin' It" (Cole Swindell cover, written and performed by Shane Minor)
"Beautiful Mess" (Diamond Rio cover, written and performed by Shane Minor)
"Live a Little" (Kenny Chesney cover, written and performed by Shane Minor)
"I Love This Life"
escsszbdabxscafdbbdyedsz
Facebook Comments
Disclaimer: Please note that Facebook comments are posted through Facebook and cannot be approved, edited or declined by OnMilwaukee.com. The opinions expressed in Facebook comments do not necessarily reflect those of OnMilwaukee.com or its staff.