Steve Aoki brought the party to Summerfest 50
If there is ever an artist who's concerts can actually be described as a party, it would be Steve Aoki. He is known for bringing the lights, the sound and even cake – and let's just say that he did not disappoint at Summerfest 50.
This was the first time that I have seen Steve Aoki live. However, after seeing a few DJs at Summerfest in the past, my expectations for Aoki were the same as they would be for any other EDM artist I've seen: have little to no crowd involvement, every now and then raise his hands into the air to dance, and yell "Milwaukee!" repeatedly.
Luckily, quickly after his start, I realized my expectations were way off. And I was glad that I was wrong, because Aoki got the Miller Lite Oasis dancing like I've never seen before. Rockin' a Metallica shirt with shorts and suspenders, Aoki truly got engaged with the crowd and kept the atmosphere electric.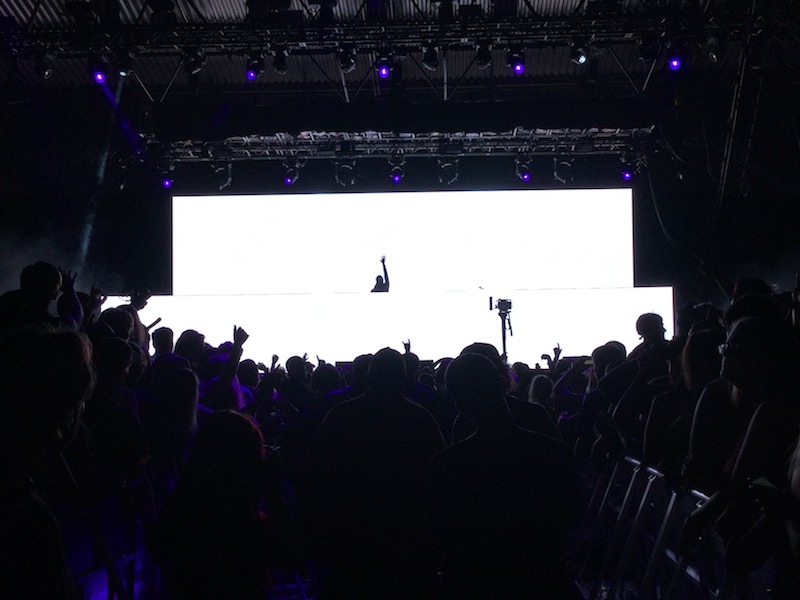 I think one of the hardest things for a DJ to do it keep the crowd dancing and entertained. It is easy for the audience to get bored and begin to feel like they are just listening to a playlist. However, Aoki kept the crowd pumped, and it was truly a constant dance party for his entire two-hour set.
Twice, he had his ground crew select members from the audience to come on stage and dance and sing with him – once during his hit single "Back 2 U," the other time was during a random mix he had going.
Of course, he did throw the occasional "Milwaukee!" in there, but at the rate his show was going, it just pumped the crowd up more. In fact, I think the energy of the crowd grew on him, and he opened up more because as the show went on he got really talkative – in a good way. It just added so much more to his show.
Aoki went on to say that the Summerfest crowd was intense and one of the best he has ever seen. He even gave the ultimate complement an artist can give a crowd and filmed a live music video right there on stage.
He said that out of all the shows on his tour, he chose Milwaukee to film the video. If I were to guess, I would say that he saw that Milwaukee truly is "the good land" and could not pass up the opportunity.
The lights that lit up the stage were incredible. Two giant screens, one below his DJ booth and one above him, were constantly playing videos and images that created an electric atmosphere.
About halfway through the show, Aoki took his shirt off – he was probably getting hot from his constant jumping up and down – but nothing was slowing him down. In fact, he got things even more crazy.
As I mentioned earlier, no party is complete without cake. And Aoki delivered with his signature "cake in the face." He personally selected members of the audience to throw a full cake at their face. And fans were ready. Countless signs with phrases all revolving around asking Aoki to "cake them" could be seen. He threw about five cakes, and after being right next to a few of them, I must say it is very funny.
Perhaps the thing that caught my attention the most about his set was how he included a few rock bands into his mixes. Nirvana's "Smells Like Teen Spirit," Blink 182's "Bored To Death" and My Chemical Romance's "Welcome to the Black Parade" were all featured and mixed into dance beats. As a big rock/metal fan, I really appreciated that, and it was cool to see the crowd enjoy those songs.
After trying to keep track of the setlist, I began to think that he had no real setlist, and after talking with a couple of his soundboard operators, my theory was proven correct. They said Aoki just wings it. Every show is different, and he does not just go from one song to another. Most of his show was him mixing random beats in the moment.
He did play most of his hits though, such as "Night Call," Boneless" and "A Light That Never Comes" just to name a few. He also played a few singles from his album "Kolony," dropping soon.
Perhaps the most random thing of the night was when he played Celine Dion's "My Heart Will Go On," made infamous by the movie "Titanic." During the song, his screens showed Aoki's head photoshopped over the famous scene where Jack is holding Rose as she extends her arms at the bow of the Titanic. Very random – but also very funny, if you ask me.
Towards the end of his show, he really got personal with the crowd and read off people's signs that were asking him to cake them, promising he would get them next time. So until the next time Milwaukee sees Aoki, cake on.
Facebook Comments
Disclaimer: Please note that Facebook comments are posted through Facebook and cannot be approved, edited or declined by OnMilwaukee.com. The opinions expressed in Facebook comments do not necessarily reflect those of OnMilwaukee.com or its staff.