T-Pain's high-octane Summerfest show was, as the kids say, "lit"
About 40 minutes into his bumping, high-energy and hit-filled Summerfest set on Wednesday night, T-Pain asked the audience, rhetorically, "Y'all want me to keep going?" Cue loud cheer, of course. He then immediately launched into his 2005 smash single "I'm 'n Luv (Wit a Stripper)." Cue even louder cheer, of course.
That was the general vibe at the jam-packed, teen-heavy and teeming Uline Warehouse Stage, and T-Pain seemed more than happy to oblige his fans. The hugely popular singer, rapper and producer motored through nearly all of his chart-toppers, to the audience's delight, also dabbling in a few non-originals, including songs he'd collaborated on and ones he had nothing to do with. It was about as crowd-pleasing a performance as the award-winning and radio-rampant Auto-Tune-crooner – who has had 12 No. 1 singles and 60 top-10 singles during his 12-year career – could possibly put on.
The @TPAIN @Summerfest show at Uline Warehouse tonight was, as the kids say, "lit." Quite lit in fact. @onmilwaukee review coming tonight. pic.twitter.com/TSGxeGHC40

— Jimmy Carlton (@jimmycarlton88) July 6, 2017
T-Pain didn't have to do that, and it was an interesting choice, given he only six weeks ago dropped "T-Wayne," a mixtape he recorded with Lil Wayne in 2009 that contained eight tracks described as "lost demos." The album's release was delayed due to Wayne's legal troubles, and on May 18 T-Pain simply posted it in its entirety online for free download, tweeting "I'm tired of (the files) just sittin on my hard drive." And it was less than nine months ago that he premiered the lead single from "Stoicville," his long-awaited latest album which has still yet to be released after originally being expected in late 2015.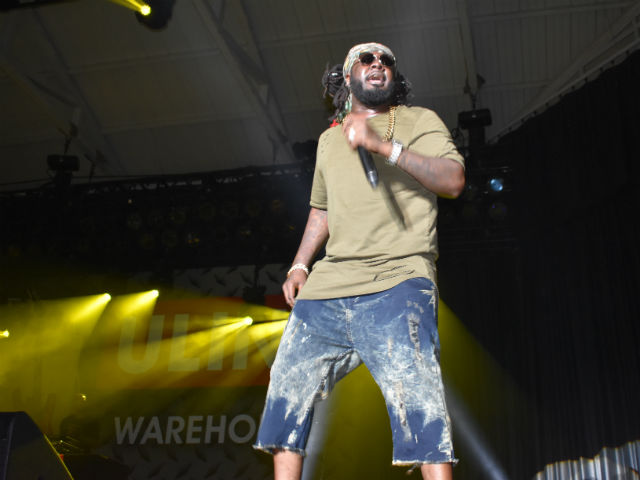 So T-Pain had new music to play, if he'd wanted. But he seemed to know his Milwaukee audience well – younger, whiter (though the crowd was refreshingly diverse, reflecting well the surprising diversity of acts the Uline Warehouse Stage has hosted this year) and rapturously roused when the first chords of his most popular songs were played.
It likely wasn't the loudest, craziest or most ardent horde of fans he's played to, but they showed their affection and he appeased them – with incredible energy and activity, jumping around, doing an entertaining array of lively, sexy and funny dances, while being as charismatic as was hoped by the many Milwaukee media members, music people and regular fans that eagerly anticipated his Summerfest show.
Deftly and smoothly transitioning through his set, slowing it down with his love (or at least love-of-butts) songs then speeding things back up with bangers, dancing dynamically with his DJ mixing behind him and his signature Auto-Tune sound – though not as prevalent live – blaring through speakers, T-Pain, sweating through his olive T-Shirt, played nearly all of his biggest hits.
T-Pain is gonna drop his "Mansion in Wiscansin" line and Wisconsin will implode

— Christian Power (@c_power15) July 5, 2017
Early on, there was "Buy U a Drank (Shawty Snappin')" and "Can't Believe It," which obviously included the line that OMG'd the local crowd, "Put you in a mansion/Somewhere in Wiscansin"; later, he pounded out "I'm In Love With A Stripper" and "Bartender," among others. He played his major collaborations, like Jamie Foxx's "Blame It," E40's "You And That Booty," Chris Brown's "Kiss Kiss," DJ Khaled's "All I Do Is Win" – in which he tweaked the lyrics to say, "Can't never count me out/Y'all better count me in/Got twenty bank accounts, Wisconsin count me in" – Flo Rida's "Low" and more.
He did some of his more recent stuff – "F.B.G.M.," a smooth new jam with Young M.A. he released in May, and the hilarious, so-bad-it's-kind-of-good, give-no-f*cks anthem "Dan Bilzerian," featuring Lil Yachty, which he produced and is the top track on "Stoicville" – and some unexpected stuff, like DJ Unk's "2 Step Remix" and Rick Ross's "Maybach Music 2." And he sampled other people's music, showing his rap skills with parts of Desiigner's "Panda," Dr Dre's "Forgot About Dre" and more.
T-Pain closed the show with Maino's "All The Above," which he's featured on, before offering three long, slow, deep bows to the adoring audience and walking off stage, having done about a 70-minute concert. After he exited, the 1987 love ballad "(I've Had) The Time of My Life," the theme song to "Dirty Dancing," started playing at the Uline Warehouse, which seemed like a pacifying GTFO message from Summerfest to its young and amped-up crowd and actually did have a fun, calming, singalong effect on everyone as they left.
So, indeed, the show was, as the kids say, lit.
T-Pain was lit 🔥🔥🔥

— Matt Stevens (@Matty_Stevens11) July 6, 2017
T-Pain was lit tonight🤘🏼✊🏾

— The Real AwesomeAndy (@nathanmatthaeus) July 6, 2017
T-pain was lit af😝

— Jesenia (@JaimesJesenia) July 6, 2017
t-pain was lit

— Den (@DeneilleLessard) July 6, 2017
T-Pain was actually lit tonight

— Zack Cooper (@Zack_Cooper1) July 6, 2017
T-Pain had da crowd lit

— Nino (@Ninoo414) July 6, 2017
T-Pain...lit af. Goodnight

— CORYONCÉ (@xNiglet) July 6, 2017
wyxufzqbeteb
Facebook Comments
Disclaimer: Please note that Facebook comments are posted through Facebook and cannot be approved, edited or declined by OnMilwaukee.com. The opinions expressed in Facebook comments do not necessarily reflect those of OnMilwaukee.com or its staff.
wyxufzqbeteb