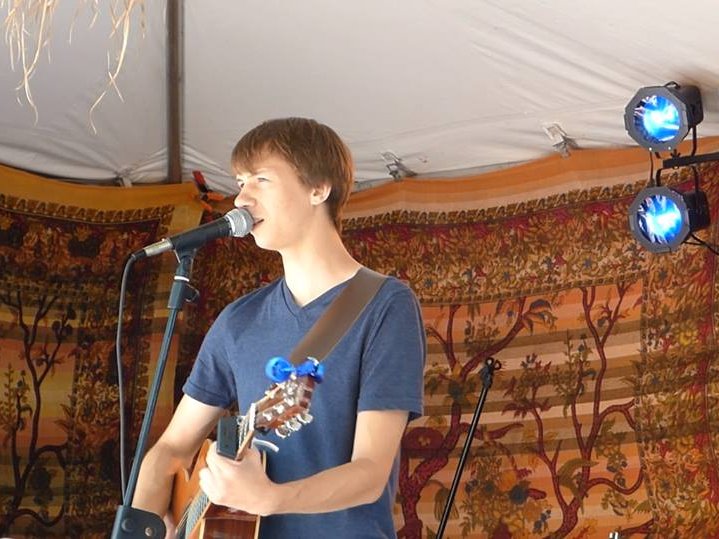 Local musician Derek Sallmann evolves from dreamer to Big Gig performer
The OnMilwaukee Summer Festivals Guide is presented by Potawatomi Hotel & Casino. Create your summer story by participating in casino wide promotions with the chance to win big. This summer I will own it! Click here for more details.
After finding his father's guitar as a 13-year-old, Derek Sallmann had a hankering to start learning to play and become a musician. His dad was a guitarist and his mother a flutist, so music was naturally in his blood. Once Derek took interest in music, he started off by just learning some chords, which eventually evolved into writing his own original songs.
Thanks to his high school choir teacher, he brought those new originals to his first show several years back at Waukesha's Friday Night Live. Now, he plays bigger shows like Summerfest, where he'll be performing for the third year. He started off his first time at the Renegade stage, but after bouncing around to a couple of different stages, he has found his place at the Ground Floor Stage and the Tiki Hut Stage, where he'll be performing all three days this weekend from 12:15 to 1:15 p.m., as well as from 1:30 to 2:30 p.m. on Saturday and Sunday.
As his fan base grows, so does his music. He had his song, "When I See You," played on FM 106.1, and he plans to premiere a new music video for it soon, featuring some of the most unique places in Milwaukee. He's even releasing a fully produced debut album of 10 original songs. He has come a long way from that 13-year-old boy with musical dreams. He is now living them out and ready to share his music with the world.
OnMilwaukee got to chat with him and learn more about him, his music and his experiences at Summerfest:
OnMilwaukee: How would you describe your music for those wanting to see you at Summerfest?
Derek Sallmann: I always try to write songs that are simple and catchy. I want someone the first time they hear it to kind of walk away and be like, "I get what he's saying." Just make it so it's memorable, easy to listen to, easy to understand, so people can take it in and really just enjoy it.
Can you tell us about this new album you have coming out?
Yeah, it's called, "All Seasons." We recorded, and it was produced by Tony Schueller and Anton Music Productions in Lannon. He's the same guy who produced Stephanie Brill's album. She played on U.S. Cellular this year.
The album has a lot of simple, fun, catchy songs. It's a mix of like happy, sad, slow, fast songs, so you really get a variety of stuff. I really like all the production that's in it; it really adds to each song. I think it makes the album really listenable. You could either really focus on listening to and engage with lyrics or just kind of have on in the background while you're studying.
What's the first song you've ever written?
The first song I ever remember writing is "Storm." I actually put a YouTube video up of me playing it in my basement or something a while ago. And now, it is really cool because now I have the album version. Looking back at the first time playing it versus, you know, what it is now. It's really cool to see that progression.
Other than your original work, you mentioned you did cover songs. What are your favorite cover songs to play at your shows?
I always like "Hey, Soul Sister" by Train. That's one that normally gets people involved, which is fun. "I'm Into Something Good" by Herman's Hermits is normally something I open with, just because it is a shorter song, but it is also just a fun song. I feel like myself and others just get really drawn to those fun, happy songs especially when things in the world sometimes aren't going super positive. It is just nice to kind of relax with a fun song to kind of take your mind off everything.
Since you have been playing shows at Summerfest for awhile now, what's your best Summerfest memory?
I was just walking around handing out CDs to people, and I ended up talking to the TMJ4 people. Brian Gotter was there, and I was like, "Hey, you guys should listen to this CD." And then he was like, "Oh, do you want to be on the news?" I said, "Yeah, I want to be on the news. That would be sweet!" He told me to come back in 30 minutes. I actually lent my guitar strap to somebody else that day, so I was supposed to stand in the street and play the single I released last year.
My brother and I ended up taking the strap off my guitar bag and taking off one of our shoelaces each and tying it to my guitar, put the mic on and did this last minute song. I think I called my mom and was like "Mom, you gotta put on TMJ4 and record it." (laughs) That is something I will always remember.
What do you like about performing at Summerfest?
I really love the atmosphere just because you're around all of these other musicians. It's kind of like you can see what everyone else is up to and talk to people you haven't seen in awhile. It is very encouraging just seeing how many people come out for live music, and that is just still such a large part of their community. There's just something special about being on the grounds, where all these famous musicians have played. It's really awesome to be a part of it.
exawxtwaexeurtvuqaweadbfzdabrwraw
Facebook Comments
Disclaimer: Please note that Facebook comments are posted through Facebook and cannot be approved, edited or declined by OnMilwaukee.com. The opinions expressed in Facebook comments do not necessarily reflect those of OnMilwaukee.com or its staff.