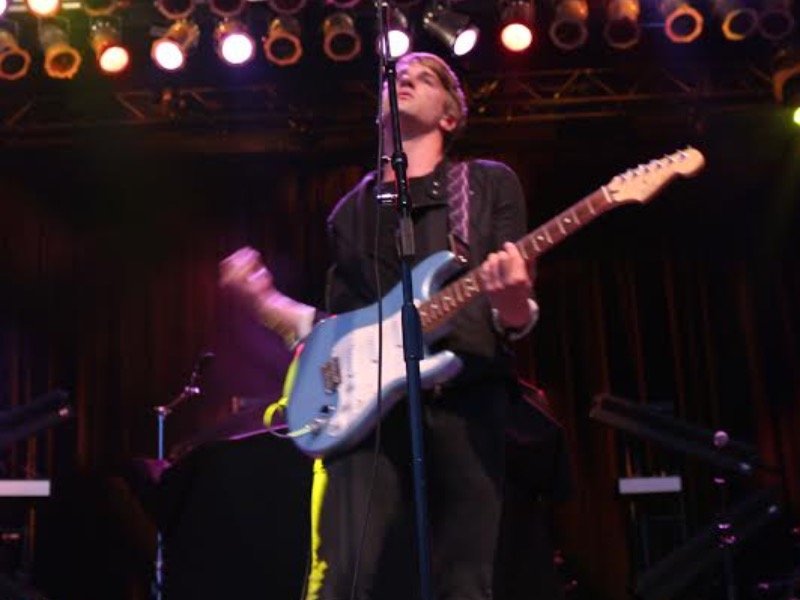 Hometown boys Vinyl Theatre battle back the rain at the Miller Lite Oasis
An unexpected, constant rain lead up to Vinyl Theater's evening performance, but that didn't keep the crowds away. Instead, they cheered with each outpour. The show began, and the rain seemed to lighten up as the Milwaukee trio hit the stage.
The intro from Michelle at FM 102/1 included a shout out to Chris Senner for bringing back the keytar – a combo of keyboard and, you guessed it, a guitar. It was a common sight back in the '90s but not as popular these days. The loss of the band's bassist makes the instrument a little more important in order to make up some of the volume and complete the sound – and give Senner credit for pulling it off.
Vinyl Theater's high energy was on display from the start of the show till the finish. They concentrated on cuts off their recent album, "Origami." Released on the ultra-hip label Fueled by Ramen – an Atlantic records off shoot with labelmates the likes of Twenty One Pilots and Paramore, among others – it's their second full-length release after debuting with 2014's "Electrogram," which produced a buzz and a nominal hit with "Breaking My Bones." The song charted 46th on Billboard and earned them some national radio play.
This Summerfest gig was a one-off show sandwiched between a support run for Dashboard Confessional earlier this year and a tour later this fall with fellow labelmates, Misterwives. The band had an overflow of energy and excitement to hit the big stage at the Miller Lite Oasis.
This intertwined nicely with their more than willing participants: the audience. I was surprised with the singalong presence buzzing on many of the newer songs. "The Island" had a tropical tilt to it, but not to the point of cheesing it up, while the crowd was treated to really tight work on "New Machines" and "My Fault." The gel of Nick Cesarz's pounding heartbeat on drums, fused with Senner's wild keyboard play and guitarist/singer Keegan Calmes's drive, is a work that is coming together nicely.
The band's lowlight came on an ill-advised cover of Muse's "Starlight," which was met with tepid response from the crowd. It can be a common mistake for young bands to play covers of recent hits. The song may be influential to them; however, not enough time has passed on it to make it relevant and interesting enough to merit taking a swing at it.
The rest of the set, however, was worthy of the applause and buzz they have been receiving. A highlight was "Speak My Mind," which had a plea to it that was genuine and had a palpable passion behind it. The 60-minute set was capped by their latest single, "30 Seconds," a song starting to track on the radio. The fans rightly gobbled it up.
This show was an indicator of where Vinyl Theatre can go in the future. If they continue their trajectory, and can bring it every night, they will make good on their "Breaking My Bones" lyric: "We're taking off. We're taking off, baby." Of course, in my head, since they are the hometown heroes, I hear that line followed up with a little shlamiel and shlamazel, "Make all our dreams come true. For me and you."
vubbdyfsruwzcyar
Facebook Comments
Disclaimer: Please note that Facebook comments are posted through Facebook and cannot be approved, edited or declined by OnMilwaukee.com. The opinions expressed in Facebook comments do not necessarily reflect those of OnMilwaukee.com or its staff.