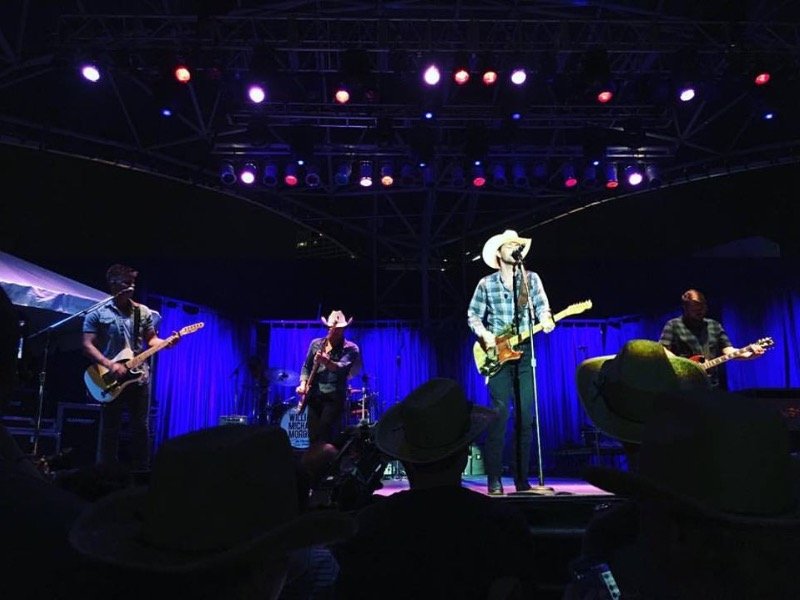 William Michael Morgan's Summerfest set reveals a young star with an old soul
When I took this gig I had no idea – none, like zero – that Morgan is only 24 years-old. I mean, holy wow, what a voice! It's like Belgian chocolate. It's delicious. Morgan's voice is polished, and sturdy, and tested – and the owner of the voice is only 24. Mind blown.
I'd been hearing "I Met a Girl" on the radio since it dropped last year. It spent 52 weeks charting before it finally hit number one. That's a lot of time to hear Morgan's dulcet baritone and form a picture of the man behind the voice. My drooly imagination had a mental picture set of a late 30-something, steamy George Strait type. So when I started researching Morgan for this review, well, um, didn't I feel like a total cougar. Yikes.
But still, how could this wet-behind-the-ears, newly-minted artist sing with such maturity? I still have no answer. What I did know is that I was really, really looking forward to Morgan's show on Thursday night. And what I know now is this: If you missed William Michael Morgan's 90-minute show Thursday night on the U.S. Cellular Connection Stage, you totally lost at life.
Despite starting late, presumably due to sound issues (though opening act Tucker Beathard didn't leave the stage until 15 minutes before Morgan was supposed to start), Morgan managed to pack 22 songs, plus an encore, into his set. It was steamy, sultry and just freaking fantastic!
Morgan opened with "Something to Drink About" from his first, and still very new, album "Vinyl." Though there was very little audience interaction between songs beyond a "thank you very much" (think Randy Travis meets Elvis), William Michael Morgan grabbed and held the audience despite the rain.
After a couple more songs from "Vinyl," Morgan wove together covers from greats like George Strait, Waylon Jennings and Merle Haggard with all but three songs from his album. Most of the covers he chose drew shouts from the crowd … and from me. I mean, who doesn't love "Check Yes or No"?
Though there were maybe only 300 or so people hanging out in the rain, they were plenty loud. And they danced like mad. Me, too, of course!
"I Know Who He Is," about a son and his father with Alzheimer's, was one of the stand out moments Thursday night that came from Morgan's album (just two of many). I listened to this song, as I do with most, about ten times before the show on Thursday. I mean, yeah, it hit home, but I was like, "Oh, this is touching." Live, however, was a completely different story. Live, William Michael Morgan had me sobbing. When an artist can do that, it's safe to say he's well on his way to cementing his place in Nashville.
Thoroughly enjoyed my first @wmmorgan concert tonight at #Summerfest! What a tall cutie pie! Just wish @BrentBel was home to go too! pic.twitter.com/Hnavl2Mrqs

— Maggie Sherwin (@MaggieKayte) July 7, 2017
The other stand out was a song I waited pretty much all night to hear, "Missing." It's a roll your windows down and celebrate the art of turning off the noise. Think Kenney Chesney meets Randy Travis meets George Strait. Such a great song – and even better live.
It's safe to say that, for the crowd, any song that they could dance to really carried the night as evidenced by the square and dirty and, well, other dancing that happened during "Folsom Prison Blues." Totally killer.
If there was one issue at all, it's the fine point of the definition of country music. If Morgan had said that he really loved "real country" music only once during the night, I would've let it slide. But he said it several times. I loved the guy, I really did, and like I said, this is such a fine point, but I had a little problem with that. Country music is broad and deep. While current trends may not be totally to my taste, or seemingly to Morgan's, it's all country. All of it. He, himself, has said as much during interviews, that the one word "country" unites the brand.
*jumps off high horse, resumes review*
Morgan, his band and his music were all fan-flipping-tastic. They had to be to keep people willingly standing in the rain.
William Michael Morgan is brand new (five years) to Nashville, but he's no stranger to the country scene. He's been sneaking into Mississippi clubs and bars to play gigs since he was a teen. The artist picked up a guitar around age eleven and taught himself to play by watching YouTube videos of classics like Merle Haggard and George Strait. While that makes me feel old, it should really just speak to the immense talent Morgan has for music.
Morgan's voice, his lyrics, the style of his brand of country speaks to a different time in country music when women were respected and pickup trucks weren't hookup trucks.
And somehow, that's completely refreshing.
Set list
"Something to Drink About"
"People Like Me"
"You Look Good in My Truck"
"It's a Little Too Late" (Mark Chesnutt cover)
"Cheap Cologne"
"Drops of Jupiter" (Train cover)
"Vinyl"
"I Know Who He Is"
"Beer Drinker"
"Back Seat Driver"
"Chasing Cars" (Snow Patrol cover)
"Are You Sure Hank Done It This Way" (Waylon Jennings cover)
Medley "Whiskey Bent and Hellbound" (Hank Williams Jr. cover)
"Only Daddy'll Walk that Line" (Waylon Jennings cover)
"Friends in Low Places" (Garth Brooks cover)
"Chattahoochee" (Alan Jackson cover)
"Ramblin' Man" (Allman Brothers Band cover)
"Ramblin' Fever" (Merle Haggard cover)
"Check Yes or No" (George Strait cover)
"When You Say Nothing At All" (Keith Whitley cover)
Medley - "I'd Love to Lay You Down" (Conway Twitty cover)
"Mama Tried" (Merle Haggard cover)
"Keep Your Hands to Yourself" (Georgia Satellites cover)
"Missing"
"I Met a Girl"
"I Pulled a Hank Last Night" (Kevin Fowler cover)
Encore
"Folsom Prison Blues" (Johnny Cash cover)
Facebook Comments
Disclaimer: Please note that Facebook comments are posted through Facebook and cannot be approved, edited or declined by OnMilwaukee.com. The opinions expressed in Facebook comments do not necessarily reflect those of OnMilwaukee.com or its staff.