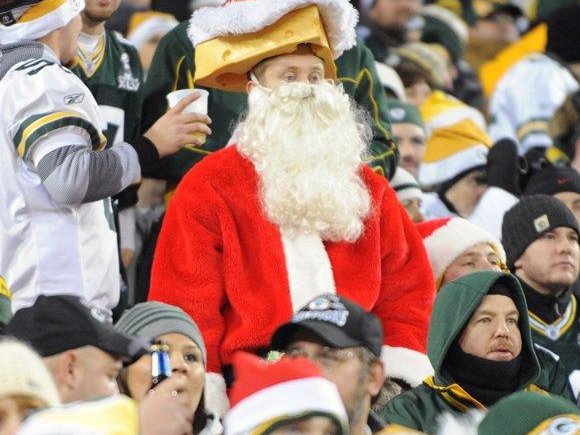 There are no holidays in sports
The holidays come early for many professional athletes across the state, beginning in March and going all the way through September.
Those athletes who participate in winter sports – indoor soccer, football, basketball and hockey – know what their holidays are going to look like as soon as their leagues release their schedules. The Milwaukee Bucks knew in March, the Green Bay Packers in April, the Milwaukee Admirals in August and the Milwaukee Wave in September.
While there are favorite road trips each team makes, some of the first dates an athlete checks for are Thanksgiving and the Christmas holidays.
Do they play on the actual holiday, or the day before and after? Is it a road game? How much travel is involved?
"It comes with the territory," Wave defender Joe Hammes said. "You look at the schedule early on in the season and you can kind of see if you're traveling over Thanksgiving or if you're traveling over Christmas. Coach (Keith Tozer) has done a really good job of recognizing the fact that if we are gone for that, he'll give us a time where we can call it our Christmas.
"Even if it's not on Christmas Day, somewhere around the holidays we can have our so-called Christmas. He's really good at understanding the value of that. Everybody has families, everybody wants to see their loved ones, but with our profession you do have to sacrifice some of those actual days."
For these athletes and their families, an adjustment is made early on in life. To the players, this is all they know, beginning in the youth leagues.
"Ever since I played basketball, even in high school, we played on Thanksgiving and Christmas," Bucks forward Drew Gooden said. "I won't know that feeling until it's another lockout or I'm retired. I think it gets easier. Some days you wake up and you forget it is Christmas."
Milwaukee Admirals defenseman Victor Barkley looked around at his teammates and noted that many left home at a young age, forcing an adjustment around the holiday period.
"The first couple years yeah, but most of us have been doing this since we were 14, 15 and now we're 24, 25 so it gets a bit easier," Barkley said. "You do miss your family, especially with the holidays, you do really miss 'em and sometimes it gets lonely but you're doing what you love and you know it's the sacrifices you have to make."
Then, as they get older and have families of their own, further adjustments are needed.
"You just kind of get used to it," said Bucks swingman Mike Dunleavy, whose father Mike was a longtime NBA player and coach. "With Thanksgiving and Christmas, it's just going to be kind of in a pinch between games. You try to enjoy it as much as you can. You get a little time off and make the most of it, but this is what we do."
The early schedule release helps in their planning, and as Hammes said, the organization and its coaches aren't all cold-hearted. They have families they want to see, as well.
"You have a schedule so far in advance that you know what your schedule is going to look like and you just talk to the kids about what the responsibilities are," Packers center Jeff Saturday said.
"Most teams know. They give you some time. If it's Christmas, they give you the morning. You come in a little bit later so you can get that time and spend a little time in the morning with your family. I know for Thanksgiving we would come in super early so we could finish early and be able to get home and have dinner with the family. Obviously on games, that's the day, so there's nothing you can do. You let your family know in advance. But it's all part of it. It's just the time of year we have to do it. It's just a way of balancing communication with your family."
Every athlete acknowledges their good fortune in being able to play a professional sport for a living, but there are times when it can get difficult to be away from family.
Last year, the Packers played on both Thanksgiving Day and Christmas Day. The game is the game, and proper preparations had to be made that week. So, Packers cornerback Tramon Williams decided to fly his family to Green Bay to spend it with him.
"It was fun," he said. "It was good. I brought it to me."
Saturday remembered one game being particularly hard on him during his long tenure with the Colts in which the team had to fly back from the West Coast on Christmas Eve. Sitting on that long plane, Saturday knew he was missing out on a long-standing family tradition that his young children were being introduced to without him.
"In my family Christmas Eve is a huge day," he said. "We have a dinner. We talk about what we're thankful for, and go through a big deal and then usually open one gift that night and just share stories and that kind of thing. That was tough.
"It's a family tradition you've done for so many years with your mom and dad and you try to pass on to your kids and when you have to miss it, when you have little ones – and I had young kids at the time – it's difficult. No matter what you do for a living, family comes first so there's times when those days do hurt."
While it's difficult on them, athletes can compartmentalize the situation – get lost in the duties of the day, and the preparation for what's ahead. But that means extra effort must be taken to appreciate family when time is allowed over the holiday.
The Wave, for instance, play on the East Coast on Dec. 26. There will be no big Christmas feasts, as the players need to be prepared to win a match shortly after.
"You prepare yourself for the season and try to be there when you can with the family and actually really, really be there and not be thinking about 'I've got to go the next day,'" Wave goalkeeper Nick Vorberg said.
To that end, each player relies heavily on family to understand the situation and be able to roll with it and perhaps schedule holiday get-togethers before, or after, the actual holiday itself.
"You have a job – you've got to do it," Bucks guard Marquis Daniels said. "Of course you always want to spend time with your family if you could. If it's a home game it's cool because you can wake up with the 'fam' and watch the kids open their presents. If it's on the road, it's tough. They understand it's a job and you've got to continue doing what you do."
Facebook Comments
Disclaimer: Please note that Facebook comments are posted through Facebook and cannot be approved, edited or declined by OnMilwaukee.com. The opinions expressed in Facebook comments do not necessarily reflect those of OnMilwaukee.com or its staff.