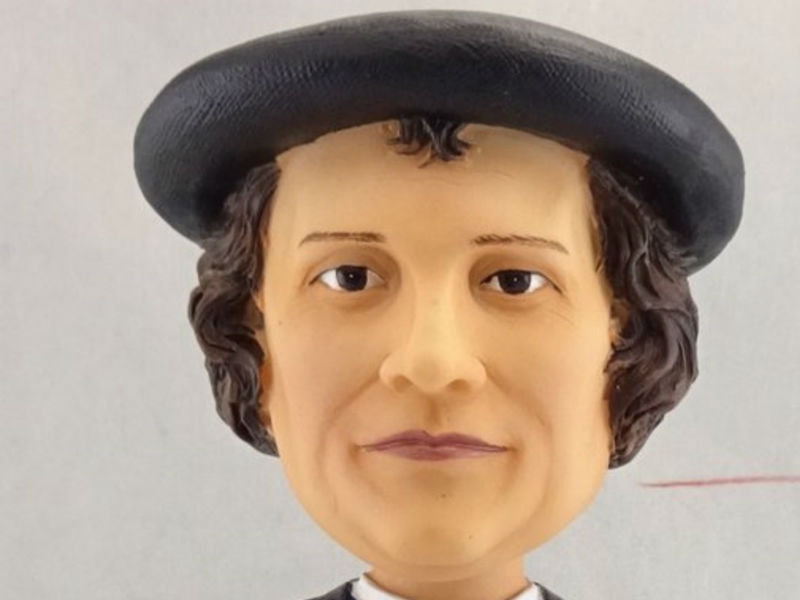 Admirals' 2017-18 promotional schedule includes Martin Luther bobblehead
The Admirals are a little more than a month away from dropping the puck on another season, and on Tuesday they released their promotional schedule for the year.
The season begins with a rather tame promotion for the home opener on Oct. 20 at the UW-Milwaukee Panther Arena, with fans receiving a free Admirals calendar magnet. But things quickly get weird the next night, when for $20 you can get a ticket to the game and a bobblehead of Martin Luther wearing an Admirals jersey.
Why, you ask?
Well, this year represents the 500th anniversary of Luther marching down to a Wittenberg church and nailing his "95 Theses" to the door, thus starting the Protestant Reformation. I'm not sure what historical evidence points to Luther being an Admirals fan, much less a hockey fan, but if I do something that is still significant 500 years from now, I would appreciate a bobblehead, at the very least.
Have some grievances like this guy did 500 years ago? You'll want the ticket package for 10/21 that includes this bobblehead! Details soon! pic.twitter.com/HA0zsW0xlq

— Milwaukee Admirals (@mkeadmirals) July 12, 2017
According to the Admirals: "We've got a pretty good tradition of unique bobbleheads (The Crusher, Washington, Lincoln), but this one is unique even for us. It originated from our VP/Ticket Sales John Bitter, who is a devout Lutheran and excited about the 500th anniversary of the Reformation this fall. Then he figured there's 100,000 or so Lutherans (or more) in Milwaukee, so why not do this as a big group?"
Fans will also be able to get a bobblehead of Santa, featuring a miniature of Roscoe in his sack, on Nov. 24. I am a firm believer in respecting the glorious holiday of Thanksgiving by not celebrating Christmas until after turkey dinner, so I tip my cap to the Admirals for correctly scheduling this promotion.
Another bobblehead giveaway will take place March 2. That's when Freddy Gaudreau, who, after being called up from Milwaukee by the Nashville Predators last year, became the second player in NHL history to score his first three professional goals in the Stanley Cup Finals, will be bobblized.
The Admirals' promotional schedule also features appearances from wrestlers on Feb. 11, free tickets for all veterans and active military personnel and their families on Nov. 11, a bring-your-dog-to-the-game event March 15, and the annual visit from the University of Wisconsin Marching Band on Feb. 3
The Ads begin the 2017-18 season on the road at Iowa on Oct. 7.
Facebook Comments
Disclaimer: Please note that Facebook comments are posted through Facebook and cannot be approved, edited or declined by OnMilwaukee.com. The opinions expressed in Facebook comments do not necessarily reflect those of OnMilwaukee.com or its staff.