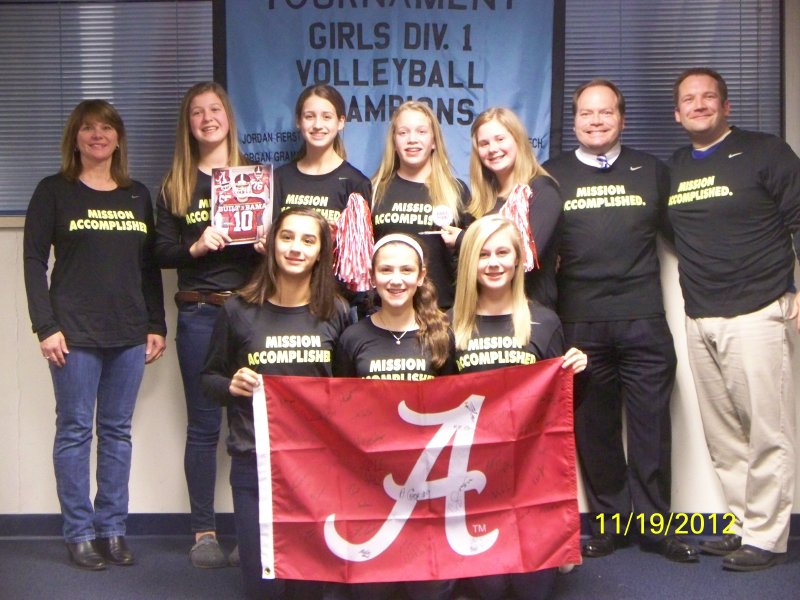 Alabama, Wisconsin connected by adversity and championships
Linda Leoni smiled.
She pulled some paper off the printer inside the Mal Moore Athletic Facility on the campus of the University of Alabama in Tuscaloosa and attached them to the door to a meeting room used by Nick Saban and his Crimson Tide coaching staff.
It's a common practice for Leoni, who works as Saban's administrative assistant. Whatever strikes her as worth seeing for the coaches and players find its way to that door.
Saban's office is nearby, and naturally every coach – along with players – filter in and out of that area all season long. Most check the board out on a daily basis to see what motivational material might be posted.
Following a difficult loss to Texas A&M on Nov. 11, there was an unusual posting. Usually the materials are in-house notes, media reports, or even drawings from local elementary school students. This time the material came via an eighth grade girls volleyball team from Menomonee Falls.
One piece of paper was an email sent a week prior to that defeat from Brad Van Dam, an assistant coach with the St. Mary's Parish Warriors, the other a picture of the team. Over the years, the St. Mary's volleyball team had struggled with rival St. John's Vianney. This year's eighth grade class had not beaten Vianney's since they entered middle school, including a championship loss last year.
In an effort to inspire his team that they could indeed best Vianney, Van Dam decided on a most unusual analogy for a group of eighth grade girls – the 2011 Alabama Crimson Tide. He told them the story of the Tide's 9-6 regular season loss to LSU and how the team rallied to beat the Tigers 21-0 months later in the BCS National Championship Game.
"At first we all thought it was kind of crazy that he was bringing this up," said St. Mary's player Haylie Ruelle. "Some coaches would just say 'let's go beat 'em' but he actually connected it to something else, which was actually pretty cool at the end. But at first, nobody really thought it was going to be that big of a deal."
Van Dam drilled the analogy in further when Vianney beat St. Mary's in their first match of the season. It was then that the analogy clicked for this group of girls. The Warriors finally beat Vianney in their second regular season match and sure enough – they were to meet again in Catholic League championship match at the Seton Tournament.
"I gathered all of them on that Sunday of Seton Championship before mass, they all sat together, and one of kids turned around and said to Brad 'Hey coach, what was the score of the LSU-Alabama game last night?," Warriors head coach Bob Ruell said. "It resonated. They were getting it."
In the Seton Tournament, St. Mary's came through again with another victory and a championship.
"What made it connect for me was how similar it was – they lost to a team they wanted to beat and we did the same thing," Warriors player Morgan Gramins said. "We were just off and then we just realized we needed to fix what we could and we then we ended up beating them. That's what kind of clicked for me the most."
After it all, Van Dam decided to send an email to the Alabama athletic department.
He wrote, in part: Our final matchup was yesterday evening in the championship game of our season ending Catholic School Championship. we were not the tallest team, or hardest hitting, but we knew what we needed to do and knew what each of us had done to prepare for the game.
You played the evening before us, and my girls all came to church in the morning before our final match together. One turned to me from the pew in front and asked me what the score was of the Alabama - LSU game last night. I smiled and answered, 21-17.
Attached is a photo of us and our banner. Thank you for the inspiration. Alabama football made its way into the heart of a catholic school 8th grade girls volleyball team in Wisconsin ...
One of the reasons Leoni felt Saban and the rest of the Alabama football program would be interested in seeing this was because the Tide found themselves in a similar situation as the year before. They had lost to Texas A&M during the regular season and needed some help to once again advance to the BCS National Championship game.
The message was seen, and it resonated down in the deep South.
Even the steely coach with three national championships already under his belt couldn't help but smile at the note.
About a week after the Tide's loss to Texas A&M, Van Dam received a package from Tuscaloosa. Inside was an Alabama banner signed by members of the team and a letter from Saban.
"Everything that they did was amazing and classy and a good example of the kind of people they are," Van Dam said. "Things that you would only do if they really cared about it."
Page 1 of 2 (view all on one page)
Next >>
Talkbacks
Midwest | Jan. 23, 2013 at 7:27 a.m. (report)
Way to find a unique story. Not the typical sports take, but very interesting. My dislike for the Crimson Tide just lessened a bit.
Facebook Comments
Disclaimer: Please note that Facebook comments are posted through Facebook and cannot be approved, edited or declined by OnMilwaukee.com. The opinions expressed in Facebook comments do not necessarily reflect those of OnMilwaukee.com or its staff.