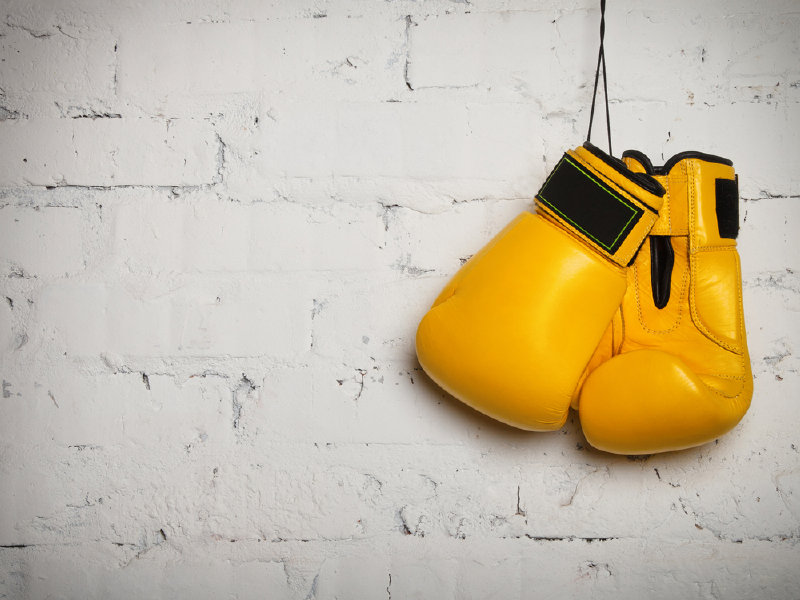 Professional boxing steps back into the ring in Milwaukee
Professional boxing is coming back to Milwaukee, and it's not a moment too soon as the sport has been absent for too long a time.
Let me make it clear. I love boxing. I mean I absolutely love boxing.
I'm frequently asked what's the best sporting event I've ever covered. I've seen Super Bowls, World Series, NBA title games, The Masters, U.S. Open golf, tennis tournaments, high school state basketball tournaments and all kinds of other events.
Nothing – and I mean nothing – comes even close to matching the excitement of the fight between Sugar Ray Leonard and Thomas Hearns in Las Vegas, Sept. 16, 1981. The fight was billed as "The Showdown" and was a scheduled 15-rounder to unify the welterweight title.
Nothing matched the fervor of the event, from the pre-fight stuff to the bout itself. It was the perfect example of the appeal of boxing: Two superb athletes in virtual non-stop action both delivering and accepting incredible levels of punishment. Strategy, stamina and skill were on full, unvarnished display.
Perhaps the best description of boxing I've ever heard came from author Joyce Carol Oates.
"Boxing," she said, "is a celebration of the lost religion of masculinity all the more trenchant for its being lost."
That celebration will return to Milwaukee on April 25 with the "Ballroom Battle Royale-Return of the Champions." Like boxing productions the world over, this event is no stranger to excess in its title and billing.
The event, the second for this promoter, will be held at the historic Turner Hall Ballroom. The Turner Hall card is an all-ages event, and tickets are available at pabsttheater.org/show/ballroombattleroyale.
The main promoter behind this event is Enobong "The Nigerian Gentleman" Umohette. Umohette – who, as his nickname might suggest, is from Nigeria – has a lengthy and pretty distinguished record as both an amateur and professional heavyweight. Growing professional boxing in Wisconsin is something of a cause for him. He even sounds a little like an evangelist when he talks about his efforts.
"At age 34, my profession as an active professional boxer may suffer as a consequence of promoting events," Umohette said. "But that is a risk and sacrifice that I am willing to take for a greater good. It may take a great while to have the big ESPN, HBO and Showtime support for professional boxing in Wisconsin. But slowly and surely, Wisconsin will get there."
His first promoted bout – a card at Potawatomi Casino last November – drew nearly 1,000 boxing fans. Umohette is being joined in his second promotion by Tom Reed and Tanya Darge, who produces Packers and Bucks post-game shows at WSSP 1250.
Reed is a very familiar name in Milwaukee as an actor, director and artistic director of Optimist Theatre, the company that stages free summer productions of Shakespeare's work. Reed was a boxer in his youth but quit to become an actor, either a wise or bad decision depending on your point of view.
The fight card, as with most, is still steadily taking shape. But there are some serious attractions coming.
Veteran heavyweight "Fast" Fres Oquendo, currently ranked No. 7 in the world by the WBA, will be one headliner. He has been rated as high as No. 2 in Ring Magazine. He has fought on HBO, Showtime, ESPN2, Fox Sports Net and Versus. In addition, he has helped prepare Nikolay Valuev, David Haye and Vitali Klitschko for World Championship fights.
Another pretty big name on the card is Milwaukee's very own Lyle "The Iceman" McDowell. McDowell was the longest reigning professional heavyweight boxing champion of the state of Wisconsin and a former IBO Inter-Continental Heavyweight champion, a title he captured from former WBC Heavyweight Champion Trevor Berbick in Alberta, Canada.
There is a distinctly local flavor to the card as well with David Diaz, an undefeated lightweight from Milwaukee who had an impressive win over the much more experienced James Owens. Also billed to feature on the card are upcoming fan favorites like undefeated Benito Tovar (2-0-1) of Waukesha, Dennis "The Mongoose" Morris, Rudy Payne and Alexander Tousignant; all from Milwaukee.
It's impossible to talk about the upcoming boxing card without considering the Mixed Martial Arts spectacle being staged at the Bradley Center a month later. There will be striking differences between the crowds at each event.
One major difference will be that the boxing crowd will not be screaming to see blood flow. And another will be that in the boxing match fans won't be treated to the sight of one guy lying on top of another for four or five minutes.
Talkbacks
emills81 | March 11, 2014 at 1:24 p.m. (report)
One event is being held at the home of an NBA franchise, the other event is being held in the upstairs of a German beer hall. The reason no one will be screaming for bloody murder is because no one will be there, or at least no one under 65 will be there. Boxing has no creditability in todays market. Boxing as a sport has gone to the wayside, just like you.
Facebook Comments
Disclaimer: Please note that Facebook comments are posted through Facebook and cannot be approved, edited or declined by OnMilwaukee.com. The opinions expressed in Facebook comments do not necessarily reflect those of OnMilwaukee.com or its staff.