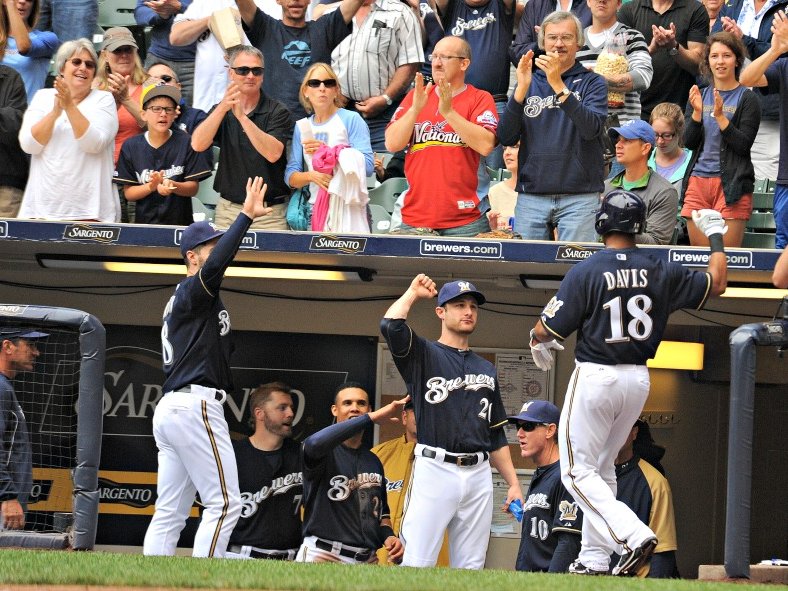 Brewers fans have big responsibilities in pennant race
If this was a car race the big black flag would have forced the Milwaukee Brewers off the track weeks ago as the team stumbled and bumbled its way to a losing streak and the loss of almost all of their division lead.
Sure, the team beat the stuffing of the Cardinals, 11-2, in the final game before the all-star break, but let us not delude ourselves: July has not been kind to this team.
In June the Brewers had an 18-10 record, the kind of stretch that makes thoughts of a World Series trickle into your head. And then came July with a 2-10 mark before the break.
This is beginning to shape up as a real highlight of a summer as the Brewers, St. Louis Cardinals, Cincinnati Reds and Pittsburgh Pirates are all within three and a half games of each other. Thank God for the Chicago Cubs.
There are less than 70 games left once the teams return to business and assuming that the Brewers can at least partly right their ship, we could find ourselves in the middle of an incredibly exciting division race.
Nothing is more exciting. It can last over weeks. Every single game is crucial. Every play seems crucial. It is the ultimate agony and ecstasy of sports.
And there is a profound role for those of us who are fans to play in a pennant race. We have some responsibility here, and although it goes a little bit against my grain, here's a guide to some of the things we need to do.
In an overall sense we all need to put on a happy face and keep it on. Nobody likes to hang around with Sammy Saddy who is always looking on the dark side of things.
Don't kid yourselves. As much as players and coaches say they are immune to the ravings and rantings of the fans, they live in this community, they read social media and newspapers and magazines, they listen to the radio and they watch TV. If there is an atmosphere of doom and gloom all around you, it's bound to have an impact.
So the big thing is that we need to make sure this team knows we are fully behind them in everything they do. Let's start all kinds of fan activities to help generate excitement. Let's get someone to write a great Brewers' song. Let's have summer playground programs, Brewers kid drawing contests and make Brewers crafts.
If we are an organization that has scheduled an appearance by a player, let's publicly cancel it and say we just want the player to focus on playing, as much as we appreciate his efforts to help our cause, whatever it is.
Let's everyone buy a Brewers antenna flag and fly it proudly. Can you just imagine every car on the street with a flag? Impressive, no?
Everybody who is going to a Brewers game should have a shirt that is Brewers blue. Miller Park filled with that blue can't help but make our team feel like we are in this with them.
And one more thing, although I'm conflicted about this one.
On one hand I'm suggesting that nobody listen to radio sports talk shows. Those people never say anything good and all they are looking for is an excuse to take some kind of cheap shot.
But on the other hand I want to take a page from the Bill Clinton campaign book. Let's create rapid response teams. Assign somebody to listen to these shows.
Whenever anyone says something stupid, which is pretty much all the time, let's get our response team on the line to point out over and over what dummies these sports talk guys are.
There's a saying my grandmother used to have. "You catch more flies with honey," she'd say, pointing out that if you are nice you are more likely to get what you want. I'd change that aphorism to suit this situation.
"You are more likely to catch a pennant if everybody (including fans) are pulling in the same direction."
So, let's get it on Milwaukee.
Facebook Comments
Disclaimer: Please note that Facebook comments are posted through Facebook and cannot be approved, edited or declined by OnMilwaukee.com. The opinions expressed in Facebook comments do not necessarily reflect those of OnMilwaukee.com or its staff.