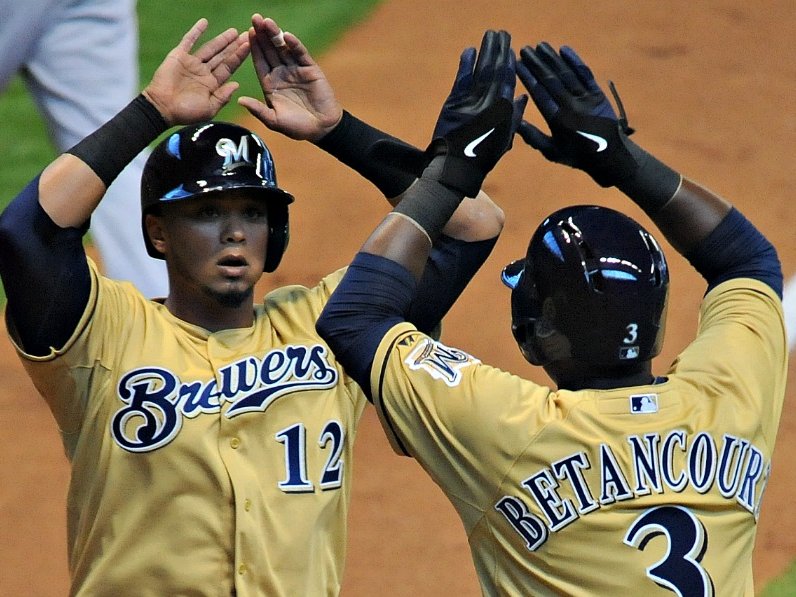 Making a Brewers lineup not as easy as it seems
A baseball lineup seems like a simple thing.
You put your fast, on-base guys first and second. Your best hitter is third, power guys in the cleanup, fifth and sixth spots. Who hits seventh and eighth really doesn't matter and in the National League, the ninth spot is always reserved for the pitcher.
And, if guys get hot – or cold – you move them up and down accordingly.
Real life doesn't quite work that way, however.
A real manager has to deal with real people in major league lineups and with that comes certain intangibles like health, comfort and confidence. It's why Milwaukee Brewers manager Ron Roenicke has had his hands full in balancing an unhealthy lineup with veterans who are struggling.
So what goes into a manager's thinking when a player is not hitting up to his career averages?
"I think where you are in the lineup, what your history is," Roenicke said. "We knew Aramis (Ramirez) was going to hit (last year) so I think you stick with a guy longer that you know has the history of doing well. And, (if he is in) an important part in that lineup. Not too many guys can hit third and fourth. I think you stick with those guys a little longer. The young guys you don't stock with as long just because you don't have a track record on them. Are they going to come out of it? Or is this what we're getting from them?"
Roenicke's assertion that not many players are capable of being in the middle of the lineup helps explain why some can have success at certain spots but fail miserably in others.
There is no better illustration of this than in the cleanup spot when Ramirez missed a month's time with a knee injury.
At various points, Rickie Weeks (11 games, 48 plate appearances), Jonathan Lucroy (10, 43), Yuniesky Betancourt (5, 21), Alex Gonzalez (3, 7) and Jeff Bianchi (1, 1) have filled that role with little success.
Those five players combined to go 19 for 107 (.178) with 11 walks. None of them hit a home run and they drove in just eight runs.
The injury to Ramirez and the one to Corey Hart – along with Ryan Braun missing games here and there – have made adjusting the lineup difficult for Roenicke.
"You've got to bunch (hits) together and I think that's why you try to group the on base guys in front of a couple guys that can drive them in," he said. "The lineup gets tricky when you have your main guys out."
Ramirez solidifies that a bit. On the year, has appeared in the cleanup spot 49 times and in 13 of 14 games, hitting .318 with 6 RBI and an .888 on base plus slugging percentage (OPS).
"Those guys, Rickie and 'Luc,' they weren't used to doing that," Ramirez said of hitting fourth. "It's a big challenge to protect a guy like 'Brauny,' maybe one of the top three, five players in the game. Even when you've got somebody real good behind you they're going to pitch around you in some situations and it's just tough to do. It's a big challenge and I guess they weren't used to doing that."
Ramirez is certainly a guy used to it. For his career he has [state line] in the cleanup spot. But you can't just throw a person into a spot and assume success.
"The cleanup batter, they're kind of like the stars of the team," outfielder Norichika Aoki said through translator Kosuke Inaji. "I've experienced it before in Japan a little bit and it's true, you feel more pressure in certain situations. But I've gotten used to hitting first, but especially hitting cleanup it's pretty tough."
Remembering his time in that role in Japan, Aoki laughed when asked if Roenicke just dropped him in the cleanup spot and didn't move him all year if he would eventually become comfortable.
"I'm not sure," he said. "I'm just a typical leadoff hitter. You're hitting first or second and the cleanup batter, they want home runs. I really can't say for sure because I'm not really that type of hitter."
And even if a hitter fits a profile physically, there are different comfort levels even if a player is moved just one spot. In his career, former Brewers first baseman Prince Fielder is a .250 career hitter with a .815 OPS in the No. 3 spot in the lineup. Put him cleanup however, and he is a career .292 hitter with a .961 OPS.
That goes for anyone – not just the big boppers.
"You could say I'm more comfortable either first or second," Aoki said. "That's kind of the player I'm trying to be, so I feel, for me, knowing I'm batting first or second is a lot easier."
Perhaps this is why Roenicke has gone through 25 different lineups since the start of the season – trying to find who can be comfortable and where in those eight spots. It's also why it's not as easy as it may seem.
Facebook Comments
Disclaimer: Please note that Facebook comments are posted through Facebook and cannot be approved, edited or declined by OnMilwaukee.com. The opinions expressed in Facebook comments do not necessarily reflect those of OnMilwaukee.com or its staff.