The Bucks' Bandwagon Cam trolled Cavaliers "fans," and it was fantastic
The Bucks gave their crowd lots to cheer about in Tuesday night's statement-making win over the Cavaliers. In terms of actual basketball, it was probably Milwaukee's best game at the BMO Harris Bradley Center – for my money, last year's victory over the then-undefeated Warriors was a more exciting atmosphere – and there were thousands of fans loyally rocking the home team colors.
Besides the usual ubiquitous array of Giannis Antetokounmpo and Jabari Parker wear, I spotted two different Ray Allen jerseys (one white, one purple), a Michael Redd uniform (he was in the building for the game) and some John Henson and Matthew Dellavedova selections.
There were also plenty of people in Cleveland garb, who may or may not have made the trek all the way from our Rust Belt cousin in Northwest Ohio to root for LeBron James and the defending NBA champions. Well, the Bucks in-arena operations crew, and their increasingly awesome mascot Bango, made sure those folks got the attention they deserved.
The Bucks' Bandwagon Fan Cam made another appearance Tuesday – it got national buzz in Milwaukee's Nov. 19 loss to Golden State, with a brutally biting reference to the Warriors blowing a 3-1 Finals lead – and it did not disappoint.
Showing around 10 different fans wearing Cavaliers attire and with a mocking caption for each, the Bandwagon Cam was sports trolling at its fantastic finest. Probably the winner was one that displayed a young guy in a James uniform with the line, "Was here for the Warriors game in a Curry jersey." Runner-up was, "Burned a LeBron jersey in 2010 … bought a new one in 2014." And I'm also pretty happy with the simple, "Doesn't know what a Cavalier is."
Support whatever team you want to, shame or no shame; sports are supposed to be fun. But everyone has to admit this was hilarious.
"We'd love to take credit for the idea, but it's a concept that other teams have also used," the Bucks said in a statement. "We have a really creative game ops team that took the concept and flawlessly executed it."
So Milwaukee isn't the first NBA franchise to do the Bandwagon Cam – the Wizards, Kings, Suns and Knicks, at least, have brought it out previously – but they might do it the best. More, please!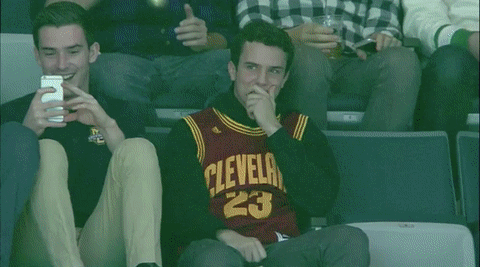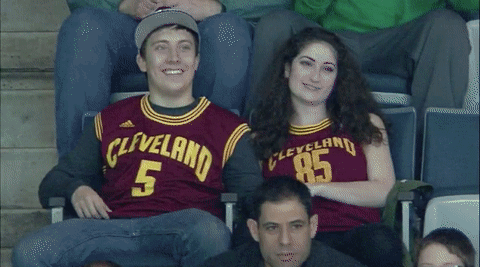 But the question is, what should Milwaukee do when Chicago, with its traveling band of decidedly un-bandwagony Bulls fans, comes to town and invades the Bradley Center on Dec. 15?
Facebook Comments
Disclaimer: Please note that Facebook comments are posted through Facebook and cannot be approved, edited or declined by OnMilwaukee.com. The opinions expressed in Facebook comments do not necessarily reflect those of OnMilwaukee.com or its staff.