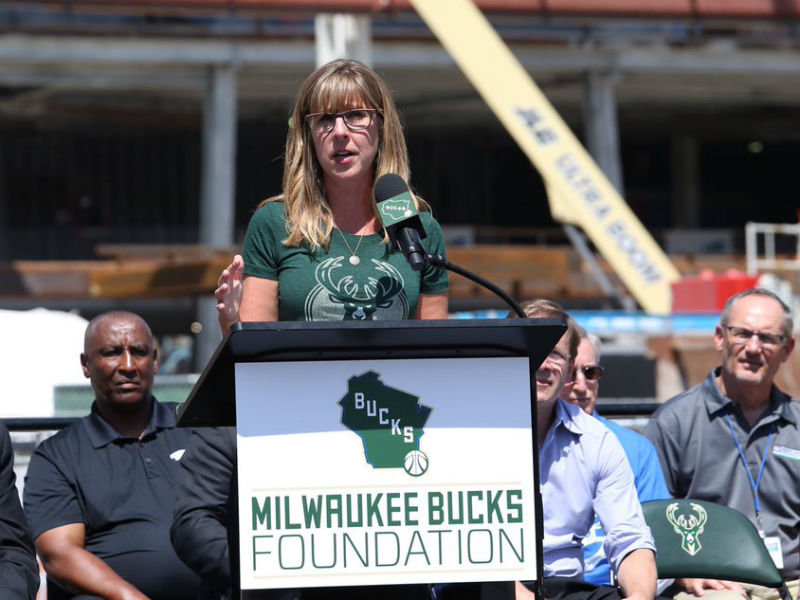 Milwaukee Talks: Bucks VP, Corporate Social Responsibility Alicia Dupies
Over the last two years, as the basketball team on the court and the business development off the court have improved, the Bucks' commitment to and involvement in the local community has increased, as well.
Since the team hired Alicia Dupies to be its new vice president of community relations in August of 2015, the Social Responsibility Department has expanded and the Milwaukee Bucks Foundation was launched a year ago. Last week, the Foundation announced a $1 million grant to 15 nonprofit organizations in the city – its largest community investment so far, and one that had Milwaukee leaders singing the team's praises.
Dupies, a former Mortenson Construction executive, may not be the biggest basketball fan – "I know nothing about basketball," she says. "Nothing. I wouldn't even know if something was a foul" – but she came to the Bucks with more than 20 years of experience in project development and community affairs. In her role as the community relations VP and executive director of the Bucks Foundation, Dupies has made countless site visits to local nonprofit organizations, done innumerable hours of listening sessions in neighborhoods around the city, coordinated hundreds of Bucks volunteer hours and events and worked to forge meaningful partnerships between the team and the community.
Last week's news was the Bucks Foundation's biggest accomplishment yet, but Dupies and team president Peter Feigin said that it was just the beginning. In the next grant cycle, they will extend beyond Milwaukee, reaching communities and organizations and youth across the state.
We sat down with Dupies at the Bucks' buzzing Schlitz Park office to discuss the franchise's seemingly enhanced commitment to social responsibility, how her team strives to go deeper than surface level and measures outcomes with its initiatives, whether the Bucks felt an obligation to increase their community efforts to conciliate complaints about the new arena's public funding, which players have been particularly active and what the Foundations' future plans are for Wisconsin.
Under the new ownership, and especially since the Foundation launched last year, it feels like the Bucks have really emphasized community relations. Like, it's more front and center, in the public eye, than it was before. Is it just me, or has the department expanded and been more empowered to do bigger work?
I think when the owners purchased the team, they knew they could make an impact in Milwaukee. Perhaps part of that was coming from such a large city like New York, and then you come here and you see, wow, the six degrees of separation is actually really doable here – you know, "Smallwaukee."
So if you have the tenacity and some of the inherent connections that come from living here – and I've lived here for 25 years now – it's not hard to get things done. It's not brain surgery. It's sometimes making two or three calls, getting everyone together and then saying, OK who's going to own it? Who's going to move it forward?
When you compare our team to other teams in our league, we're in what you'd call a smaller market, and perhaps that allows us to kind of go from, as Peter said the other day, zero to 100 in no time at all. In Chicago, say, to go to two meetings in a day would take your entire day. I can do three or four site visits in a day if I wanted to, and spend enough time with boots on the ground to really understand the work that some of these community organizations are doing.
So I think that there's been a sincere and genuine desire by the ownership, and then Peter – the guy's amazing. I came to work for Peter, I didn't come to work for the team; and now that I'm working for the team, I'm here to work for the team. But he gets it. I think he and I both see that we can really change lives and outcomes. We're coming from fast-paced private backgrounds – we've always worked in the private sector, as opposed to the public sector – but it's been really fun to understand and listen to what the community needs.
That's something that I almost felt like, in my first year (2015-16), we weren't actually going fast enough on the social responsibility side. I also learned that in this role, and when you're taking this whole organization behind you, we have to do a lot of listening. Instead of saying just, "Oh would you like 20 tickets to tonight's game? It's 4 o'clock right now." We started to map those things out right away when I got here in September – to say, who are the organizations that could benefit from these? And what are some of the barriers to redemption? If you give a ticket to an eighth grader because they have perfect attendance – well, what about transportation, food, timing, they may have four or five siblings at home they need to take care of.
I'll give you an example: COA Youth and Family Centers. We had a player who said I want to make a gift of 50 tickets a game for every single game. Rather than just say, here they are, we asked COA, how could they benefit you? They said get us transportation; so we arranged in our second season to have buses at these youth centers, schools, afterschool programs. What else? Well, for them to be able to take their whole family. And they came back to us with a proposal – this is what we're going to measure, and then this is how they're going to be rewarded. If the parent brought their child four of five days, two weeks in a row, so eight of 10 days total, they got to take their whole family to the game. And then we started to feed them.
So now you're getting family contact, you're getting your entire family unit there and then you're feeding them while they're there, too. That's so basic, but it just took time to listen and say, wow, this is what we need to do. It totally changed our redemption rates, and kind of our reputation of understanding what the needs are. That was COA's needs, not necessarily everyone's needs; we're customizing our platforms, if you will.
The 15 nonprofits you gave grants to last week, even though they all have youth services and mentoring components that you emphasized, they're all different organizations with different missions. You said the granting process was exhaustively in depth; how do you evaluate success for different groups?
They need to tell us how they're going to measure. We don't know. So you have to look at what they're trying to do and let them tell you, this is how we're going to measure, this is how frequently, here's what the anticipated outcomes are. A lot of the grants that we gave are multi-year grants, intentionally, because another thing we learned from these not-for-profits is that to have a grant writer on staff and to be submitting grant after grant after grant, it's expensive. And if you are implementing a new program, to fund it for only a year, that doesn't get you anywhere. For example, the multi-sport complex that we're doing at Silver Spring Neighborhood Center with Browning School, instead of just giving you the court, the physical asset, we want to wrap programming around it.
So we gave Playworks $30,000 a year for three years and then we gave Silver Spring Neighborhood Center $30,000 a year for three years, because Silver Spring Neighborhood Center can activate the court in the afterschool hours and the evening, but they don't have staffers in the evening. We intentionally designed and paid for lighting, so that it's a safe space in the evening, as well.
Again, we didn't want to just put the court in there and then leave. And interestingly, we had a vision for what we wanted that space to be, and in talking with MPS and Browning and Silver Spring Neighborhood Center, they said we're interested also in soccer and futsal. So we said, Hey, you know what, how about we give you a range of a budget, you guys run some focus groups and figure out what this community needs most? And it totally ebbed and flowed and evolved into what it became, which is so great, because I think sometimes people think, "oh, it's the Bucks, it's all got to be about basketball." So to be able to have soccer and then the courts are going to be able to do tennis and volleyball, as well, it's going to be so great for that community.
The day we did the press conference, a mom came up to me crying, saying, "I can't believe we're doing this, like, for us." I think that sometimes people who have so many challenges don't think that they're worthy of receiving a gift like that, if you will. So that part is the best part of the job.
To be able to go deeper with these initiatives, go to that next level, instead of just giving away tickets or cutting a check – has that required an increase in funding or focus from above?
I would say that it's the same dollars; it's how we're allocating the dollars. I'm just using hypothetical numbers, but say in the past we're going to give COA $10,000 worth of tickets. Now, we would maybe say, you know what, let's make that $7,000 worth of tickets, so that we have $3,000 to pay for the other things and build around it. In terms of the amount of people that are then getting the benefit of having the experience, it's gone way up. Maybe on ticketing side they'd call it redemption rate; on my side I'd say who got to cash in on the experience? By adding those other things, that's going way, way up.
The three core areas the community side focuses on – youth education, youth health and wellness, community betterment – what are some of the quantifiable ways you guys track and measure performance in such broad areas?
On the education side, when I look at youth literacy and then look at math, both of them are challenges, right? Both of them are evaluated at the third-grade level scores. We recently had a player that was really involved in literacy, Johnny O'Bryant, and he did the "30 Books in 30 Days" reading challenge at Brown Street Academy, which is a partner of ours.
We have organizational-led initiatives and player-led initiatives, and that was a good example of a player-led one. But then we took it to heart and thought how can we really max it out? So we went to that school and said, "How are you going to measure this?" They use a program called Raz Kids, where the kids read the books and they take a little test at the end so you can measure their comprehension. There was one child there, LaDarius – he's going to be in second grade now, and we actually just scholarshipped him to a Bucks basketball camp this summer – he went up two or three text spans in the 30 days because he just really wanted to win and go to the game. So Johnny gave him a shoe, he went on court and got it signed, and it was awesome. Literacy is harder and it's a huge challenge in this city, and we have not found the perfect program for that.
On the other side, NBA Math Hoops is used by many teams across the league and it is the most phenomenal program. It's a board game, and kids can play it either in the classroom during the school day or in afterschool programing, and test scores went up 37 percent in the 12-week period. Like, you can't argue with that. If I had my way, and Peter and the others always make fun of me, I sit with my team and say we need a sponsor for Math Hoops, and they're like, "Oh my God, Alicia, you and your damn Math Hoops."
But, like, we know it increases math proficiency, and the other nice thing about it is it's 4th through 7th grades, so you're getting kids later and you can hold onto them longer. So that is something that we're looking to expand this year. Before we started it, instead of just saying we're going to do it, we brought Math Hoops in to do an overview and we brought a focus group of 40 people in from across the state, educators and afterschool programmers, and said, If we were to invest in this, is it something where you will see value? When they were like, we want this and we want it tomorrow, that's when we said, OK let's figure out how to pay for it and let's do it.
We've done a number of things like that, where we've done focus groups first, because we just don't know. Like, I could eat this stuff up all day long, Oh, Math Hoops is great, etc. But we're asking the people that are in the trenches every day to tell us if it's as great as we think. Page 1 of 2 (view all on one page)
Next >>
Facebook Comments
Disclaimer: Please note that Facebook comments are posted through Facebook and cannot be approved, edited or declined by OnMilwaukee.com. The opinions expressed in Facebook comments do not necessarily reflect those of OnMilwaukee.com or its staff.