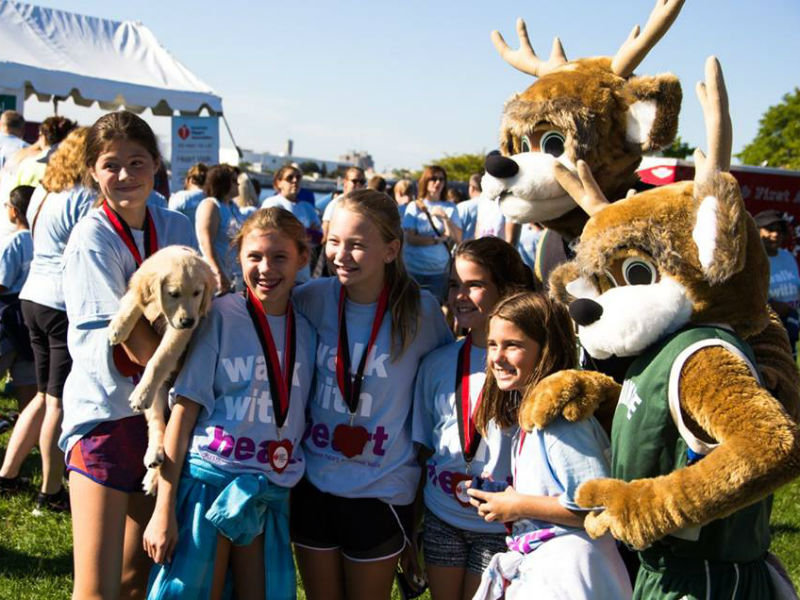 Peter Feigin's personal loss led him, Bucks to make huge Heart Walk effort
Back in 2014, Peter Feigin was consulting for the future Milwaukee Bucks ownership group during its purchase process. After Wes Edens and Marc Lasry officially bought a majority interest in the team, they offered Feigin, then a senior advisor, the position of president, to lead and manage the Bucks' newly ambitious business operations. At the time, Feigin declined, saying he would not consider the job until his father, who was in poor health, had passed away.
Following a long battle with congestive heart failure, which caused two strokes, Jim Feigin died a few months later, and in October of 2014 Peter Feigin became the Bucks' president. Feigin, who was very close to his dad, talks often about how encouraging Jim was, and says he would be overwhelmingly proud that his son was running a professional sports team – and perhaps a little incredulous the Bucks have allowed him to do so, Feigin jokes.
Deeply missing his dad, and dearly wanting to spread the message of awareness and prevention of heart disease, Feigin is the chair of the 2017 Greater Milwaukee Heart & Stroke Walk/5K Run, which is this Sunday at Veterans Park. The Bucks are the Heart Walk's highest-donating company by far, having contributed nearly $200,000 – seven times more than the next group – and Feigin, with Dr. George Korkos, is the event's top fundraiser at more than $175,000.
"This is something that's very, very personal for me, and then it's just springboarded to professional the way ownership and the organization have gotten behind it," Feigin says. "It's a really personal experience; I know how heart disease and stroke can affect someone's life and impact a family."
Feigin saw his dad endure 20 years of debilitation after suffering a stroke. He says the Walk is an emotionally uniting event to support since just about everyone has had a family member impacted by heart disease and/or stroke, the No. 1 and No. 5 causes of death in the United States, respectively, according to the American Heart Association.
"There's no one I talk to who doesn't have a connection to heart disease and stroke," says Feigin, whose chairpersonship is an 18-month-long process of putting together a board, campaigning and determining objectives, talking to relevant parties and figuring out how to get people to donate and be engaged. "Basically, it's herding cats," he says good-naturedly.
Feigin and the Bucks, who are involved in myriad philanthropic and community-building initiatives around Milwaukee, have so sincerely and publicly embraced the Heart Walk because they believe that, for cardiovascular disease, awareness and education are especially critical to improving outcomes and reducing risk. Feigin calls heart disease and stroke "silent killers" but – echoing the position of the AHA – stresses that simply knowing about them, getting tested for high blood pressure and cholesterol and proactively developing positive health habits can help people live longer, better lives.
"We're going to raise a million dollars," Feigin says, repeating the original fundraising goal, as total donations Friday morning, a little less than 48 hours before the event, were around $830,000. "I don't think the Heart Association in Milwaukee has ever raised even half a million before."
Besides the dollars, participation this year has increased, with as many as 10,000 people expected to Heart Walk on Sunday. Of course, the enthusiastically omnipresent Feigin will be there, along with about 75 family members, running with his daughter and then walking with his son. Everyone in attendance there – walkers, donors and volunteers – has accepted the challenge of fighting cardiovascular disorders, and they are all working to save lives, make a difference and keep families strong and together; to achieve the mission of not only raising funds, but also raising heartbeats, and beating heart disease and stroke.
The 2017 Greater Milwaukee Heart & Stroke Walk/5K Run is on Sunday, Sept. 17 at Veterans Park, 1300 N. Lincoln Memorial Dr. The Heart Walk Village opens at 9 a.m., the 5K run starts at 8:15 a.m. and the walk (routes of 1 mile, 3 miles or 5K) is at 10:15 a.m. There will be free heart-happy snacks and health screenings available, as well as an inflatable obstacle course, teddy bear checkups and a pet costume contest (yes, pets are welcome). The 5K run has a $25 fee, but the walks don't cost a thing.
You can donate to the Bucks' page here or Feigin's page here, and anyone who contributes $100 to his team will receive two tickets to the Milwaukee vs. Portland game on Oct. 21, along with an official Heart Walk t-shirt. Registration for the event is free, so sign up at milwaukeeheartwalk.org.
Join @pfeigin Sunday at the @AHAWisconsin Heart Walk!!

❤️🚶🚶‍♀️👉 https://t.co/1TFDbFTsHX pic.twitter.com/i7y5lY70cw

— Milwaukee Bucks (@Bucks) September 14, 2017
Facebook Comments
Disclaimer: Please note that Facebook comments are posted through Facebook and cannot be approved, edited or declined by OnMilwaukee.com. The opinions expressed in Facebook comments do not necessarily reflect those of OnMilwaukee.com or its staff.