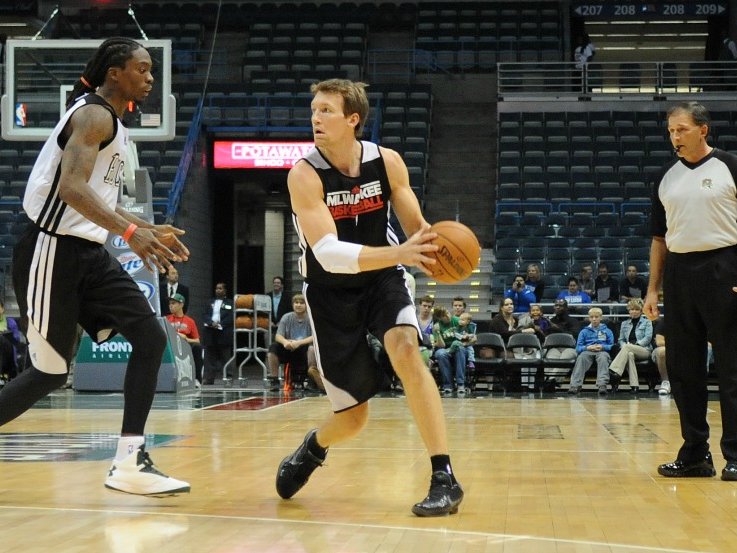 Bucks say experience leads to better shots
ST. FRANCIS – Eight minutes.
Four hundred and 80 seconds.
Twenty possessions.
That's the primary difference between a college game and an NBA game, not to mention several rule changes. Eight minutes doesn't sound like a whole lot, especially when you factor in timeouts – commercial or otherwise – and fouls and loose balls that reset play.
Of the many transitions a young player makes into the league though, those extra eight minutes take a bit to get used to. It's a bigger adjustment for the player who for his entire basketball life has been a scorer, and used to getting up shots in a shorter amount of time.
"A lot of young guys don't understand how long the game is and how many possessions there are," Bucks coach Scott Skiles said. "You average 16 points per game, which there have been some All-Stars averaging that, and that's four points a quarter. That's a basket and two free throws every quarter. And they come in bunches in the NBA sometimes and people panic and they get stressed and anxious and they miss open shots and things like that."
Ersan Ilyasova used rush shots if he didn't get up any early, but Skiles sees improvement in that regard. Questions still surround Brandon Jennings on that topic. Second year forward Tobias Harris is trying to find his way into the flow of the offense. Rookie Doron Lamb, who to this point has been out with an elbow injury, will also have to discover his role – and his offensive flow – in time.
It is something that can be learned – but it can be difficult.
"There are just so many things (to learn) coming in to the league as a young player," said Mike Dunleavy, who is entering his 11th year in the league. "You have to learn, relative to time, when to score. The old cliché of making every possession count, there is something to it. There are a lot of possessions. You look back at the course of a game and you lose by a point and it's like, 'what about this, what about that?'"
How do you learn it though? To the veterans, the answer is simple: Experience.
"It's something they'll have to go through and figure it out, and the only to figure it out is to get on the court or sit on the sidelines and watch," said Marquis Daniels, who is beginning his 10th year in the NBA.
He conceded that a young player can learn a little bit about time management from the bench, but "Other than that you need to be out there," Daniels said. "Playing is the best remedy for anything. If you can get out there and get some playing experience, that will help out with a lot of things."
The biggest learning curve is found at the end of quarters, and the end of games. It's knowing when to take a quick shot to get a two-for-one late, knowing how many possessions a team needs to catch you when you're up by double digits with two or three minutes left. It's also knowing that while you may not have had a shot in the last four minutes doesn't mean forcing one up because it doesn't fit the rhythm that the player has developed through high school and college.
"It's understanding the game, having a feel for the game," Dunleavy said. "Some guys have it more naturally. Other guys are taught and learn it over time. It's obviously more important for point guards and younger guys coming into the league that are playing the point guard position, they need to be even more aware of it. Everybody does. It's something you definitely get more accustomed to as you get more years under your belt."
Some players – no matter how experienced – never quite grasp the concept, however.
"There are some guys in the league, or at any level, they're like junkies - if they don't get a shot in a couple minutes they're going to throw up any 'ol shot," Skiles said with a smile.
Shot selection is a learned skill, and for a team like the Bucks with seven players under the age of 25, it's a process that will have its growing pains. But, there should be some growth in that regard for the young veterans as this season gets underway.
"Some guys who were so used to being 'the man' in college and high school and they get in this league and everybody can play this game, so it's like 'I've got to get a shot' when you can do other things and still be effective in the game," Daniels said.
"It's a game of inches. You've got to be able to know time management and all that type of stuff and the only way you can really learn it is to get playing time experience here in practice, watching or whatever it is."
Bucks pick up options: The Bucks exercised the third-year contract option on Tobias Harris and the fourth-year contract options on Larry Sanders and Ekpe Udoh. Under the terms of the NBA's current collective bargaining agreement, the first two years of a first round draft pick's contract are guaranteed, while the third and fourth year of the contract are the team's option.
This and that: The Bucks will return to the Resch Center in Green Bay on Friday to play the Minnesota Timberwolves at 7 p.m. Tickets are still available at the Resch Center Box Office, online at ticketstaronline.com, by phone at 800-895-0071, and at all Ticket Star locations. ... Join the Bucks and the Metropolitan Milwaukee Association of Commerce for a preview luncheon at the InterContinental Milwaukee Hotel on Oct. 30 from 11 a.m. to 1:30 p.m. Guests will get the inside scoop on Bucks hoops from head coach Scott Skiles and general manager John Hammond, along with the opportunity to participate in a free throw contest and silent auction. For more details, and to register for the luncheon, click here.
Facebook Comments
Disclaimer: Please note that Facebook comments are posted through Facebook and cannot be approved, edited or declined by OnMilwaukee.com. The opinions expressed in Facebook comments do not necessarily reflect those of OnMilwaukee.com or its staff.