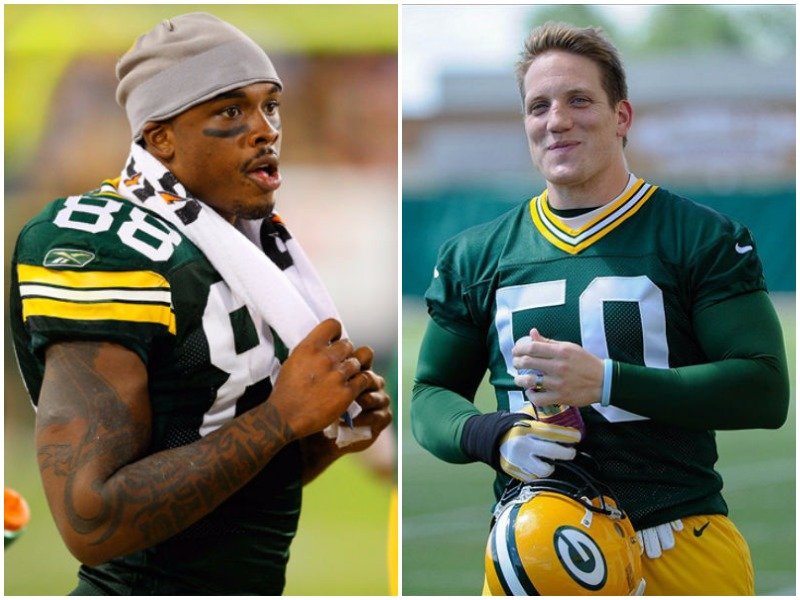 Ex-Packers Finley and Hawk offer insight, depict struggles of post-NFL life
In the past seven weeks, two recently retired former Green Bay Packers have penned essays in The Players' Tribune, a media outlet that provides content directly from professional athletes, about their lives after football.
In May, Jermichael Finley wrote a poignant piece about his struggles, especially mentally and emotionally, after being forced to retire because of head and neck injuries, and how they affected his family. It's heartrending, but ultimately redemptive, and depicts a recuperated Finley finding joy and purpose in coaching kids, saved by the love of his wife and sons. The story, entitled "They Basically Reset My Brain," is definitely worth a read, even if it leaves you uneasy – as it did me – about the grim realities of how the game's violence severely impacts its players.
Then on Monday, A.J. Hawk offered a sunnier assessment of the post-NFL experience – though the ex-linebacker described similar difficulties in figuring out what to do with himself and his suddenly much-emptier schedule. In his essay, "Life After Football," Hawk talks about having trouble saying no during his career and knowing when to walk away. He declares that he doesn't want to be one of those athletes who's aimless and lost after retirement.
Hawk even quotes his old teammate: "I think (Finley) put it best when he wrote, "Most guys don't get to decide for themselves when they're done with the game. The game lets you know when it's done with you."
Certainly, the tribulations of professional athletes after retirement are real – and, in terms of financial problems, fairly well-documented – and Finley's story makes plain the unique pain that, particularly, football players endure when the sport leaves them behind. It's a safe bet that Hawk, who doesn't reveal the injury-related anguish the former tight end suffered and seems to have enough opportunities to keep him busy, will be fine without NFL games on Sundays.
Both Finley and Hawk end their articles sounding at peace, with optimistic outlooks, and Finley's conveys an important mental-health message about seeking help when you need it. The two players' accounts – similarly adrift initially, though with vastly different stakes and intensities – allow unique insight and make for an interesting comparison.
But perhaps the most notable element of Hawk's essay, for Packers fans, is the voluntary expression of regret that Green Bay only won one Super Bowl while he was there. It's an unusually honest admission, even from a no-longer-active player who was released by the team. Hawk officially retired as a member of the Green Bay Packers in April and seems to be on good terms with them, despite his disappointment and disbelief that the team didn't win more championships.
"I believe everybody has things they wish they could have done that they didn't. Things they wish they could have accomplished, but fell short.

For me, my only regret is that we didn't win multiple Super Bowls during my time in Green Bay.

Think about it: When you have Aaron Rodgers, who is the greatest quarterback of all time, you always have a shot at winning it all. And we had a great group of guys around him, too. I played with Brett Favre for two years and Aaron Rodgers for seven, and we only won one ring. Don't get me wrong, I'll always cherish the Super Bowl ring that I do have. But looking back, I believe we should have won more."
Maybe 2017 will be the year they do. Packers training camp begins July 27.
Facebook Comments
Disclaimer: Please note that Facebook comments are posted through Facebook and cannot be approved, edited or declined by OnMilwaukee.com. The opinions expressed in Facebook comments do not necessarily reflect those of OnMilwaukee.com or its staff.