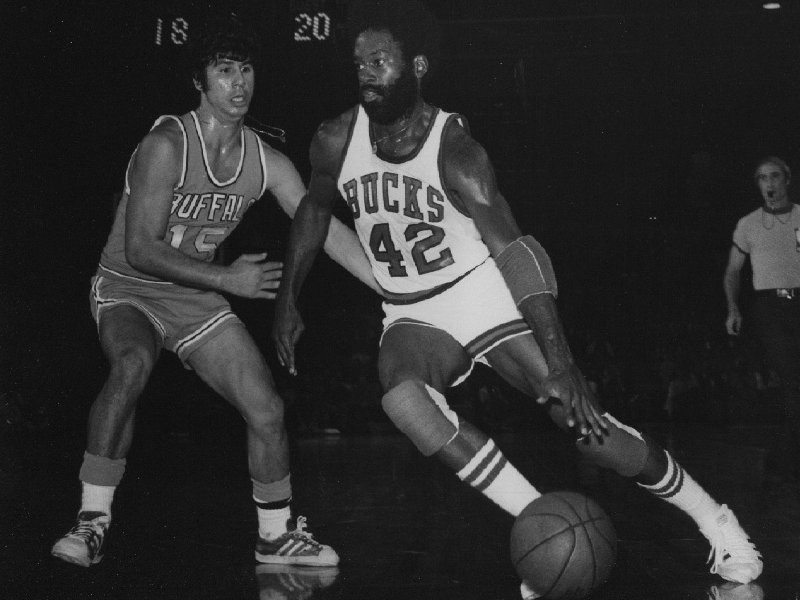 The cutting room floor: Notes and quotes from the '74 NBA Finals project
Last Thursday, OnMilwaukee.com commemorated the 40th anniversary of the 1974 NBA Finals between the Milwaukee Bucks and Boston Celtics, and most couldn't believe it was four decades since that series – especially those who played for the Bucks.
"It seems even longer," Kareem Abdul-Jabbar said with a laugh. "It's like it happened in another – well it did happen in another century, so that kind of puts it in pretty good perspective."
Memories were vivid and plentiful, and not everything was able to make the story, so here are some highlights off the cutting room floor.
The missing man
One man who did not even participate in the 1974 series perhaps made the most impact: Bucks guard Lucius Allen.
Allen was a 26-year-old guard who had steadily improved each season, and was having a career year in the backcourt with Oscar Robertson, averaging 17.6 points, 5.6 assists and 2.1 steals per game.
"I thought that that was kind of a breakout year for Lucius and how well he was playing before he got hurt," Bucks reserve guard Dick Garrett said.
Allen had an incredible chemistry with Abdul-Jabbar, as the two spent their college years as teammates at UCLA. Allen was often the beneficiary of double teams on the center, scoring on easy layups and hitting mid-range jumpers at will.
"The big thing, more so than anything, he and Kareem had a relationship, a basketball relationship that oftentimes allowed Lucius to get easy baskets because they had been teammates for so long," Bucks forward Bob Dandridge said. "It gave us different weapons so that Kareem could not be double teamed. That was the key. You couldn't double team Kareem with Lucius in there."
On March 15 in Detroit, however, many feel the course of the NBA Finals played nearly two months later was altered when a towel had been left unattended on the floor.
Allen landed on it as he came down from a block attempt on Pistons guard Dave Bing and his knee gave out, tearing his medial collateral ligament.
"That was so sad," Allen said.
When he looked down, Allen saw his knee and foot weren't lined up the way they should've been.
"When something like that happens, obviously everybody is upset and disappointed, but the way it happened was really kind of a tragic thing," Bucks play-by-play man Eddie Doucette said. "You take an important piece out and then try and fill in, that's a huge loss. So, I think yeah, that let a little air out of the balloon."
Box scores alone don't do the impact justice. Allen had led the fastbreak for the Bucks that year, along with Dandridge, which took pressure off Robertson. He also was a finisher in the transition game.
"It always made us dangerous because we had the quickness, we had the athleticism with me in the lineup," Allen said.
While the Bucks lost that game against the Pistons, they finished the year winning five of their last six. They rampaged through the Western Conference playoffs at 8-1.
But Allen's teammates – and more importantly, the Celtics – knew just how big a void was created by his absence.
Celtics coach Tom Heinsohn was able to turn his full attention to 35-year-old Robertson, who was playing in his final season. The future Hall of Famer had played only 70 games that year, dealing with a painful groin injury.
"I have to say that we were given a stroke of good luck when Lucius Allen got hurt because he was a heck of a player and would've added a lot more scoring punch to their assault, but with him being out we were able to harass and try and wear Oscar out as much as possible," Celtics center Dave Cowens said.
Without Allen as a complement, Heinsohn directed guards to harass Robertson with a full court man press.
"That played a part in it because Lucius Allen was terrific," Heinsohn said. "He was a speed guy who could motor the ball up the floor, so some of what we were doing might have been negated with him in there."
"Boston full court pressed the entire game. It wasn't a zone a press," Dandridge said. "It wasn't any type of sophisticated press. It was just a straight out, hard nosed, one-on-one, man-to-man, full court press. And, Oscar's ability to endure that is something that ever stays etched in my mind."
All these years later, every member of the Bucks interviewed were convinced things would've turned out differently had he been.
"In my mind, with all due respect to the Celtics and I give them respect all day long, if we had Lucius Allen I don't think there's any way we lose," Davis said. "I don't think there's any way we lose."
And it's not just a feeling the players had.
"They have every right to feel that way," said former Boston Globe beat writer Bob Ryan, who covered that series and in 1996 was honored by the Naismith Memorial Basketball Hall of Fame with the Curt Gowdy Award. "I think if you look at how it went, it's reasonable to assume that if they had their weapons, which includes Allen and (a healthy Jon) McGlocklin, that it could have very easily been a different story. I don't have any doubts about that."
Allen appreciated the sentiments from his teammates, and opponents, because "it's really great to have the peer respect. Ultimately as a ballplayer, that's what we crave."
But, 1974 still stings.
"That last one, we knew we were the better team," Allen said. "We knew we could beat Boston. But, the fact that I wasn't there ... it's more painful because of the fact that I knew we should've had it."
Page 1 of 3 (view all on one page)
Next >>
Facebook Comments
Disclaimer: Please note that Facebook comments are posted through Facebook and cannot be approved, edited or declined by OnMilwaukee.com. The opinions expressed in Facebook comments do not necessarily reflect those of OnMilwaukee.com or its staff.