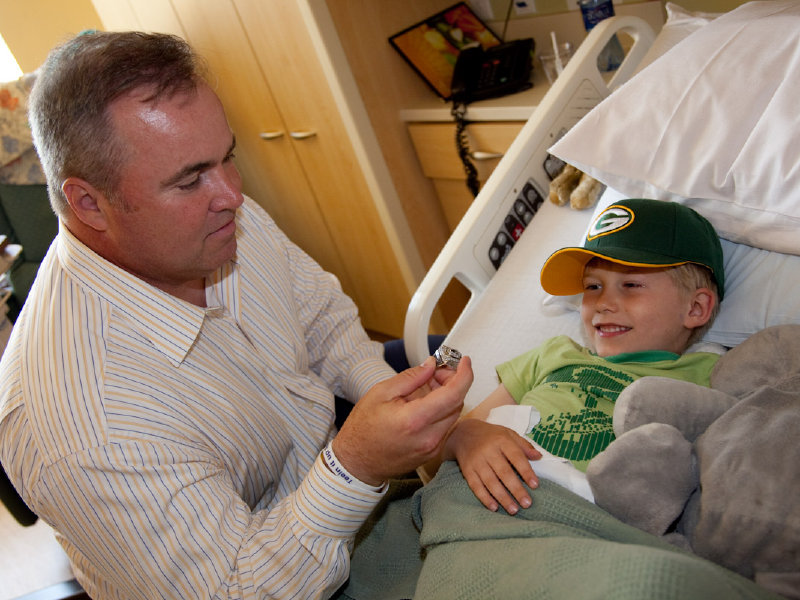 One-on-one: Packers' McCarthy opens up about helping children in need
GREEN BAY – In a cozy space just outside the press room inside Lambeau Field, Mike McCarthy settled into a chair, took off his white baseball cap with the embroidered "G" on it and ran his hand through his short hair.
"There's nothing …" he said, before pausing, his voice lowing to just above the whir of equipment in the room.
"I mean … your … your children – you never want to see anything wrong with your children."
It's a glimpse into more private moments during his visit American Family Children's Hospital in Madison, where there is a tremor, a pitch in his bass. There's a brume around the eyes; a request for a moment of solitude. There is the need to put himself back together after visiting every room over all five floors.
McCarthy is a husband, son and a father. To know such warmth exists shouldn't be surprising.
Yet on the sidelines of Lambeau Field, in front of cameras and microphones, he seems devoid of emotional pliability.
He has presence – to command a pack of alpha dogs on the field the way he must, that word is definition enough. He fills any space, from the cozy green room inside Lambeau Field, to the 250 square feet in a hospital room, to a convention center. His voice, that bass tinted with Pittsburgh English, could stop anyone cold.
His countenance belies that warmth, and something else.
It's the understanding, the instant kinship with the parents and siblings of children being treated at American Family that does it. Superficially, there is a picture posed for, or an autograph given. It runs so much deeper than that, though.
"No one hurts more than the parents, particularly the mother, when things happen with your kids," he said in a sit-down with OnMilwaukee.com. "To go down there and feel that you can maybe put a smile on the family and the child's face for a short period of time."
There are discussions about travel, engineering and, of course, football. Sometimes they talk about players, or the Super Bowl, and the kids are engaged. Sometimes the child in the room is battling hard, and a coach from the Green Bay Packers doesn't mean anything more than a few degrees of heat in the room.
McCarthy knows this can be true. That's where, to those who witness it, he shines.
"It reminds you that you're not alone, that there are people outside that are thinking about you and your challenges every day," said Jim Gilmore.
Gilmore is the father of a son who is a childhood cancer survivor, which led to his role as an American Family Hospital development program manager. He has accompanied McCarthy on his visits and helps manage the Mike and Jessica McCarthy Golf Invitational.
"You get into this little micro world, where it's you and your family and your sick little boy and your sick little girl and you're just trying to find a way to get to that next sunrise," he said. "Every day, especially because these kids are so sick, every day is important, to get through that day so there might be another and a step closer to a cure or healing."
The Event
The children cared for at the hospital, those who come from across not only all of Wisconsin but 48 other states, too, are why he and his wife host the Mike and Jessica McCarthy Golf Invitational, an event celebrating its fourth year this weekend. It begins with a dinner and auction at the Monona Terrace Convention Center in Madison on Sunday and then golf at The Legend at Bergamont in nearby Oregon on Monday.
The event has grown from $50,000 raised in 2009 to a goal of over $300,000 this year alone. The first three years has brought in over a half million dollars for the hospital, helping it in its campaign to add two floors to the building, which includes the construction of neonatal and pediatric/universal intensive care space.
"That's going to be a great day to walk in there and see that, to know you're a part of making a great place better," McCarthy said. "That's exciting stuff."
The success so far is a direct testament to the McCarthys, who are more than just the name on a banner. Mike pounds the pavement and works the phones for donations, and has – unsurprisingly – created an organizational chart for the event that pulls together personnel from the hospital and the Packers. Jessica is just involved on the ground level, and on the plane ride home the two begin calculating how to make the next event even better.
"There is very little that happens that doesn't run by Mike and Jessica," said David Thomason, a friend of the McCarthys who coordinated their first visit to the hospital in 2009. "Put it his way – we don't sit down and brief him on what he's getting ready to go into. He already knows. And what we're getting ready to get into is what he has planned."
Following a mini-camp workout on a rainy afternoon in Green Bay this week, McCarthy opened up about a place and the people that have captured the heart of him and his wife.
"The kids, they're there for a reason," he said. "It's a desire, and a need to give back. It's just the way I was raised. My parents (Joe and Ellen) are still today very active in our neighborhood and community back in Pittsburgh; always have been. It's just something that's part of my upbringing."
Page 1 of 2 (view all on one page)
Next >>
Facebook Comments
Disclaimer: Please note that Facebook comments are posted through Facebook and cannot be approved, edited or declined by OnMilwaukee.com. The opinions expressed in Facebook comments do not necessarily reflect those of OnMilwaukee.com or its staff.