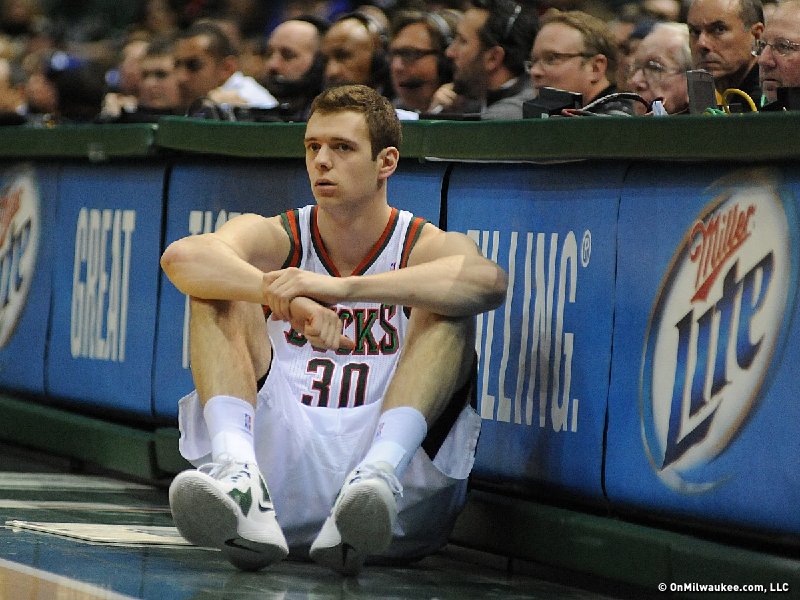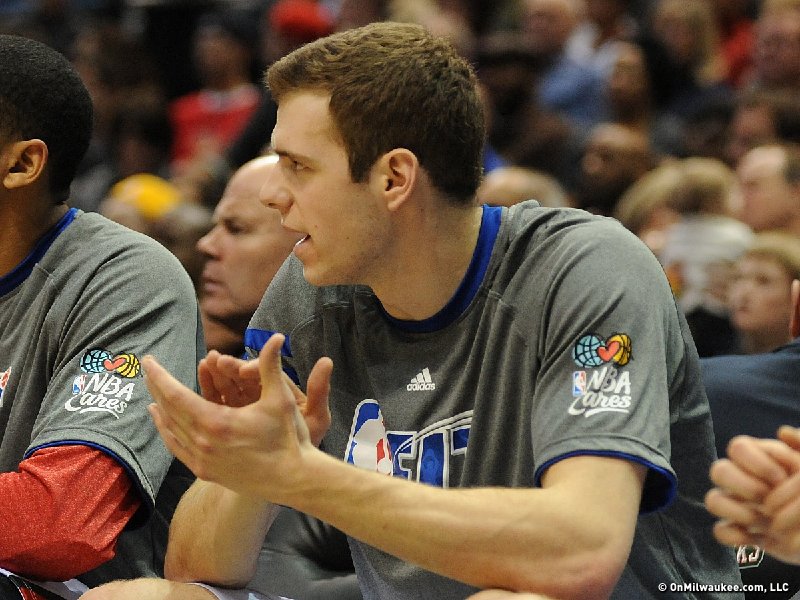 Milwaukee Talks: Bucks forward Jon Leuer
Milwaukeeans universally love a few things. Summerfest. A cold beer on a hot day. The Packers. Sports.
Milwaukeeans also love winners and hard workers. If that hard worker happens to have a strong local tie, a fan favorite is born.
Enter Jon Leuer. A native of Orono, Minn., Leuer was a three-and-a-half year starter at the University of Wisconsin under Bo Ryan. While there, he averaged 11.2 points per game in a system that does not have a lot of double-digit scorers.
After the Bucks drafted the 6-10 power forward with the smooth outside touch, few thought Leuer would make the team; much less have an immediate impact. But while other draftees were working out in gyms and weight rooms during the NBA lockout, Leuer headed to Germany to get a taste of professional basketball competition before his career in the states could begin. Moreover, if Leuer did not make the Bucks and no other NBA team picked him up, he could head right back to Europe.
Turns out, he didn't have to.
Recently, we caught up with the Bucks talented rookie before a game at the Bradley Center.
OnMilwaukee.com: It's obviously early in your career, but you seem really comfortable here.
Jon Leuer: Yeah. It's a great fit for me. I'm really glad to be a part of this organization. Obviously playing at Wisconsin, you have some of the same crossover with Bucks fans, so that really makes it special. Playing in front of those fans that may have seen me play in Madison is great.
OMC: Did you think you would have the kind of impact you have already had in such a short amount of time here in the NBA?
JL: I guess my expectations coming in were to just work hard, do whatever I can to help the team, and then, at the end of the day just try to earn as many minutes as you can. That's the goal. I've been able to do that so far, and hopefully I can just keep doing whatever I can to help this team out.
OMC: What is the learning curve between the college game and the NBA?
JL: The game moves a lot faster, especially with the 24-second shot clock. What helped with that was playing professionally during the lockout in Germany. Also, you don't really get a full appreciation of how good and how fast and how big the athletes are until you play in the NBA. It's definitely a big step up. But, s far I feel like I am holding my own up and have adjusted pretty well.
OMC: Tell me about your experience in Germany? Most players don't get that experience going overseas to play between the end of the college careers and the beginning of their NBA careers. Obviously the lockout allowed several players to do exactly that. What did you find over there?
JL: It was a good experience for me, no question. Going over there and playing organized basketball I think really helped me because most guys back here were just playing in open gyms during the lockout, so playing against other professionals, playing in a system, and playing really competitive basketball definitely helped me out.
OMC: How much of a chance did you get to come here to Milwaukee when you were in college?
JL: Oh, sure. Other than for a few games, I would come over here a half-dozen times or so with some friends to see what Milwaukee was all about. I'm more familiar with Milwaukee than a lot of other NBA cities, but I'm still trying to better learn my way around town. It's better than it was a month ago.
OMC: Do you have a favorite hotspot yet?
JL: Oh yeah. We go to Elsa's a lot for dinner.
OMC: Do you get recognized a lot around town yet?
JL: Yeah, I think playing at Wisconsin there are a lot of Badgers fans that are around here. They'll say 'what's up' when I see them. It's great to have them supporting me. Overall, Bucks fans have been really great to me since we started the season.
OMC: How close of tabs to you still keep on your former teammates in Madison?
JL: Real close. I still talk to those guys all the time. A lot of our games are when they play so I don't get as much of a chance to watch them play as much as I might like, but I check their scores every night they have a game. They're on a little bit of a roll now, and I wish them nothing but the best.
Facebook Comments
Disclaimer: Please note that Facebook comments are posted through Facebook and cannot be approved, edited or declined by OnMilwaukee.com. The opinions expressed in Facebook comments do not necessarily reflect those of OnMilwaukee.com or its staff.