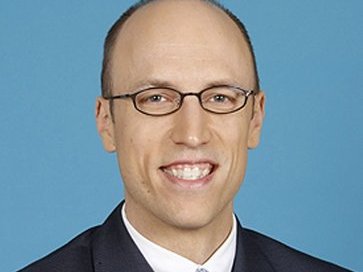 Brewers name new radio announcer
The Milwaukee Brewers today named Joe Block their new play-by-play announcer alongside Hall-of-Famer Bob Uecker.
Here is the news release:
The Milwaukee Brewers and NewsRadio 620 WTMJ today announced that Joe Block has been named as play-by-play announcer on the Brewers Radio Network. Block will join Hall of Fame lead announcer Bob Uecker in the booth, replacing Cory Provus who joined the Minnesota Twins broadcast team last month.
Block, 33, comes to the Brewers with more than 10 years of broadcasting experience. He has called the action for more than 900 professional baseball games, including the Jacksonville Suns (2003-06), Great Falls White Sox (2007) and Billings Mustangs (2010), among others. He also handled play-by-play for select games during the Expos final two seasons in Montreal (2003-04).
"We had a tremendous number of qualified candidates interested in this position, and the process for finding the right person for this role was very comprehensive," said Brewers Chief Operating Officer Rick Schlesinger. "Joe is someone who brought a unique skill set and background to the table. His play-by-play work is terrific, he has a quick wit and as a Midwestern native he has a genuine love for the area. We think the fans will enjoy his work alongside Bob very much."
Block will team with Uecker, who this season will be marking the 50th Anniversary of his first Major League Baseball game as a player.
"Joe and I spent some time together and I think he'll be a great addition," said Uecker. "Joe sounds good on the air, he's a Midwest guy and he wants to be in Milwaukee as a part of the Brewers. Bottom line, all of those are important qualities that will make him successful here."
Recently, Block served as Postgame Show host on radio for the Los Angeles Dodgers on KABC-AM (2011) and was Radio Studio host for the NBA's New Orleans Hornets (2007-11). He also has handled play-by-play for major college basketball and football on Comcast Sports Southeast for the past 10 years.
"We're thrilled to welcome Joe to Newsradio 620 WTMJ and the Brewers Radio Network," said Steve Wexler, Executive Vice President of Journal Broadcast Group. "It was apparent very quickly that he'd be a great fit in our community and on our station."
"I'm excited to start working with Joe very soon to begin to develop a strong relationship with our Brewers' radio listeners and sponsors," said Carl Moll, Director of Network Operations for Journal Broadcast Group.
A native of Roseville, Mich., and a 1999 graduate of Michigan State University, Block and his wife, Bethany, currently reside in Los Angeles but will be relocating to the Milwaukee area prior to Spring Training.
"I'm ecstatic to have the opportunity to work with one of the all-time greats in Bob Uecker and help bring everyone in Wisconsin their Brewers on the radio for years to come," Block said. "Bob and I have talked about how much fun we'll have in the booth all summer and I can't wait to get started.
"I'm newly married, and Bethany and I are eager to become active and proud Milwaukeeans."
Block will make his official Brewers debut at the annual "Brewers On Deck" Fanfest, scheduled for the Frontier Airlines Center on Sunday, January 29.
On Block's website, he also released a full statement:
I am thrilled to be making our home in Milwaukee. My wife, Bethany, and I keep talking about how wonderful we hear the people are, how cool SummerFest is and, of course, how exciting Brewers games are with a packed house every night.
Thank you to the Brewers and WTMJ for bringing us to our new home. We're Midwesterners and miss a little snow around the holidays.
To the kind folks in L.A., the Dodgers and KABC, thank you for giving me the opportunity to talk baseball with you last season. I felt a genuine camaraderie with Dodgers fans I can only hope to replicate in Wisconsin.
It's going to be a lot of fun working with and learning from Bob Uecker and Kent Sommerfeld in the Brewers booth. This is a lifelong career goal of mine, and I have many people to thank for helping me reach it. And I will get to every one. Until then,
Thanks for checking in.
Joe Block
Facebook Comments
Disclaimer: Please note that Facebook comments are posted through Facebook and cannot be approved, edited or declined by OnMilwaukee.com. The opinions expressed in Facebook comments do not necessarily reflect those of OnMilwaukee.com or its staff.