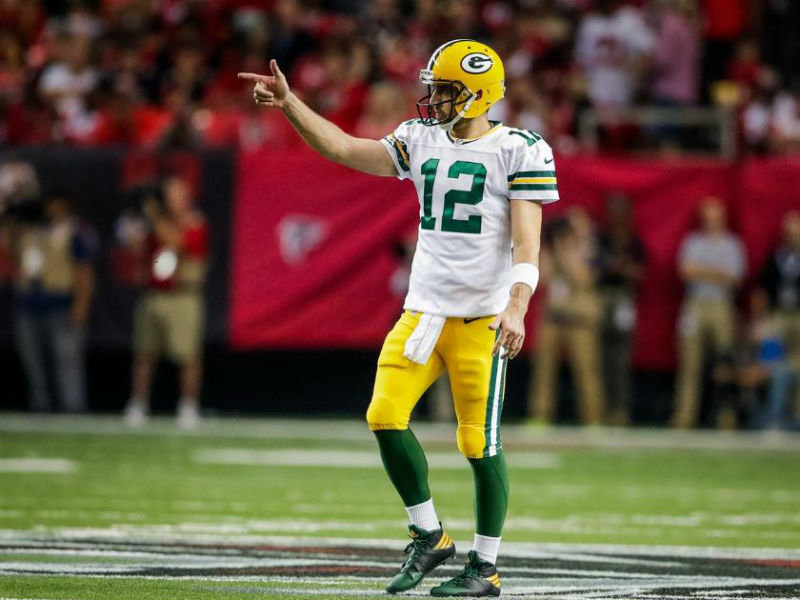 Aaron Rodgers reportedly hasn't talked to his family in two years
Remember back in July, when a floppy-haired Jordan Rodgers said on "The Bachelorette" – before ultimately winning the competition – that he and older brother Aaron "really don't have much of a relationship," and the Packers quarterback then told reporters, "I haven't seen the show, to be honest with you, so it hasn't really affected me a whole lot," and he wasn't going to speak publicly about family matters?
Well, he may have to now. Another bombshell was dropped on Rodgers' personal life, in a captivating Bleacher Report story published Friday, and, while its angle raises questions about the player's football leadership abilities, its effect raises eyebrows about the person's apparently disconcerting family situation.
In the piece, writer Tyler Dunne, a highly respected Green Bay beat reporter from 2011 to 2015, speaks to a number of current and former players – including retired tight end Jermichael Finley, who didn't exactly sing his praises – about Rodgers' leadership style. That characteristic has been called into question a number of times during No. 12's career, but especially this season, as the 4-5 Packers have struggled mightily and the quarterback's peerless play has dropped off.
But the most interesting – and, if you care about such things, alarming – element in the story is the perspective of an unnamed source who was previously very close to Rodgers. The source contends that Rodgers' decline on the field is due to his extremely strained relationships with his immediate family. If true, it's bitterly damning insight into the notoriously private Rodgers' life; even if it's not entirely factual – the source comes off sounding spurned, but not really vindictive – it's eye-opening.
Here's what the source had to say about Rodgers allegedly cutting his family entirely out of his life, not even having talked to his parents or brothers in two years:
One source, who was close to Rodgers for years but is among the many who have since been cut off by Rodgers entirely, said the quarterback has not spoken to his family since December 2014. Don't feel too bad, J-Mike. Immediate family members don't even have his cellphone number. When Mom and Dad sent Christmas presents to the quarterback and his girlfriend that year, the source said, those gifts were mailed back in February. He was set to be the groomsman in the wedding of one of his closest friends, the source said, and texted the day before he couldn't attend.

He didn't attend his grandfather's funeral—the same grandfather he once called before every game.

He fired a business manager he's known since high school.

The family was told they were no longer welcome in Green Bay. If Dad wants to attend a game now, he buys tickets on StubHub or goes through another player's family.

There certainly could be a side to this story the world does not know. Rodgers hasn't commented on this public schism. But this source once close to the quarterback, watching from afar, is not shy.

"There's no explanation for him playing any worse," said the source, who wished to speak under the condition of anonymity. "People are trying to figure it out. He's a f--king head case. He knows he's doing the wrong thing, and he's so arrogant and prideful that he thinks he can separate his personal life from his professional life, even though all of us know that's impossible. You can't do that. You can do that in little spurts, like when Brett Favre went out and played amazingly when he loses his Dad. But when you're talking about real situations that aren't all of a sudden circumstantial and you f--k over good people, people you're supposed to love, it's a s--tty thing to do and you're going to get humbled.

"You can't live like that, man. The people who live like that end up getting f--ked over. That's kind of what's happening here, but he's so prideful and will never admit he's wrong. Ever."
That's staggering stuff, and certainly not something you'd think a person would risk saying – regardless the background or relationship fracture – if it wasn't mostly accurate. Regardless, it sounds like a very different person than the one his old high school coaches described in this story about Rodgers as a teenager.
After Jordan Rodgers' "Bachelorette" revelation, tabloids contended that actress Olivia Munn, Aaron's girlfriend of, incidentally, two years, was at the center of the family feud and the main reason the members stopped talking to each other. Munn has already been blamed too much by fans and media for Rodgers' diminished play; after all, players deal with personal issues all the time – think Brett Favre having the game of his career immediately after his father's death – and it's their job to overcome anything that's happening at home.
Rodgers' performance seemed to fall off from his two-time MVP level around the midway point of last season, and in 2016 he's been noticeably less-great than in previous years. His current passer rating of 93.9 is almost 10 points lower than his career mark of 103.3 – which, it should be noted, is No. 1 in NFL history, so it's admittedly a high bar – and he's on pace for his most interceptions and second-lowest completion percentage since 2008, his first year as a starter. He's still revered among many players in the league, however.
The Packers have struggled with injuries galore this season – including to their top two running backs, Eddie Lacy and James Starks, multiple wide receivers and recently a couple of starting offensive linemen – and head coach Mike McCarthy's playcalling has been interrogated. It's possible after eight years of the same quarterback and coach dominating the league, opponents have simply figured out Green Bay's heretofore unstoppable offense, which is now ranked 14th in yards per game and 11th in scoring.
But according to Dunne's source, there's a much more basic explanation for why Aaron Rodgers isn't playing like Aaron Rodgers.
"He completely, abruptly, 360 degrees changed into somebody else," the source said. "Think about it: He put himself on an island where he has no family. And you wonder why the dude can't do his job like he used to."
Rodgers and the Packers play on Sunday night against Washington, where they'll try to snap their three-game losing streak and get back into playoff contention.
Facebook Comments
Disclaimer: Please note that Facebook comments are posted through Facebook and cannot be approved, edited or declined by OnMilwaukee.com. The opinions expressed in Facebook comments do not necessarily reflect those of OnMilwaukee.com or its staff.