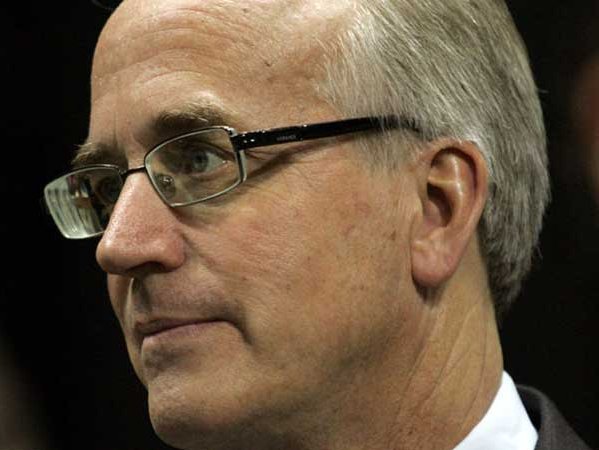 Milwaukee Talks: Bucks' VP John Steinmiller
Few people can offer more insight into the Bucks than John Steinmiller.
As the franchise celebrates its 40th anniversary this season, the team's vice president of business operations celebrates his 38th. The Chicago native and Marquette University graduate worked his way up from performing odd jobs around the office for minimum wage to handling the day-to-day operations of a team with an estimated value of nearly $300 million.
Steinmiller sat down with OnMilwaukee.com and discussed a number of topics including his history with the team, his memories there, the arrival of Yi Jianlian and the future of the Bradley Center and the franchise.
OnMilwaukee.com: How did you end up with the Bucks?
John Steinmiller: I was in my senior year at Marquette and I needed some money. We were in the old union on a Friday afternoon, sitting around the table and one of my fraternity brothers said there was a job opening with the Bucks. He said it only paid about five bucks an hour and was only about eight hours a week; they just wanted somebody to change the sign. I said "I'm not doing that," but I went down to the office on 7th and Wisconsin and talked to the manager.
OMC: Do you remember still who that was and how did the first meeting go?
JS: Her name was Kathy Bartley, a tremendous lady. It was a front office of only eight people at the time. That included a general manager, an accountant, a receptionist, a president and sales people ... it was a much smaller operation that it is now. She brought me in and explained the job and what it paid. They had one of those marquee signs where you had to change the letters. Everybody I knew considered it grunt work, but I considered it outdoor advertising. I started that day, I changed the sign and she had me come back again Monday.
OMC: And so began your life with the Bucks. It sounds like very humble beginnings.
JS: The first week was about four hours and by the next week it was as many hours as I could give them. Pretty much seven days a week I was there. I was in my final semester and I pretty much did whatever they wanted. I got coffee and found things to do because there was always something to do. I got to start working on the ticket side and the beauty of the small operation exposed you to a lot of different people and different jobs.
OMC: When did you move up to a full-time position?
JS: Right after I graduated in December 1970. The bulk of my work was with the Bucks Summer Camp Program and with the ticket department. In 1972 or 1973, several of our people went to Houston including Ray Patterson, our president. He went to Houston and became the president there and Wayne Embry, who was our player personnel guy at the time, was promoted to GM and I got promoted to public relations.
OMC: That had to be a big move for you. Is that what you had wanted to do in the first place while you were at Marquette?
JS: That's really what I was looking for. I had majored in communications at Marquette.
OMC: Weren't you the youngest PR guy in the league at the time?
JS: Yeah, I think I was about 23. It was serendipitous. A lot of good things happened at the right time. A lot of people who believed in me gave me an opportunity that I probably didn't deserve.
OMC: Did you want to end up in sports, or were you planning to end up working in agencies ... maybe the public sector?
JS: In college, I didn't intend to pursue a career in pro sports. I really focused on advertising and marketing. Eventually all the bookwork and prep work that I Iearned in college has been put to use, but I really saw myself more in the advertising field, where I had spent a couple summers interning in Chicago. But there were such great people there in the organization and it was growing.
OMC: It had to be a lot of fun for you, too. The Bucks in the early 1970s were among the best teams in the history of the NBA. What was that experience like for you?
JS: It was early NBA and it was in its growing period. There wasn't nearly the exposure or the number of teams; I think we were the 10th or 11th team in the league at the time. We were in the old Milwaukee Arena and we had the best player in the game in Kareem Abdul-Jabbar and the second-best player in the game in Oscar Robinson. It was a great time and we dominated.
OMC: They were kind of like Shaq and Kobe, but without the drama. That 1971 team was pretty incredible.
JS: The stats are all there. We were a 3-year-old franchise. No expansion team has won a championship as fast as the Bucks did at that time and no franchise -- in any sport -- has since. It might not ever happen that quickly again. It was a golden era and there have been a few silver eras since, but it was truly a time of exciting growth. To go from an expansion team in 1968 and win a championship in 1971, it's just unheard of.
OMC: That 1971 team doesn't get nearly the accolades -- even here in Milwaukee -- that other championship teams like the Lombardi Packers or the 1982 Brewers get. How do you feel about that?
JS: It's underappreciated by some people and the media. Yet there are some people who would say that the 1971 team was one of the most dominant of all time. There's a book out that rates dominance of certain NBA teams. I've always felt it was one of the best teams. You would go into games in 1970-'71 knowing that the Bucks were going to win. It was such a great feeling.
OMC: It's not like the Bucks were playing watered-down, weak competition, either. There was a lot more talent distribution at that time. How much does that speak to what those teams were able to accomplish?
JS: It wasn't that we weren't playing great teams. It wasn't a weak league ... we were just so dominant. It was such an awesome year. The team made it look easy. You'd walk out of the Arena and fans would be grumbling about another 20-point victory. They just made it look so easy and so efficient.
OMC: Fielding a team today with that much star power would probably not have anywhere near that kind of success.
JS: They weren't hot dogs, the egos weren't large. It was true precision basketball. I'm not saying it was better than it is now; it was a brand of basketball that was almost flawless. I am not sure if they kept turnovers then, but I'm sure there were nights where they only turned the ball over three or four times a game. It was just dominant.
OMC: The success wasn't limited to just 1971, either. There were a string of incredible teams, weren't there?
JS: Yeah, we were good for a couple of years even though there was only one championship. We went to the NBA Finals in 1974 (losing to Boston in seven games) and we derailed the Lakers' 33-game winning streak in 1972. There were so many great things done during that period that I don't want to say were taken for granted, but I think are underappreciated or overlooked.
OMC: Why do you think that is?
JS: A lot of it was because it was a smaller league then. The media isn't anything near what it is today and, obviously, there was no internet. The games were only televised on Sundays. It was just an underexposed game. As a result, you have to be a historian or true fan of the game in that era to understand just how good those teams were.
OMC: Was it tough during the 1980s? The Bucks were so good and so close every single year. It had to be frustrating to be in the mix every year and not be able to get over the hump.
JS: We were good, but so was the rest of the Eastern Conference. It seemed like we had to play Philadelphia or Boston every single year in the playoffs. One or the other got to the NBA Finals just about every year. In some cases, we were playing both of the conference finalists every year just to get our shot at the finals. It was hard. Those were true teams; complementary groups of players under a young, but gaining-experience-every-year coach in Don Nelson.
OMC: Boston and Philadelphia had some pretty amazing teams during the early 1980s. That was the Moses Malone/Larry Bird era for those teams.
JS: We kept hitting our heads against the wall. If we got by Boston one year -- we swept them one year, 4-0 -- then Philadelphia was waiting for us in the next round and vice versa. It was frustrating. Those teams, too, get underrated. But I think to get your due, you have to win a championship or at least, get to the Finals. We had some very good teams, but in the playoffs, we ran into some better teams.
Page 1 of 2 (view all on one page)
Next >>
Facebook Comments
Disclaimer: Please note that Facebook comments are posted through Facebook and cannot be approved, edited or declined by OnMilwaukee.com. The opinions expressed in Facebook comments do not necessarily reflect those of OnMilwaukee.com or its staff.