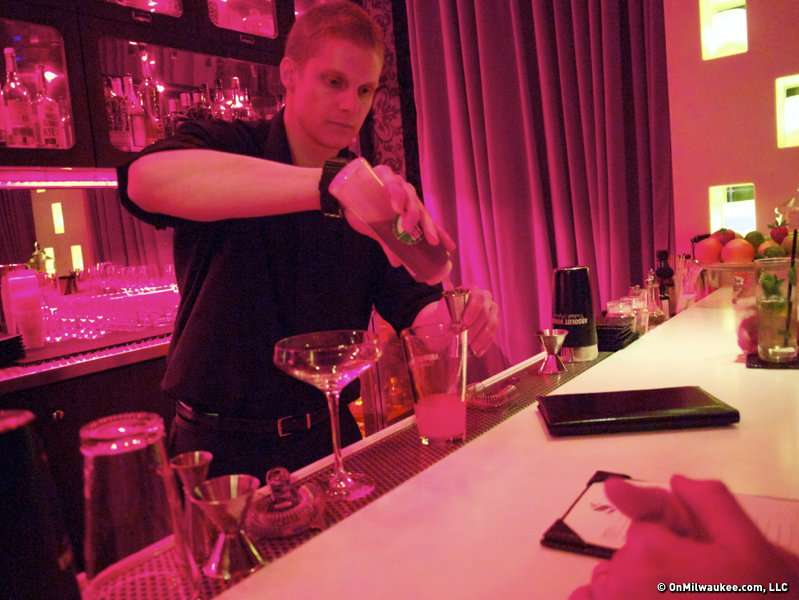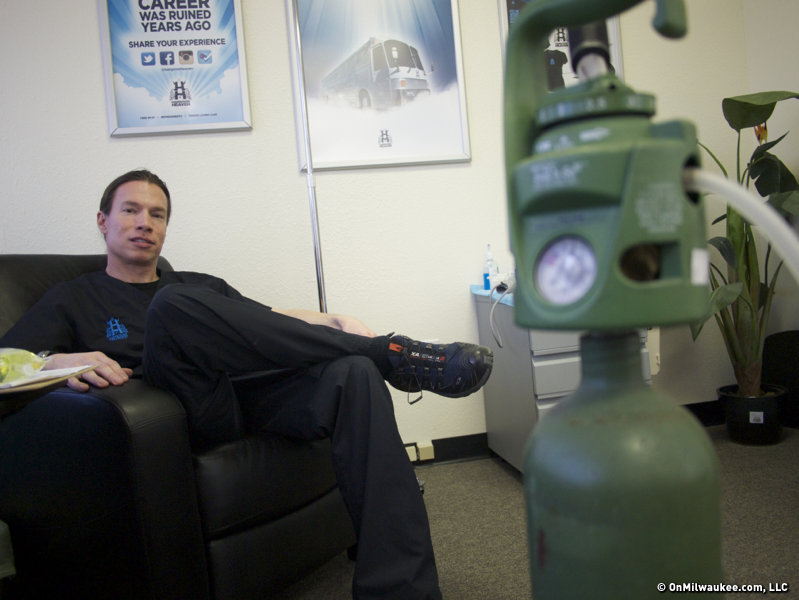 Rebirth and redemption, Vegas style
LAS VEGAS – I've stopped counting how many times I've been to Las Vegas. Definitely in the double digits, I didn't go this March expecting any huge surprises.
But I was wrong. Vegas still surprises me, and always in a good way. I came to this realization as I sat in a comfy, leather chair, with an IV attached to my wrist and oxygen tubes in my nose.
Before you panic, that experience was actually planned. But more on that later.
What I'm saying is that you'll never run out of things to do in Sin City, whether you speed it up, packing every minute with activities, like we did every other year, or slow it down, making the most of a surgical strike without burning ourselves out. Both ways are pretty fun.
This time, we only gave ourselves two days and two nights before we hopped into a humongous rental car and drove through the mountains to Phoenix for Brewers Spring Training.
With only 48 hours here, we had to use some strategy. We would not be Ulysses, aimlessly wandering the sea of entertainment that is The Strip. No, we lashed ourselves to the mast and plugged our ears against the Siren calls of the slots and blackjack tables with watered-down odds that can occupy newbies for hours upon hours (not that there's anything wrong with that, if that's what you're into).
The plan was to balance relaxation, old favorites and new experiences. Looking back at this trip, I can't imagine it playing out any better.
After a few years away from our favorite place to stay on the strip, we came back to the Tropicana. Maybe it's because of the Wisconsin connections in the casino, but more likely, because it's just so low-hassle and well-located. Indeed, the casino's signature scent that envelopes you when you walk through the door is enough on its own to make you want to stay until your bankroll is depleted. That aroma is somewhere between tropical beach and unsmoked Cuban cigar, warm and inviting.
The Trop no longer looks like old Vegas, even though it is one of the most historic properties on The Strip. You can still catch glimpses of its old-school past, like the stained glass ceiling above the gaming tables. But so much more is sparkling and new throughout the resort, from the subtle mood lighting behind a sleek and modern check-in desk at the lobby to the inviting Chill'm bar just off the casino floor ready to be your launch pad for shenanigans. Maybe the best thing about the Tropicana, however, is that it's not a cavernous casino owned by one of corporate gaming behemoths in town. This is a perfect place to call home base.
Our hosts caught up with us over lunch at Beach Café, the bright, airy restaurant with a South Beach feel that we've visited in the past, before letting us depart to our rooms.
For a change, we finally picked a trip that wouldn't take place in the dead of winter, so we could spend some quality time at the Tropicana pool. I can see while it's regularly voted about among the city's best, with the continuation of the resort's South Beach vibe into this tropical oasis. Though it opened just a week before our visit, the early season crowd was lively and the pina coladas were icy and pricey but potent. Just what the doctor ordered to kick off a vacation.
Keep in mind that our traveling party for this leg of the trip was just Paul, who's an old friend from college, and myself, and we got up around 2 a.m. Vegas time on Wednesday morning to make our flights from time zones farther east. So, anticipating a long day and night, we grabbed a power nap, made ourselves presentable, then hit the town. Hours had passed between touching down and shaking hands with the one-armed bandits. Who are we?!?
Re-energized, we made the easy walk over to New York, New York for the first gambling of the night. On this trip, I didn't feel inclined to spend my time and money on the table games. I really wanted to play "The Hangover" slot machine, a move that turned out to be incredibly foreshadowing. Fortunately, the slots paid off a little better than Paul's attempts at speaking broken Portuguese to the Brazilian cocktail waitress who kept our drinks refreshed.
With a little extra cash in my pocket courtesy of Mr. Chow and the wolfpack, we cabbed it over to The Palms Casino, which is a property that I've never visited before. It's off the Strip a bit, and my expectations weren't especially high given all I knew was it hosted a season of "The Real World" a decade ago with a particularly sex-crazed cast.
Once again, my Vegas expectations were shattered. It turned out to be a great night, and the party vibe at this remodeled casino makes it among the most energetic and fun properties in the city. I liked it almost as much as The Cosmopolitan, which sets the bar for Vegas fun rather high.
We started with drinks at Social, an upscale bourbon bar near the entrance that's open to the casino floor. If you've been to the Hard Rock, it's a similar concept for a central casino bar but executed at a level designed to class up your Vegas debauchery a bit. Now, I'm not a bourbon guy, but the drinks we enjoyed were about as jaw-dropping as the gorgeous model/bartenders who made them.
First off at Social was the 46 & Barrel cocktail, made with Maker's Mark 46 infused with cherry and fig, Carpano Antica and a spritz of orange aromatics. Served over a spherical piece of ice that's formed with a heavy press that slowly sinks down to shape the ice ball while your anticipation builds. Next up was the Social Misfit, made with Bulleit, Disaronno amaretto, Nagomi White Peach and fresh lemon juice served in a flask – which, by the way, you get to keep as a souvenir.
And for you bourbon aficionados out there: yes, Social gets its hands on a couple of the precious few bottles of Pappy Van Winkle allocated to the state of Nevada. This is a true bourbon lover's Nirvana, but I assure you it's accessible enough for anyone who just enjoys a well-made cocktail.
Suitably lubricated, we walked across the casino for dinner at Heraea. It has a sports bar vibe going on with lots of TVs, but the food was top-notch fare suitable for fine dining restaurants in just about any other American city. I had the filet and bacon Brussels sprouts, and they tasted as good as they could possibly taste. As with Social, Heraea brought its A game with service. I never cease to be amazed at the all-star level of service in Vegas. Everything was perfect.
We thought the cocktails might be hitting us when the Lane Bryant convention seated behind us (really, not being sarcastic) morphed into a conga line around the restaurant. As the friendly conventioneers danced around us with some of the restaurant staff – who genuinely seemed to be enjoying themselves – that was our cue to step next door into Scarlet, easily one of the most unique bars I've ever visited.
It's unique because this "microbar" seats just six. Yes, six. It's an elaborate mixology program with a select drink menu of infused spirits. Our bartender Daniel was making them faster than we could finish them, but the banana bread infused reposado tequila was one of the best drinks I've ever had. Daniel happily experimented on our willing livers with more gems, like a mixture of jalapeno-infused reposado and mango puree that we're pretty sure had a catchy cocktail name, but frankly our notes get a little hard to read after that point. We left Daniel's care more a little wobbly.
But that was OK, because had the next morning all figured out. Our inebriation was for science, dammit! More on that soon.
Approaching midnight, Paul and I had now been awake for almost 24 hours, but we took the elevator to the top of The Palms to visit Ghostbar. It might've been a little clubby for our liking, but Ghostbar offers the best skyline view in Las Vegas. Because it's set back from the strip, one can see all the action from the light beam at Luxor to the spire of the Stratosphere. On a beautiful warm night, we could've stayed forever. But it was time to go home.
Redemption and Resurrection
I won't lie, when I sprung out of bed at 8 a.m., I didn't feel great. Dizzy, green around the gills, and head feeling like it was in a vise, Paul and I subjected ourselves to this Mother of All Hangovers to ourselves on purpose.
Yes, on purpose.
Because we knew we had a 10 a.m. appointment with Hangover Heaven, we deliberately erased that line we'd been learning to draw since about age 21 that separates a buzz you can sleep off from a nasty hangover. We went a little (read: a lot) crazy the night before, mixing different liquors with reckless abandon, tossing in some shots and beers, and all the other rookie mistakes that ruined so many Sunday afternoons in college.
I had heard of this hangover doctor before, but in planning this trip, I made a mental note to visit.
Page 1 of 2 (view all on one page)
Next >>
Facebook Comments
Disclaimer: Please note that Facebook comments are posted through Facebook and cannot be approved, edited or declined by OnMilwaukee.com. The opinions expressed in Facebook comments do not necessarily reflect those of OnMilwaukee.com or its staff.