The coronavirus pandemic has changed our everyday life, but it doesn't need to change who we are. So, in addition to our ongoing coverage of the coronavirus, OnMilwaukee will continue to report on cool, fun, inspiring and strange stories from our city and beyond. Stay safe, stay healthy, stay informed and stay joyful. We're all in this together. #InThisTogetherMKE
Whether or not it's true that Milwaukee once had the most bowling alleys per capita – and it may or may not be (looking at you, Detroit!) – bowling was not just a pastime in Brew City, it was a way of life for many.
I came to appreciate that fully during my years in the sports department of the Milwaukee Sentinel, where I believe I may have served the longest tenure as the Bowler of the Week columnist (or so I was told). If you got a Brewers' score wrong, you'd get a couple calls, but woe betide the bowling of the week columnist who erred in reporting a score or series.
But, times have changed and as with so many other foundational aspects of life, bowling's popularity has suffered at the hands of countless television options and video games. While there are still some great places to get your bowl on, the idea of a bowling alley or two on every neighborhood main street has gone straight into the gutter.
Our memories are strong, however, and thanks to a new Facebook group called Old Wisconsin Bowling Alleys, you can take a walk down memory, ahem, lane. Here are some great (mostly) vintage Milwaukee-area bowling alley photographs, shared by the group administrator Adam Levin.
Milwaukee Arena, 1952
400 W. Kilbourn Ave.
Source: UW-Milwaukee Panther Arena
Of course, I'm starting with makeshift, temporary lanes that were put up in what is now the UWM Panther Arena, in 1952 for the tournament and convention of the American Bowling Congress, which was long headquartered here. The fact that the national event was held here and at what at the time was the largest venue in town is a testament to the popularity of the sport here.
Kuglitsch's Arcade
1404 S. 44th St., West Milwaukee
Source: Ryan Kuglitsch
During my Bowler of the Week tenure, Kuglitsch's at 44th & Greenfield was one of the area meccas of the game. Opened in 1928, Kuglitsch's shut down in 2001 and the site is now part of a Target development. The photo, of Mark Kuglitsch. Sr., is likely from the early 1950s, according to Ryan Kuglitsch.
Koz's Mini Bowl
2078 S. 7th St.
Source: Justin Kosakowski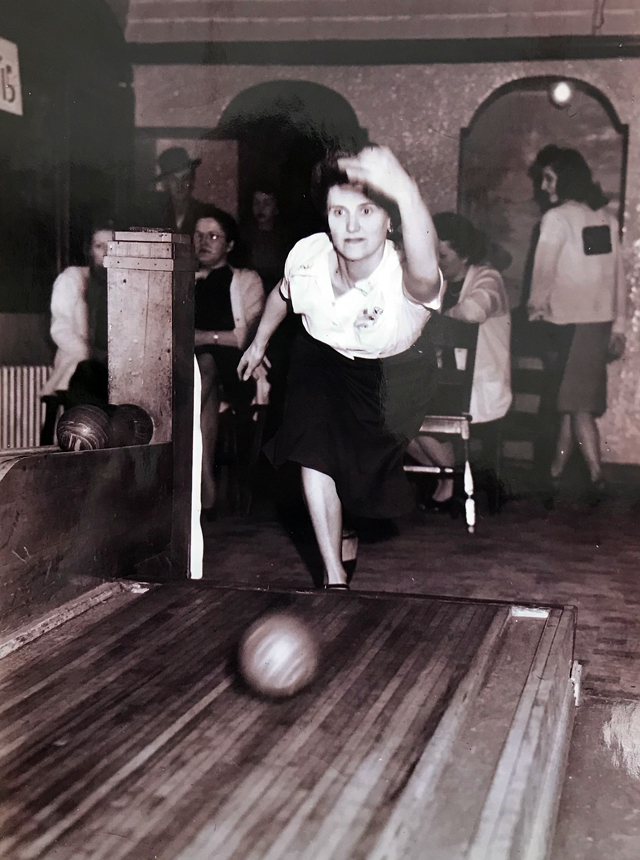 This photo shows Harriett Sziejna on the lanes at what is now Koz's. Sziejna and her husband owned the place in 1946, when it was called Ben and Harriett's Park View Bar, and after a fire on July 4, 1947, they repaired the damage, not only altering the exterior store front of the place but also adding the duckpin bowling lanes that have become its signature. You can read more about the history of the tavern here.
Strachota's Milshore Bowl
251 E. Capitol Dr.
Source: Adam Levin
Another well-known and beloved bowling center was Strachota's, which operated on Capitol Drive from 1953 to 1994. When it opened, it was considered state of the art, boasting that it was, "air conditioned by refrigeration, (with) completely automatic pinspotters, no pinboys." The site now sits beneath an Aldi parking lot.
Echo Bowl
5400 N. Port Washington Rd., Glendale
Source: Mark Susina
There was a time when the Echo Bowl sign towering above Port Washington Road – across the street from first the Milky Way and, later, Kopp's – was the most recognizable landmark on the bustling street. "Wisconsin's newest, most modern alleys," opened on Sept. 15, 1956 and owner Don Hildebrand closed it in 2004, ending the run of one of the area's most iconic centers. The site is now home to a Walgreens.
Al's Two Lane Tap
3326 W. Burleigh St.
Source: Paul Maren
German immigrant Albert Maren opened Al's Two Lane Tap at 34th and Burleigh in 1945 after working first in the coal mines of southern Illinois and later here at International Harvester. He and his wife Mary ran it until 1955, when he ran Silver City Recreation at 38th and National for the next five years. Then he opened a couple of taverns, including My Man's at 37th and National and then Al Maren's Tap, 4423 W. National Ave., until his death in 1965. Al's Two Lane Tap (the building still stands) was an example of numerous area saloons that had a couple lanes onsite, like Holler House and much earlier, what is now Regano's Roman Coin.
The Eagles Club
2401 W. Wisconsin Ave.
Source: The Rave / Eagles Club
Built in 1924, the Eagles Club complex housed a basement level bowling center that thrived for many years, but went quiet and by the turn of the 21st century were removed to expand the music venue options at The Rave. According to Adam Levin, who has looked around down there, some of the little arrows from the lanes survive in the floor.
Plankinton Arcade
161 W. Wisconsin Ave.
Built in 1916, the Plankinton Arcade was a pleasure palace, with shops, Turkish baths, restaurants, bars, billiards and, yes, bowling alleys. But not just any bowling alleys. No, according to a vintage post card touting the venue, the Plankinton Arcade was, "the largest bowling room in the world." Alas, that room is long gone now, but if there's any place in town that ought to considering bringing bowling back Downtown, the arcade would be the place. Just sayin'.
Bowlero
11737 W. Burleigh St., Wauwatosa
Source: Joe Pesetski
Who wouldn't love a bowling center with a name that's a play on a famous classical music composition? Ground was broken on this 55,000-square-foot, 48-lane venue at the dawn of 1959 and it opened on Aug. 6 of that year, having cost $1.6 million. That turned out to be a good investment because Bowlero is still going strong today.
Saint Francis de Sales Seminary
3257 S. Lake Dr., St. Francis
Source: Wayne Rokicki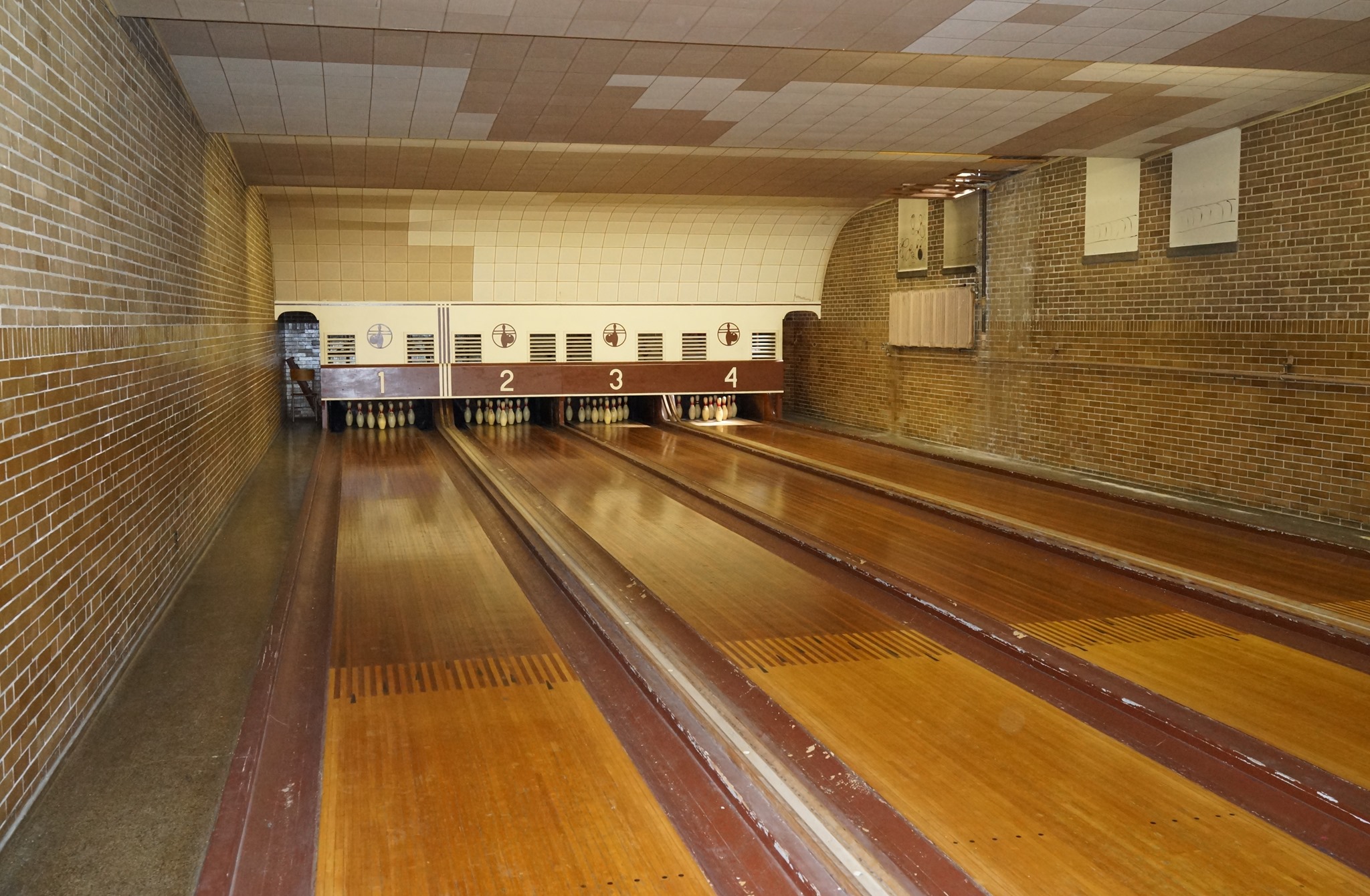 For true-hearted bowlers, the sport can spark an almost religious zeal. So, should we be surprised that seminarians also enjoy the game? The Saint Francis complex's Ernest G. Miller Gymnasium was outfitted with four lanes that survive today and recently underwent a bit of an overhaul. New lanes are on the seminary's wish list for future repairs.
Born in Brooklyn, N.Y., where he lived until he was 17, Bobby received his BA-Mass Communications from UWM in 1989 and has lived in Walker's Point, Bay View, Enderis Park, South Milwaukee and on the East Side.
He has published three non-fiction books in Italy – including one about an event in Milwaukee history, which was published in the U.S. in autumn 2010. Four more books, all about Milwaukee, have been published by The History Press.
With his most recent band, The Yell Leaders, Bobby released four LPs and had a songs featured in episodes of TV's "Party of Five" and "Dawson's Creek," and films in Japan, South America and the U.S. The Yell Leaders were named the best unsigned band in their region by VH-1 as part of its Rock Across America 1998 Tour. Most recently, the band contributed tracks to a UK vinyl/CD tribute to the Redskins and collaborated on a track with Italian novelist Enrico Remmert.
He's produced three installments of the "OMCD" series of local music compilations for OnMilwaukee.com and in 2007 produced a CD of Italian music and poetry.
In 2005, he was awarded the City of Asti's (Italy) Journalism Prize for his work focusing on that area. He has also won awards from the Milwaukee Press Club.
He can be heard weekly on 88Nine Radio Milwaukee talking about his "Urban Spelunking" series of stories.