Sometimes, the '90s in Milwaukee feel like a distant memory; other times I can't believe they're so long gone. But then I looked at some of the photos I took while building the shell of what would eventually become OnMilwaukee, and these scenes seem ancient, indeed.
These pictures were either already saved on my computer or in boxes of prints in my basement. I didn't buy my first digital camera until late in 1999, so all of these were already scanned or just waiting to be scanned. And I believe I took all the photos, except where noted.
I have many, many more, but here's a start of some of my favorites. I hope these 10 photos bring back great memories of Milwaukee right at the cusp of rediscovering its greatness:
1. Farwell and North Avenues
At first glance, the scene doesn't look much different now than it did when I took this photo in 1998. BBC is still there. But look more closely. The Globe is now Hotel Foster. There was a tattoo shop right in front of it. And that Amoco station, which was always really shady, is now torn down and replaced with a small mall with a Burger King standing on the corner. Also, note the building where Heiser Ford once was – that's Whole Foods Market now, and you can't see Columbia St. Mary's new building looming in the distance.
2. North and Oakland Avenues
Turn around, walk a few blocks west, and you would've seen this scene in the '90s. The iconic Pizza Man on the corner, and Cush in front (it was Matisse in the 1990s, too). That all ended when a fire started (or was started) in the short lived Black and White cafe just in front of the frame of this photo. Sadly, that iconic building burned down and was only recently replaced by condos. In the background, was a seedy Irish pub called O'Reilly's that turned into The Eastsider in 1998.
3. The old Discovery World
Discovery World didn't always have a gleaming white home on the lakefront. It used to be located inside the Public Museum (and before that in the Central Library), right across from the IMAX.
4. Kenilworth Place and Prospect Avenue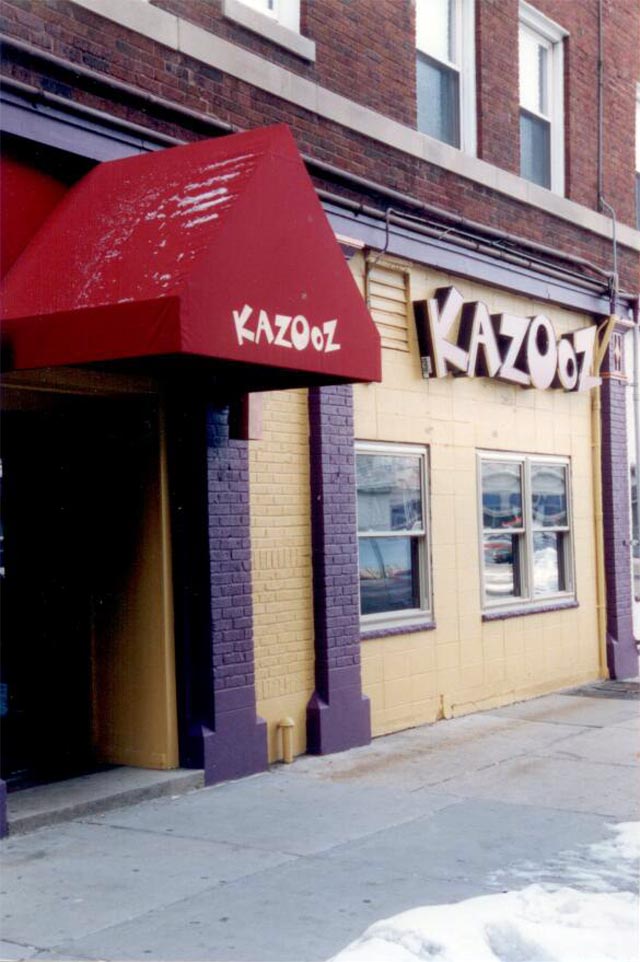 Back to our roots on Milwaukee's East Side, here was Kazooz. Formerly the Red Dragon Lounge, now it's Yield. It was also was briefly home to Webster's after the cafe and bookstore moved off Downer Avenue. Those colors, those fonts … so '90s. Someone call Vanilla Ice.
5. Veteran's Park
Looking at Downtown in the mid '90s, see what's missing? A lot. The Milwaukee Art Museum Brise Soleil, Discovery World, branding on the US Bank Building (then the Firstar Building), the 833 Building, the newly rising NML skyscraper (and in this pic, the still-standing brown ugly one), as well as a bunch of condos that are now in the right side of the frame. Two decades later, Milwaukee's skyline looks much better.
6. 4th Street, across from the Bradley Center
Ah, Legend's. Just another sports bar in the unluckiest retail spot in Milwaukee. Has anything ever worked there? Ciatti's, briefly, perhaps? Maybe a strip club would be more successful, but that's a conversation for another day …
7. Water Street and St. Paul Avenue
See what's missing here? It's the Milwaukee Public Market. In the '90s, it was yet another surface parking lot under I-794.
8. Water Street and Juneau Avenue
Pretty much everything in this photo is now gone. Mel's, Oak Barrel, O'Danny's, Luke's Sports Spectacular and McGillicudy's (which moved a bit south). And oh yeah, the Park East Freeway. To the best of our knowledge, the only businesses in this photo still in business are Milwaukee Moulding & Frame and A. Werner Silversmiths.
9. The Great Circus Parade
I have no idea where this photo was taken and by whom (possibly by my friend Laura Oakland). I found it in a folder called "Wolf Scans" on my hard drive.
10. Pepperoni Cannoli Guy
If you're of a certain age (at least about 25), you know exactly who this is. If you don't, ask an older friend about Frank Pecoraro, who died in 2012. A true Milwaukee legend. We almost put him on a billboard in 2001.
Click here for a gallery of photos of 1990s Milwaukee bars
Andy is the president, publisher and founder of OnMilwaukee. He returned to Milwaukee in 1996 after living on the East Coast for nine years, where he wrote for The Dallas Morning News Washington Bureau and worked in the White House Office of Communications. He was also Associate Editor of The GW Hatchet, his college newspaper at The George Washington University.
Before launching OnMilwaukee.com in 1998 at age 23, he worked in public relations for two Milwaukee firms, most of the time daydreaming about starting his own publication.
Hobbies include running when he finds the time, fixing the rust on his '75 MGB, mowing the lawn at his cottage in the Northwoods, and making an annual pilgrimage to Phoenix for Brewers Spring Training.