The coronavirus pandemic has changed our everyday life, but it doesn't need to change who we are. So, in addition to our ongoing coverage of the coronavirus, OnMilwaukee will continue to report on cool, fun, inspiring and strange stories from our city and beyond. Stay safe, stay healthy, stay informed and stay joyful. We're all in this together. #InThisTogetherMKE
I guess we're all going to have some time to finally catch up on those TV series we've been meaning to binge and all the books we've been hoping to read someday.
Someday is now.
And books are something you can still get, thanks to Boswell Book Company's curbside pickup – and even Milwaukee-area delivery – as well as the usual Amazon option. But, now more than ever – or as much as ever – it's imperative that you support the local guy (which is Boswell).
Hey folks, here's today's update.
As of 2 pm, Boswell is closed to the public for browsing until 3/31/20. You can still call us with an order or place orders online. We'll deliver it to you in the MKE metro area for free. We're also offering curbside pickup between 10am - 5pm. — Boswell Book Company (@boswellbooks) March 17, 2020
With this in mind, here's a list of 11 great books on Milwaukee history – in no particular order – that you can binge, while you dream of a Bryant's Brainbuster or a Tiki Love Bowl in the tenebrous At Random.
"Damn the Old Tinderbox!"
By Matthew Prigge
Subtitled, "Milwaukee's Palace of the West and the Fire that Defined an Era," this paperback takes an in-depth look at the deadly Newhall House fire in Downtown Milwaukee in 1883. Packed with detail, Prigge's prose and storytelling are engaging and evocative, making this one of the most readable Milwaukee history books ever. It's so detailed and well-painted that you'll never walk past the site again without picturing that gruesome tragedy.
"The Making of Milwaukee"
By John Gurda
Of course, Gurda's exhaustive, photo-filled history of the city from its earliest days to the dawn of the third millennium, is THE book about Milwaukee. It recently served as the basis for a five-hour mini-series broadcast on Milwaukee Public Television and narrated by Gurda himself, and it has been updated on a couple occasions.
"Building Milwaukee City Hall"
By Dennis Pajot
Author Dennis Pajot traces the story of the ideation and construction of Milwaukee's most recognizable landmark in this heavily researched and detailed book that offers a glimpse into Milwaukee history, architecture and politics. Until Bill O'Brien decides to publish his thesis on the architect, Pajot's book offers the most in-depth look at the work of City Hall designer Henry C. Koch.
"Fading Ads of Milwaukee"
By Adam Levin
Whether or not you actively pay attention to them, vintage signs – both hand-painted/hand-lettered and manufactured – can be found all over Milwaukee. And once you start noticing them you can't stop seeing them. Old Milwaukee Facebook group creator Adam Levin has turned his passion into the signs into an interesting illustrated book.
"Magnificent Machines of Milwaukee"
By Thomas Fehring
Historian Fehring has penned a couple books on the history of Whitefish Bay, including "Images of Whitefish Bay" and "Chronicles of Whitefish Bay," but he was trained as an engineer and "The Magnificent Machines of Milwaukee and the Engineers Who Created Them" draws heavily on that background, explaining many of the industrial innovations that helped make Brew City the Machine Shop of the World.
"The Drink That Made Wisconsin Famous"
By Douglas Hoverson
The Minnesota-based Hoverson is the author of "Land of Amber Waters: The History of Brewing in Minnesota." This new book has more than 300 pages of extremely readable, and beautifully illustrated narrative history of beer-making in America's Dairyland, wedded to another 300-plus pages of what is basically an encyclopedia of every brewery that has ever existed in the state, "The Drink That Made Wisconsin Famous" is interesting and essential reading for anyone interested in beer and brewing.
"Milwaukee in the 1930s: A Federal Writers Project City Guide"
Edited by John D. Buenker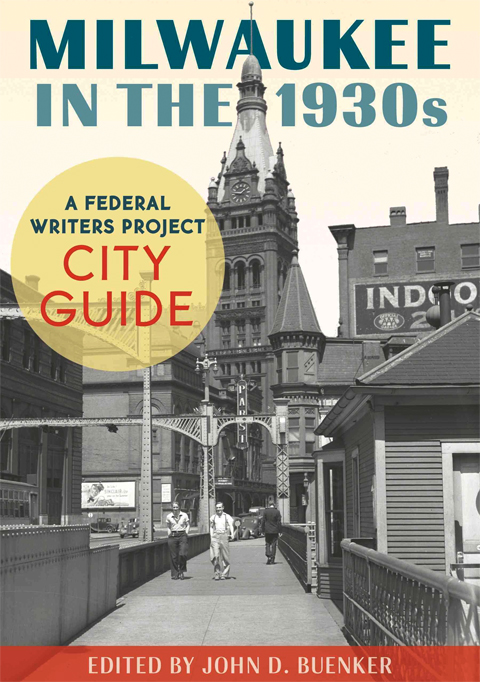 Written in the 1930s as part of the Depression-era Federal Writers Project, this in-depth Cream City guide sat unpublished until this year, when Buenker prepped it for publication, adding a series of contemporary images to help illustrate the text. From Downtown sights to neighborhood parks and more, this snapshot of the city as it was about 80 years ago makes for fascinating reading.
"Milwaukee: City of Neighborhoods"
By John Gurda
This lavish, 466-page tome is an in-depth look at Milwaukee, neighborhood by neighborhood. Not only is it packed with the kind of detail and insight you expect from the doyen of Brew City history, John Gurda, it's loaded with great photos and the classic Milwaukee neighborhood posters by artist Jan Kotowicz.
"Milwaukee Frozen Custard"
By Kathleen McCann & Bobby Tanzilo
"Historic Milwaukee Public Schoolhouses"
"Hidden History of Milwaukee"
"The Milwaukee Police Station Bomb of 1917"
By Bobby Tanzilo
(PHOTO: Lori Fredrich)
Because I've written four books about Milwaukee, and I'll someday send my kids (hopefully) to college, I'd be remiss if I didn't suggest that you consider a book about "The Milwaukee Police Station Bomb on 1917," detailing the biggest loss of life in a single incident in U.S. history until Sept. 11, 2001, set right here in Milwaukee; or an in-depth look at "Historic Milwaukee Public Schoolhouses," which I wrote in an attempt to share my passion for the city's beautiful old school buildings; or "Hidden History of Milwaukee," a collection of the best of the early years of the Urban Spelunking series; or the new "Milwaukee Frozen Custard," co-written with Kathleen McCann, which traces the history of frozen custard from its debut in Brooklyn to Milwaukee, where it has become the delicious stuff of legend. The book also includes a guide to current stands in Milwaukee and beyond as well as a look at many of the classic and dearly departed custard stands.
"Lost Milwaukee"
By Carl Swanson
You may have read Carl Swanson's historical vignettes of old Milwaukee here at OnMilwaukee or on his blog, Milwaukee Notebook. Many of his excellent articles are collected in "Lost Milwaukee." Swanson has an eye for a great story and a good eye for detail, too. His research skills are ace and he weaves a good yarn. I always learn about Milwaukee history from Swanson's articles, which aren't dry or encyclopedic. Instead, they're engaging and eminently readable.
"A Crowded Hour: Milwaukee During the Great War, 1917-1918"
By Kevin Abing
In one of the most in-depth works on Milwaukee at War, Milwaukee County Historical Society archivist Kevin Abing takes us deep into World War I-era Brew City via his new book, "A Crowded Hour: Milwaukee During the Great War, 1917-1918." Abing, who's got the MCHS archives at his disposal, includes many rare photos, too.
Born in Brooklyn, N.Y., where he lived until he was 17, Bobby received his BA-Mass Communications from UWM in 1989 and has lived in Walker's Point, Bay View, Enderis Park, South Milwaukee and on the East Side.
He has published three non-fiction books in Italy – including one about an event in Milwaukee history, which was published in the U.S. in autumn 2010. Four more books, all about Milwaukee, have been published by The History Press.
With his most recent band, The Yell Leaders, Bobby released four LPs and had a songs featured in episodes of TV's "Party of Five" and "Dawson's Creek," and films in Japan, South America and the U.S. The Yell Leaders were named the best unsigned band in their region by VH-1 as part of its Rock Across America 1998 Tour. Most recently, the band contributed tracks to a UK vinyl/CD tribute to the Redskins and collaborated on a track with Italian novelist Enrico Remmert.
He's produced three installments of the "OMCD" series of local music compilations for OnMilwaukee.com and in 2007 produced a CD of Italian music and poetry.
In 2005, he was awarded the City of Asti's (Italy) Journalism Prize for his work focusing on that area. He has also won awards from the Milwaukee Press Club.
He can be heard weekly on 88Nine Radio Milwaukee talking about his "Urban Spelunking" series of stories.