Just months before the assassination of President John F. Kennedy in Dallas in November 1963, the country was still riding a wave of optimism – tempered, of course, by Cold War fears – since the end of World War II.
Perhaps no place was feeling better that summer than Milwaukee, where nearly a half-million people turned out on a gorgeous summer Thursday to help kick off what would become a beloved tradition in the city.
That day, July 4, marked the debut of Milwaukee's Great Circus Parade.
Thanks to Kyle Swartz and Adam Levin, whose book of Kodachrome images of Milwaukee is due out this year, we have more than a dozen photographs capturing that optimistic and celebratory mood.
Announced in January 1963 by sponsor Schlitz Brewing Company, the parade was described in one newspaper article as a, "two-hour cavalcade and fireworks display ... a great circus parade, its advance billing proclaiming 'The Greatest Show on Earth' and 'the most elaborate street parade ever staged'."
Hoping the event would become an annual one, Schlitz President Robert A. Uihlein Jr. said the new, mile-long procession of 25 ornate vintage circus wagons from the Circus World Museum in Baraboo would attempt to recreate the "authenticity, splendor and pageantry" of the circus parades of old.
In addition to the wagons – which dated back to the late 19th century and were to be restored on the Schlitz dime – Uihlein promised no fewer than 30 horses in six-, eight- and even 10-horse hitches. There would be a dozen bands performing on wagons, plus a trio of calliopes (two air- and one steam-driven).
Advance men would shout, "Hold your horses! The elephants are coming," before pachyderms, lions, tigers, monkeys, leopards and other animals would appear. In one of the photos below you can see a clown leading a ram, which the beer guy in me hopes is a reference to bock beer.
"The unique nature of this parade and the fact that nothing like it has been seen for 50 years will focus the national spotlight on Milwaukee," Uihlein told the Journal.
"We think that it can do as good a job in publicizing Milwaukee as the Tournament of Roses parade does for Pasadena, California, the mardi gras does for New Orleans, the Mummers' parade for Philadelphia or the Macy parade for New York City."
To make it so, Schiltz planned to advertise the parade nationally.
The parade – which would start at 2:30 p.m. on Kilbourn Avenue (rain or shine!) and then run along Wisconsin Avenue – was to be themed, "A Day in Old Milwaukee."
According to Circus World Museum President Charles Philip (Chappie) Fox – who largely organized the circus side of the parade – there hadn't been a circus parade of this magnitude in nearly half a century.
The heyday for such parades was between 1880 and 1920, he said.
Among the other features of the revived procession were five bandwagons; wagons depicting Pocahontas and John Smith, Columbus discovering America, Mother Goose, the old woman in the shoe and Cinderella; a Wild West "flotilla" and six tableau wagons with scenes from far-flung places like France, Britain and Asia.
In addition to those three calliopes, there would be an electrically operated xylophone, "whose clapping reverberations can be heard for blocks."
On the day of the parade, Milwaukee was abuzz. The City Hall tower bells rang out at 9 a.m. as thousands flocked to the parade route and vyied for a view, in some places standing 12 deep.
According to Harry S. Pease of the Journal. "Even the weather was the kind Milwaukee never really has – a beaming sun that polished each bit of sparkle and glitter, warming the spectators' hearts as it kept their exteriors comfortable in 70-degree temperatures."
And the 425,000 who "jam(med) the route," were not disappointed, Pease wrote.
"Milwaukee put the clock back a few decades Thursday and proved that the good old days were as great as Grandpa said. Like so many of the things that Grandpa remembers, this was a little too good to be true.
"Never did circus wagons gleam so brilliantly in fresh gold an white, silver and scarlet as they did in Thursday's three-and-a-half-mile parade. Never did the horse-drawn carriages shine so richly in black and crimson, maroon and blue, polished copper and brass, and never did they chug so resolutely over such a distance."
After the last blast of the fireworks was launched from the SS Badger carferry out in the harbor at 10:45 p.m., folks went back their cars and created a massive traffic jam – the second of the day. The first occurred at the end of the parade.
"It took an hour to drive a mile," Pease lamented.
As you can see from the photos, clean-up crews had their work cut out for them.
Everything appears to have come off without, ahem, a hitch. Perhaps because the parade got something of a test run when a similar event was held in Baraboo.
According to the Journal, that parade, "furnished several tests" for the Milwaukee event.
"The air calliope worked smoothly, ponies pulled the Cinderella wagon without mishap, a horse stood in a wagon throughout the parade as 'the living horse tableau'."
The day of the parade, the Sentinel named "the five who made the circus parade go," including Fox, of course, plus Frank Caveney, founder of the Wisconsin Spectacle of Music in South Milwaukee, who staged the music and pageantry; William H. Stipich, Schlitz's director of marketing services, who handled the hospitality arrangements; Schlitz PR director Dae Shawl, who secured the Badger for the fireworks and also coordinated police details and winners of the doll buggy and coaster contests held at 30 County Parks; and Ben Barkin of Barkin, Herman and Associates, who was a PR consultant for Schlitz.
Barkin, the morning paper wrote, "took Fox's hopes for a modest circus parade and exploded it into the ' mammoth, colossal, stupendous' production that it has become."
"We were determined to give Milwaukee something unforgettable," Barkin told the paper, "but none of us dreamed how big this would turn out to be."
And big it was.
The Great Circus Parade would continue in Milwaukee until 1973 and become legendary here. "The lack of sponsors forced the parade into a 12-year hiatus, from 1973 to 1985," notes the Encyclopedia of Milwaukee.
"Due to lack of financing, the parade was officially cancelled after 2003 parade; founder Chappie Fox died in the same year (Ben Barkin had died in 2001). However, in 2009 Bill Fox, Chappie Fox's nephew, helped lead the effort to raise $1.5 million to hold the parade one last time."
In 2009, the parade took place once more in Milwaukee.
Sadly, my kids have never experienced this once-hallowed and still fondly remembered – albeit relatively short-lived – Milwaukee tradition.
We can get a glimpse at the first of Milwaukee's Great Circus Parades in these incredible shots, that also offer peeks at long-lost buildings and businesses on Kilbourn Avenue and on Wisconsin Avenue, between 2nd and 3rd Streets.
Swartz says he has no idea who took the photos.
"I bought them from a guy who collected Milwaukee Circus Parade stuff at a flea market called Randyland," he says. "One looks like it was taken from a plane, so I'm thinking it might have been a professional. All I really know is that they're from 1963 and most of them were taken on Wisconsin Avenue.
"It'd be great if we could figure out who took them."
Levin digitized the slides – as well as this 1965 Circus Parade film – and shared them with me:
Enjoy!!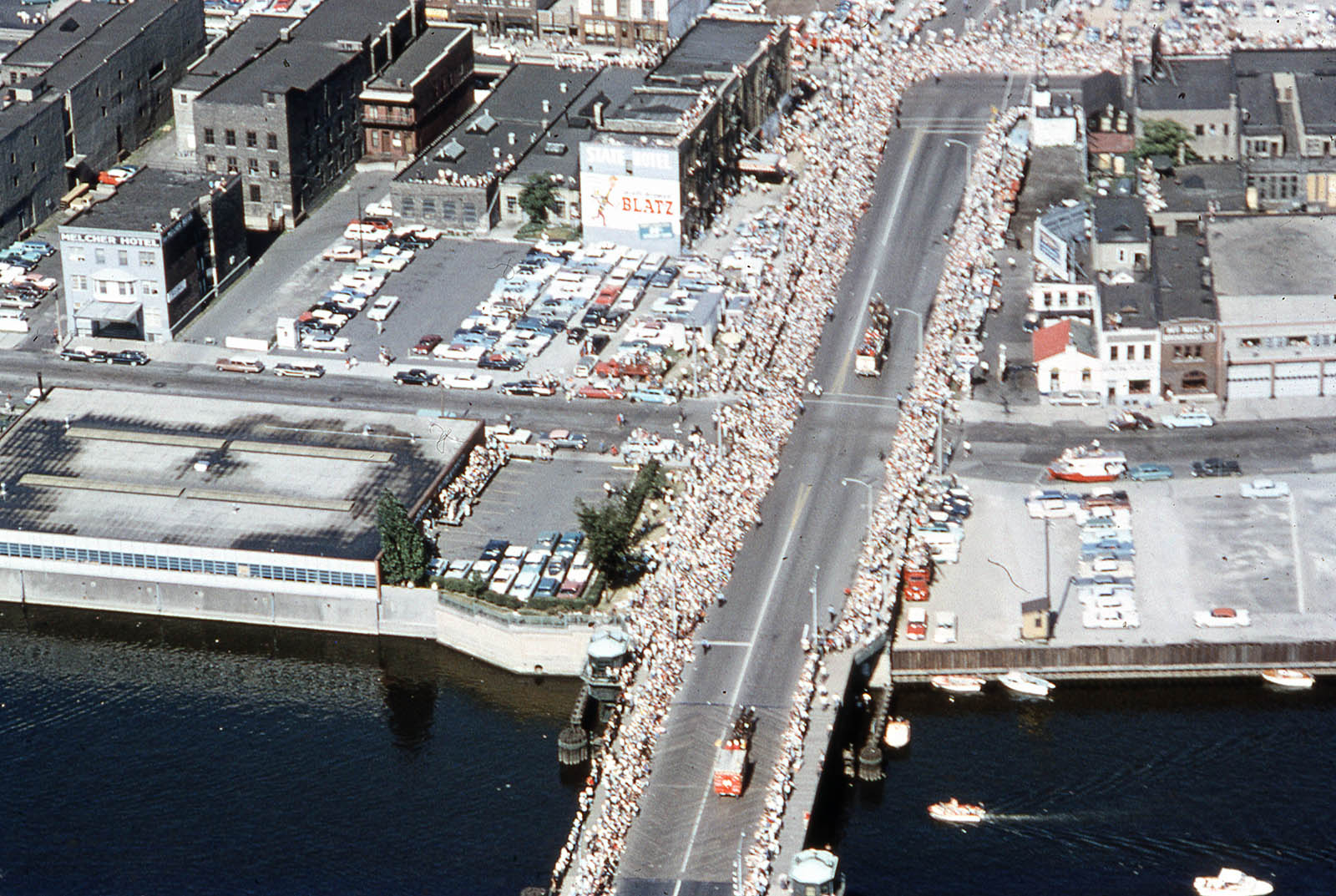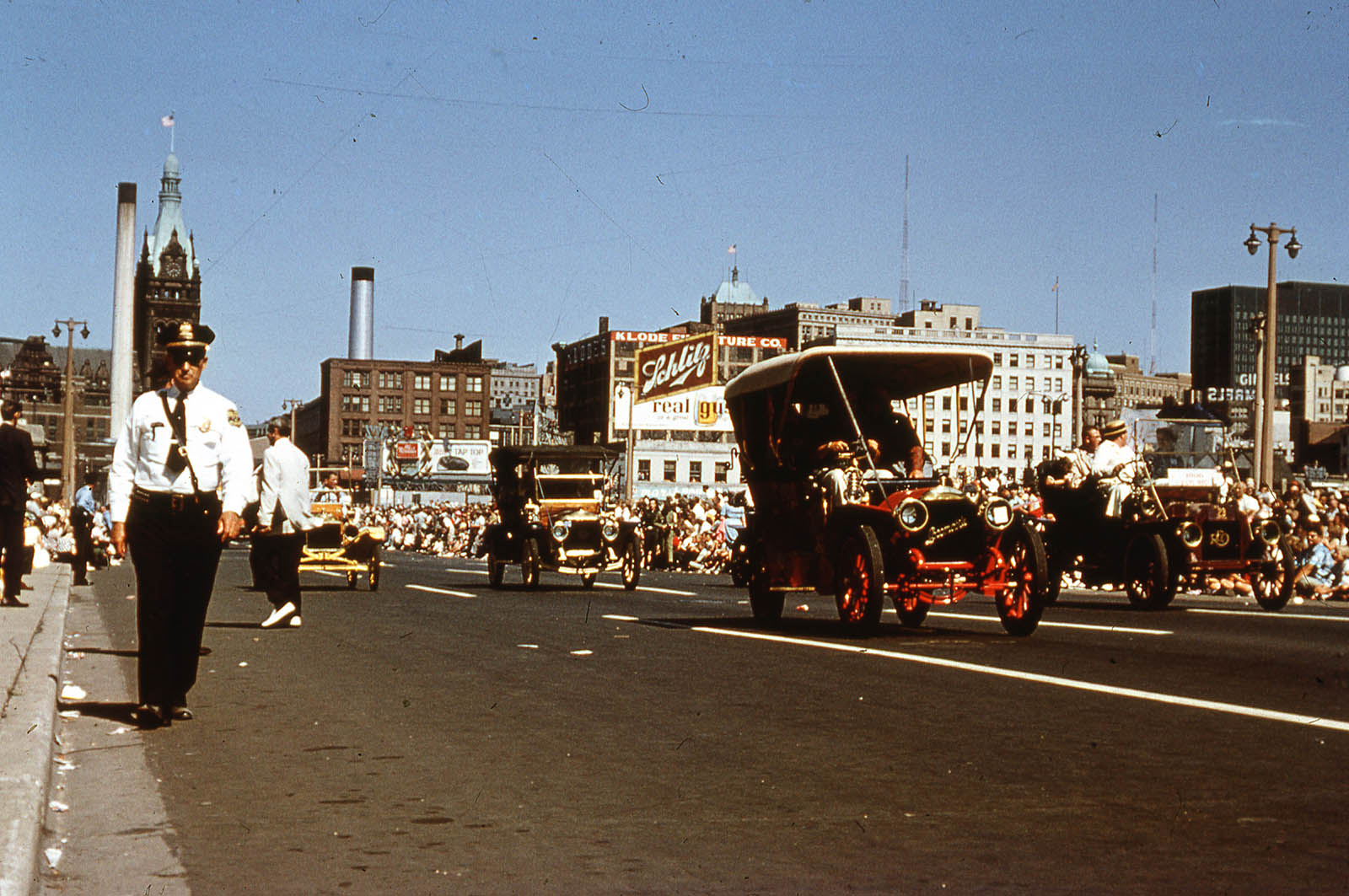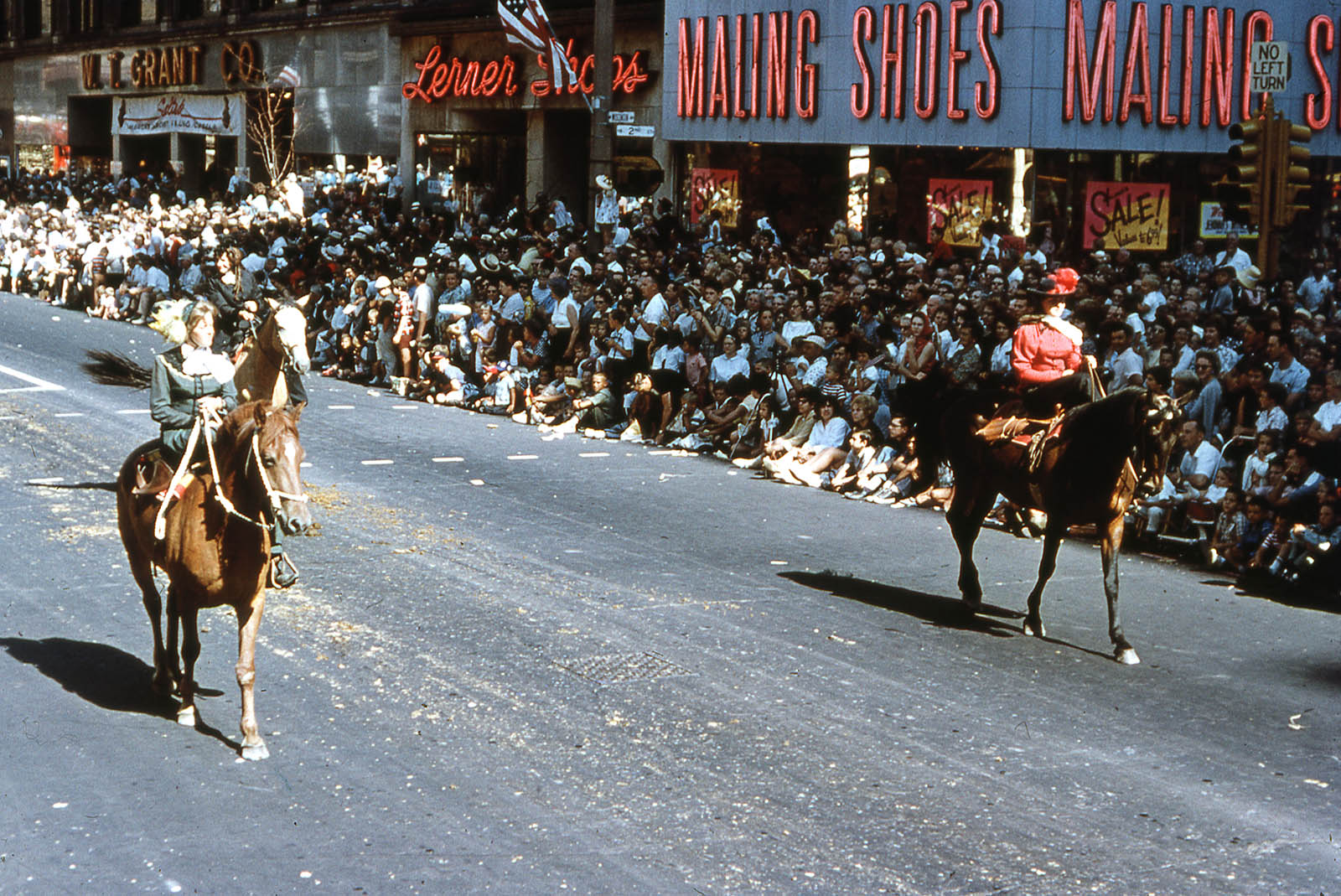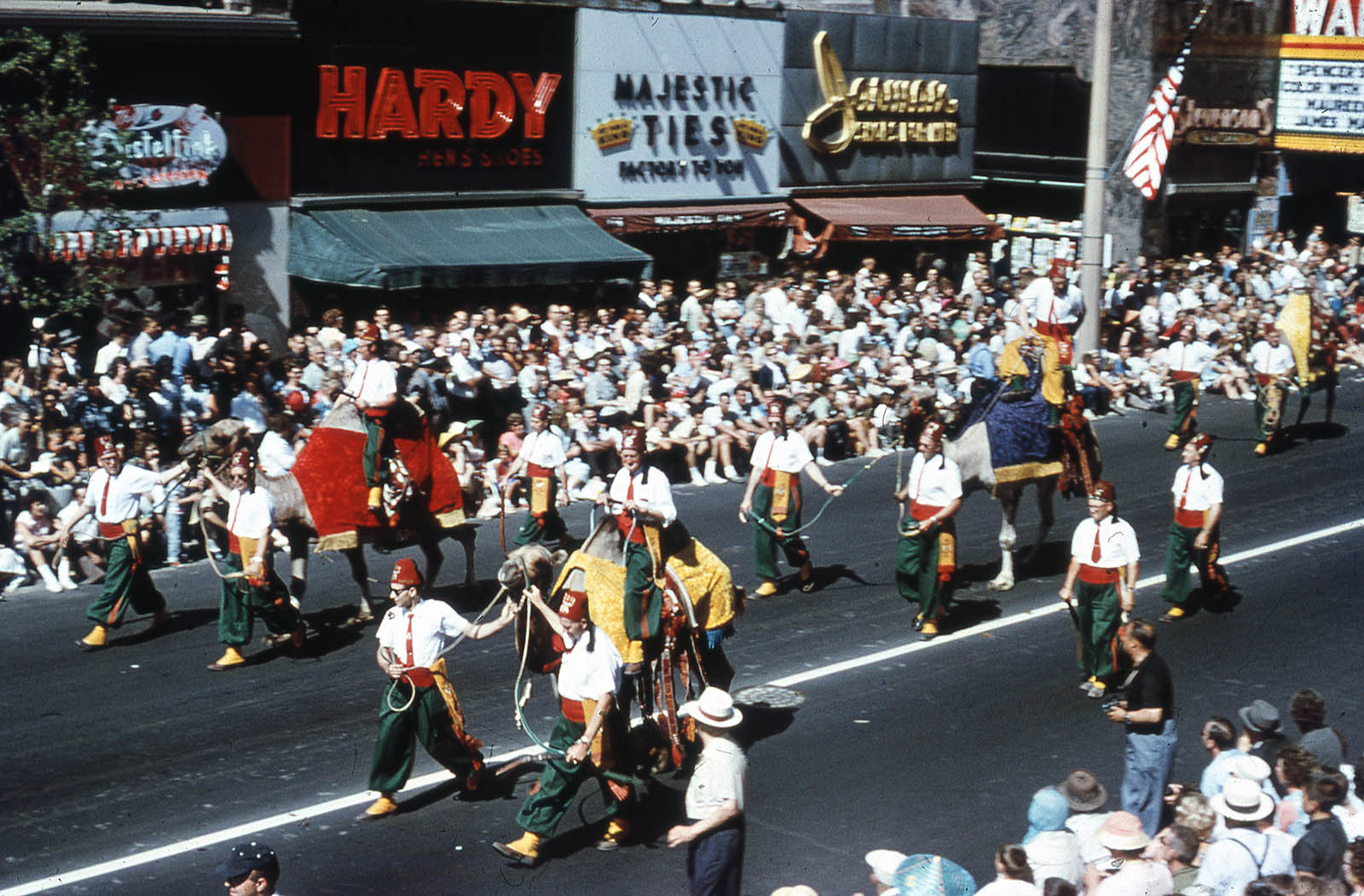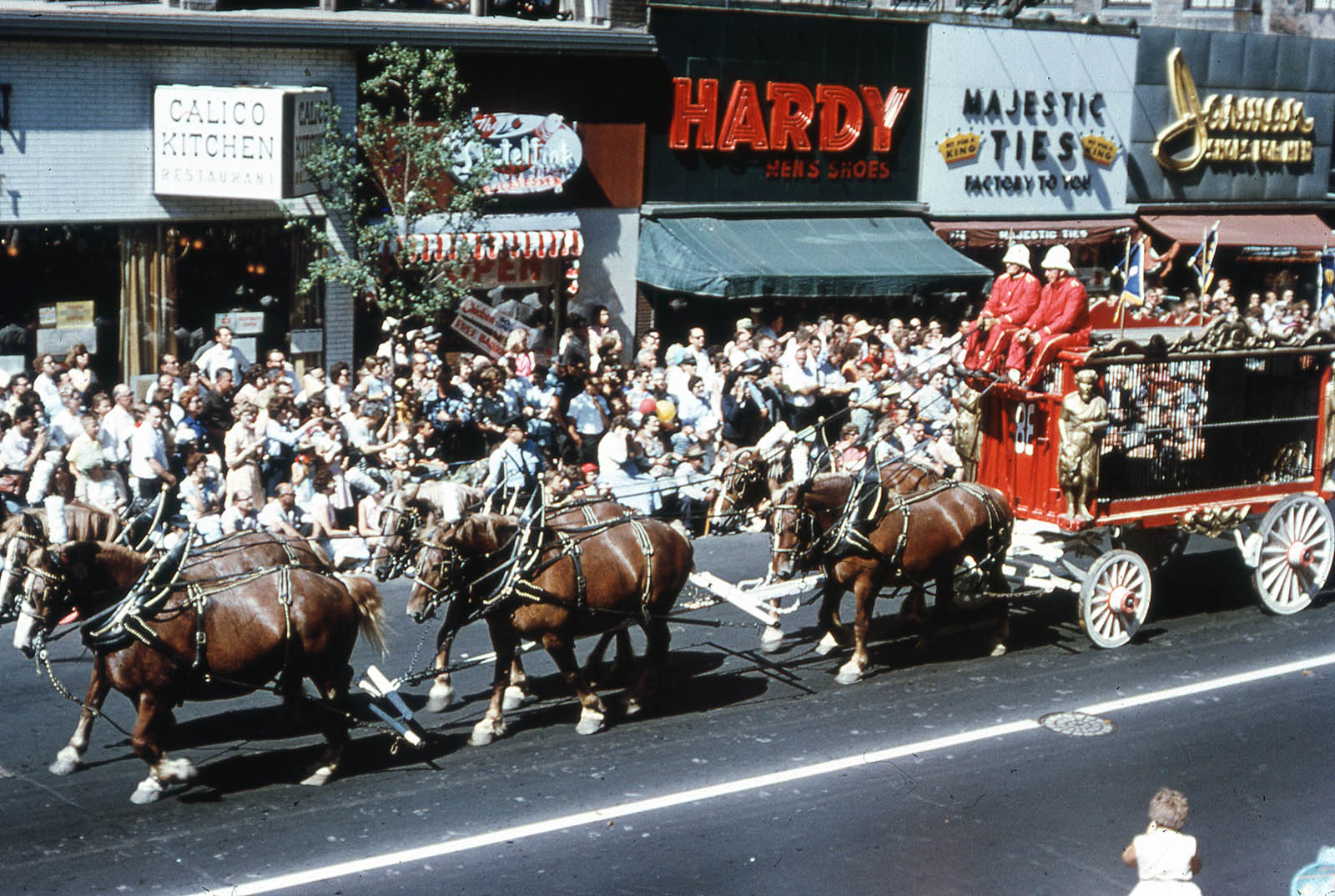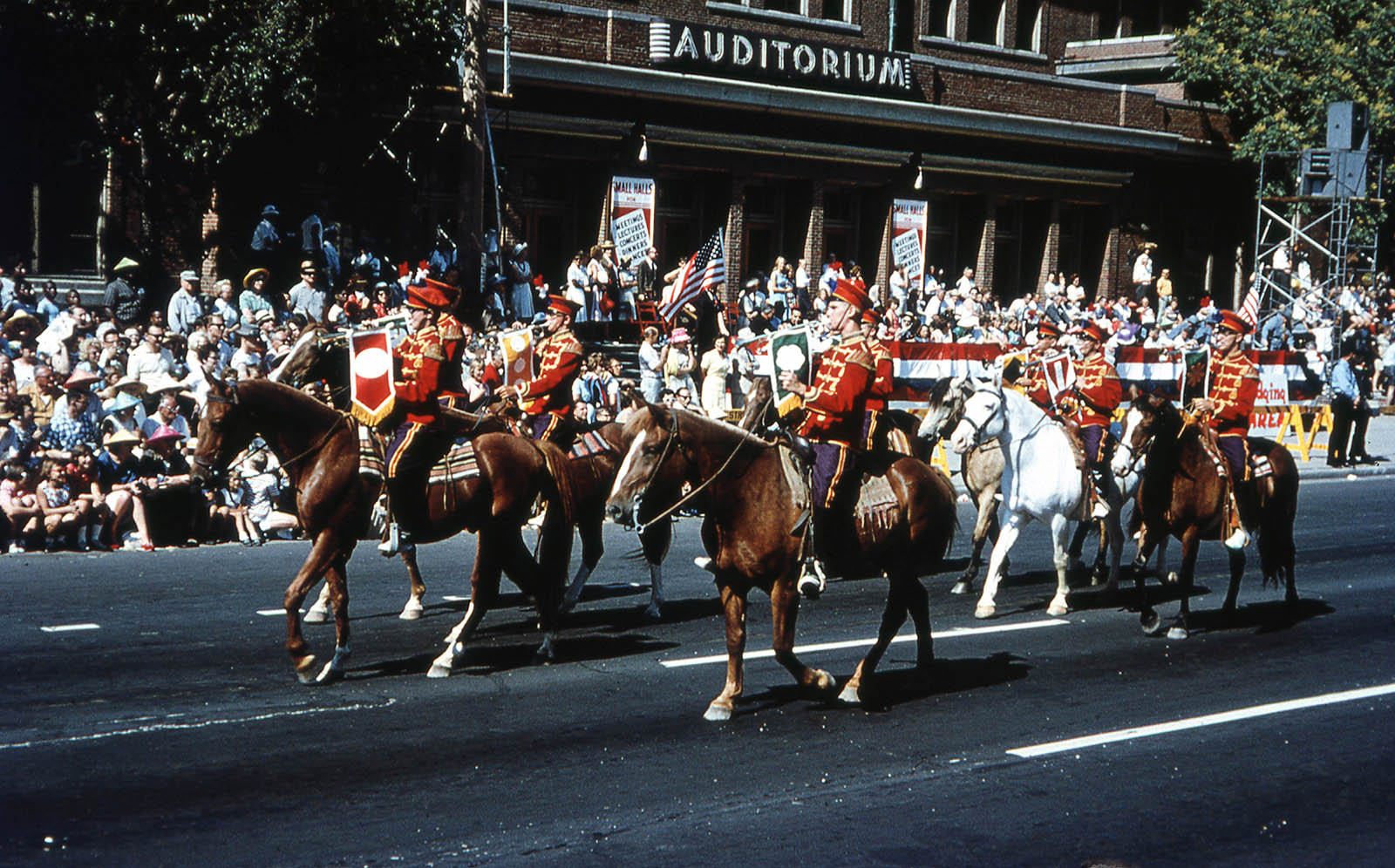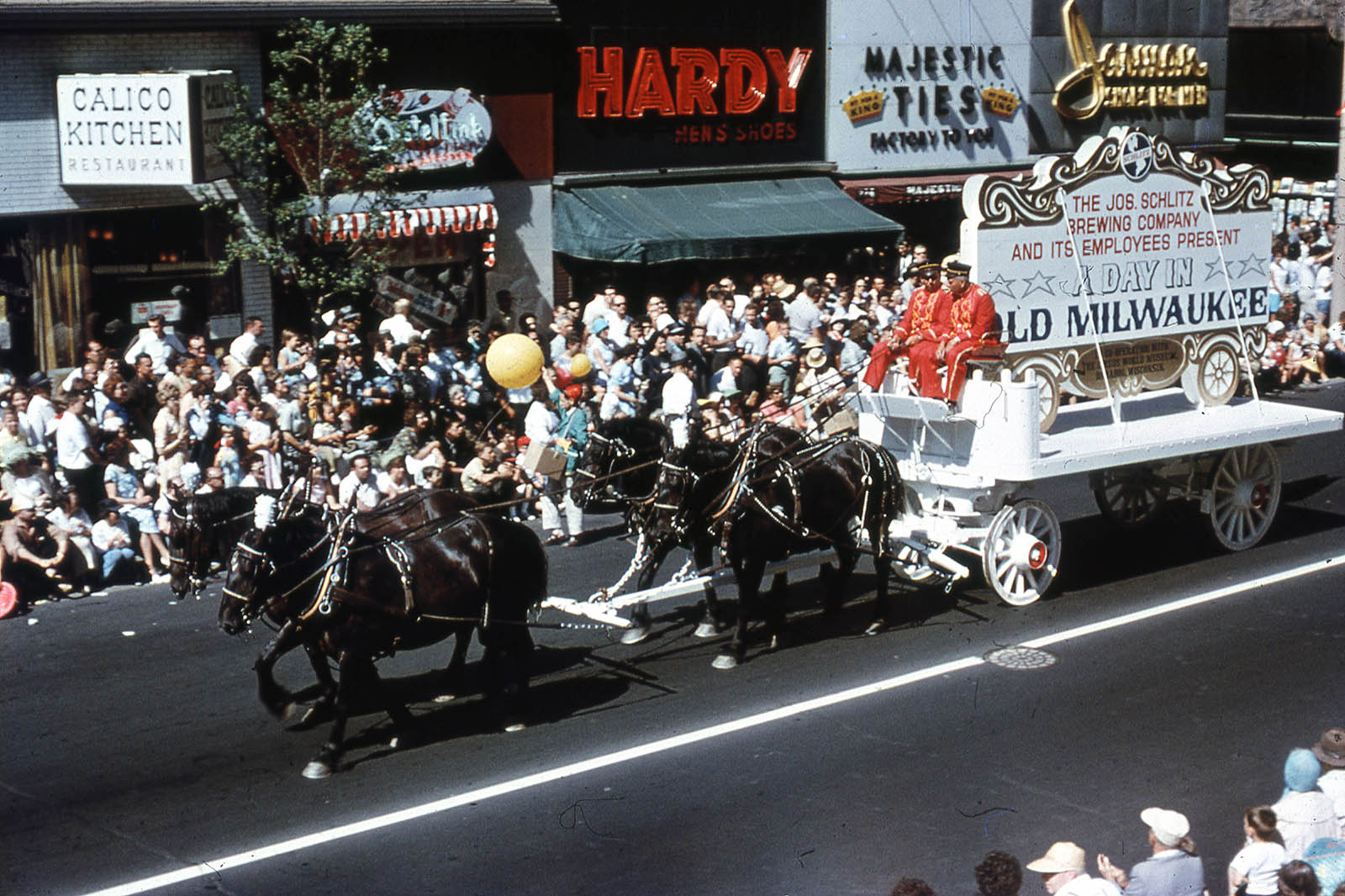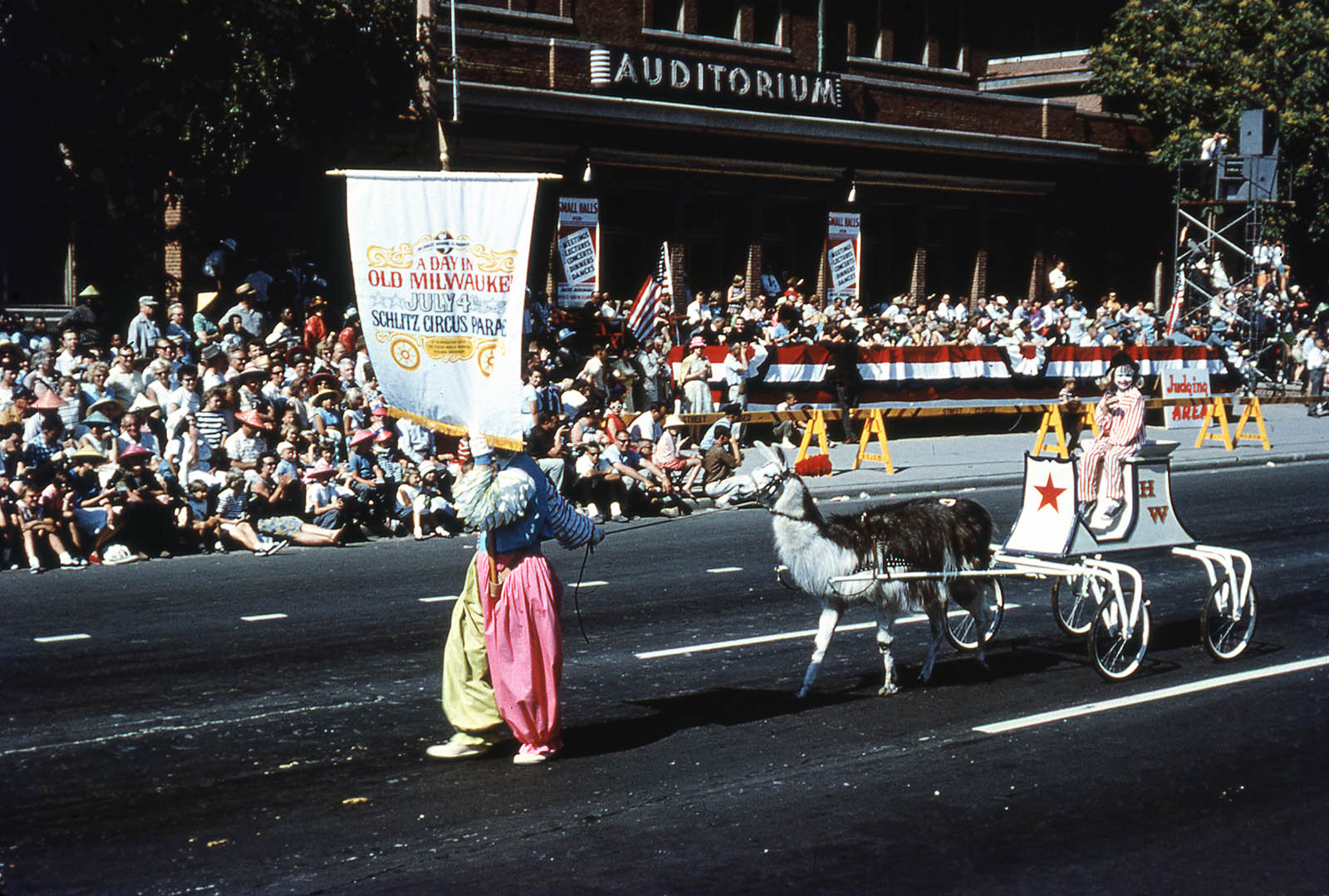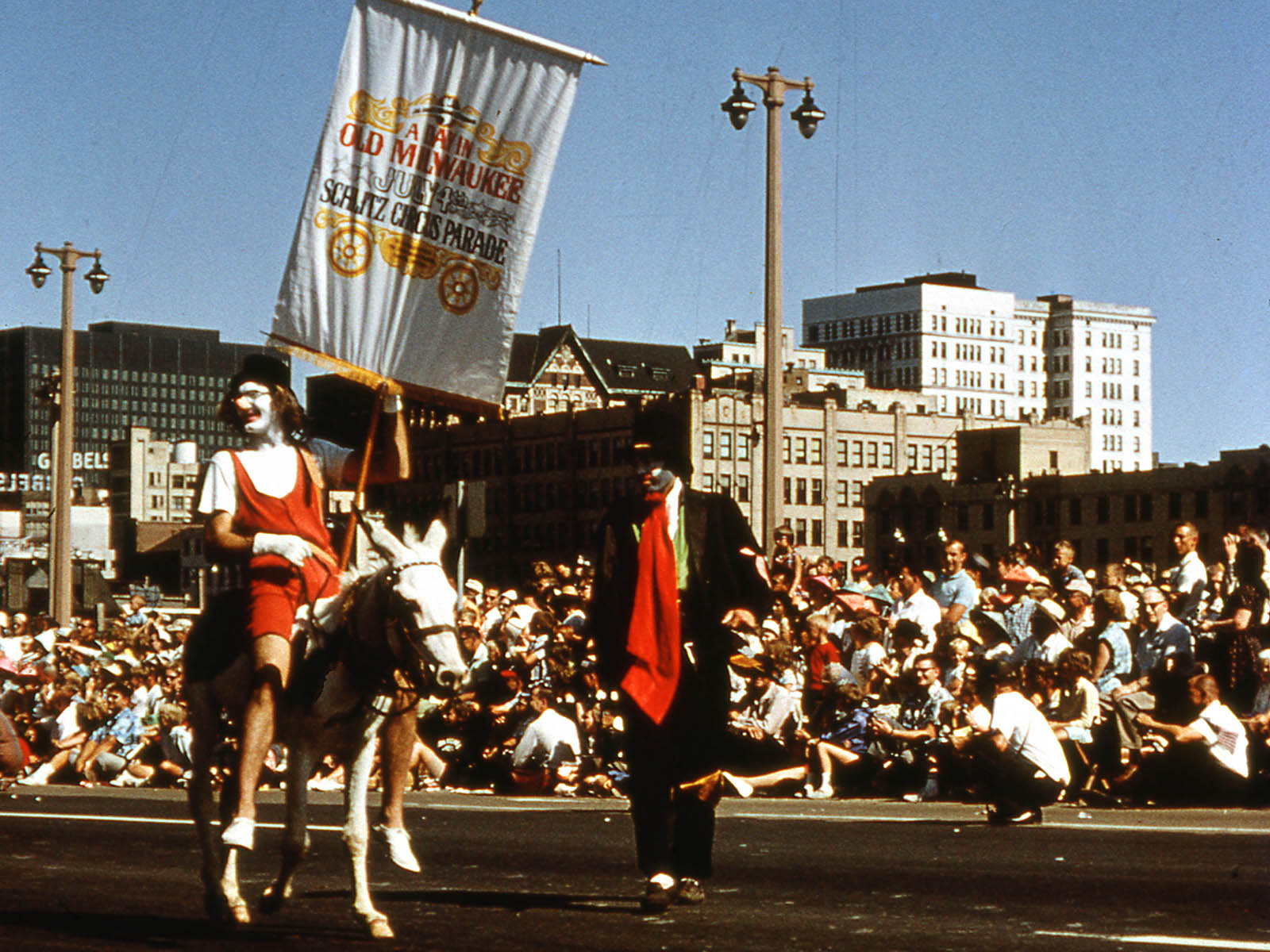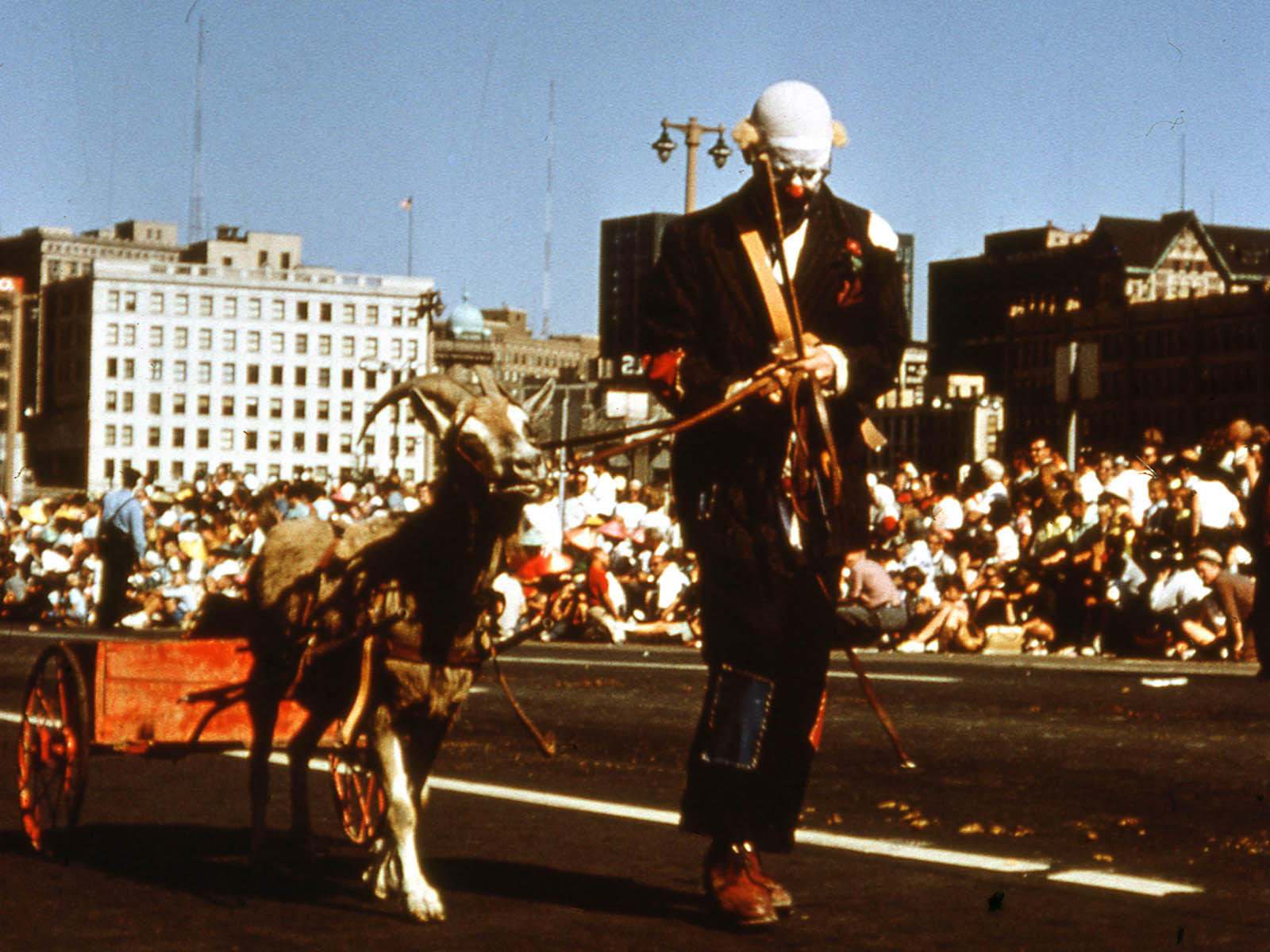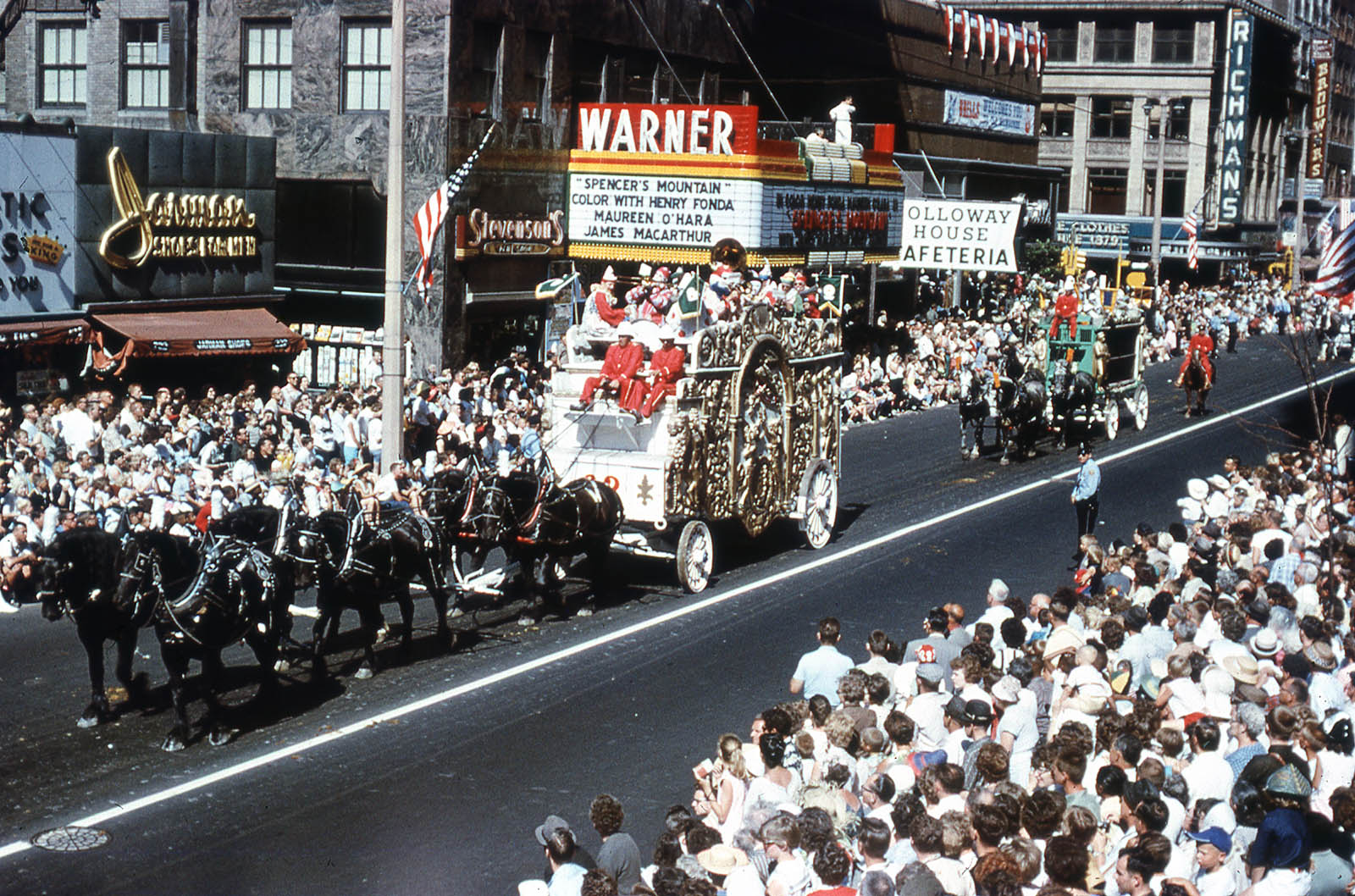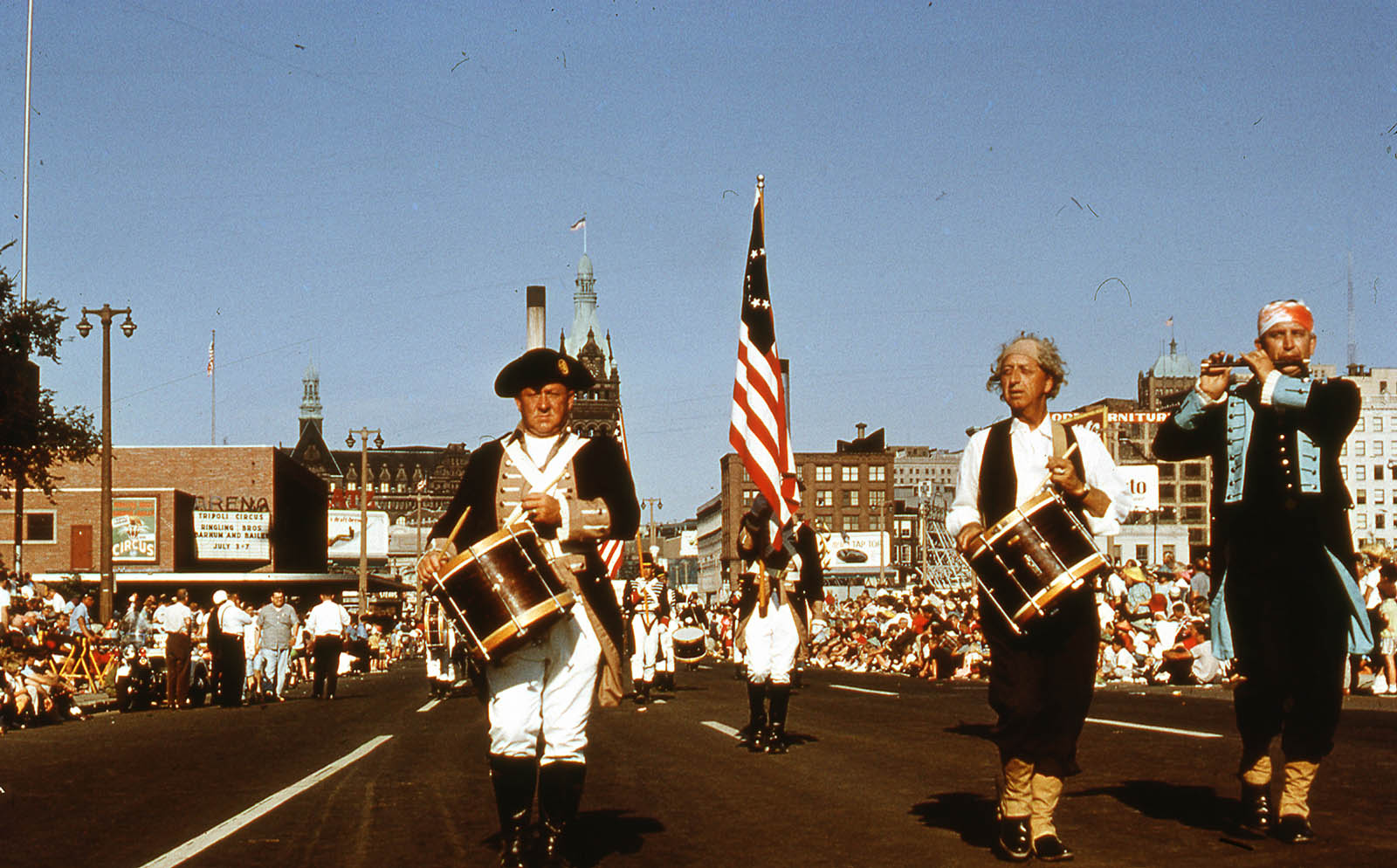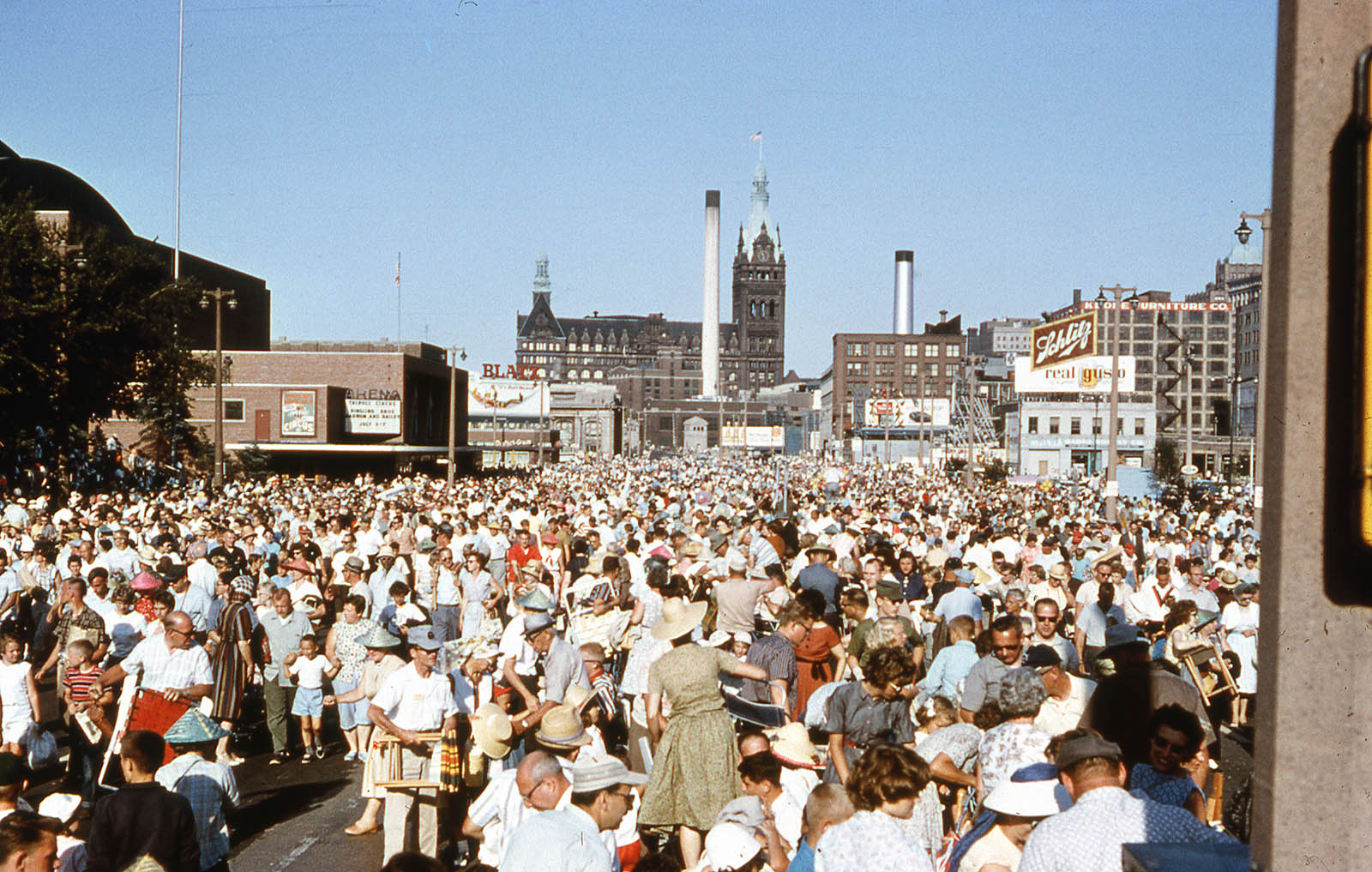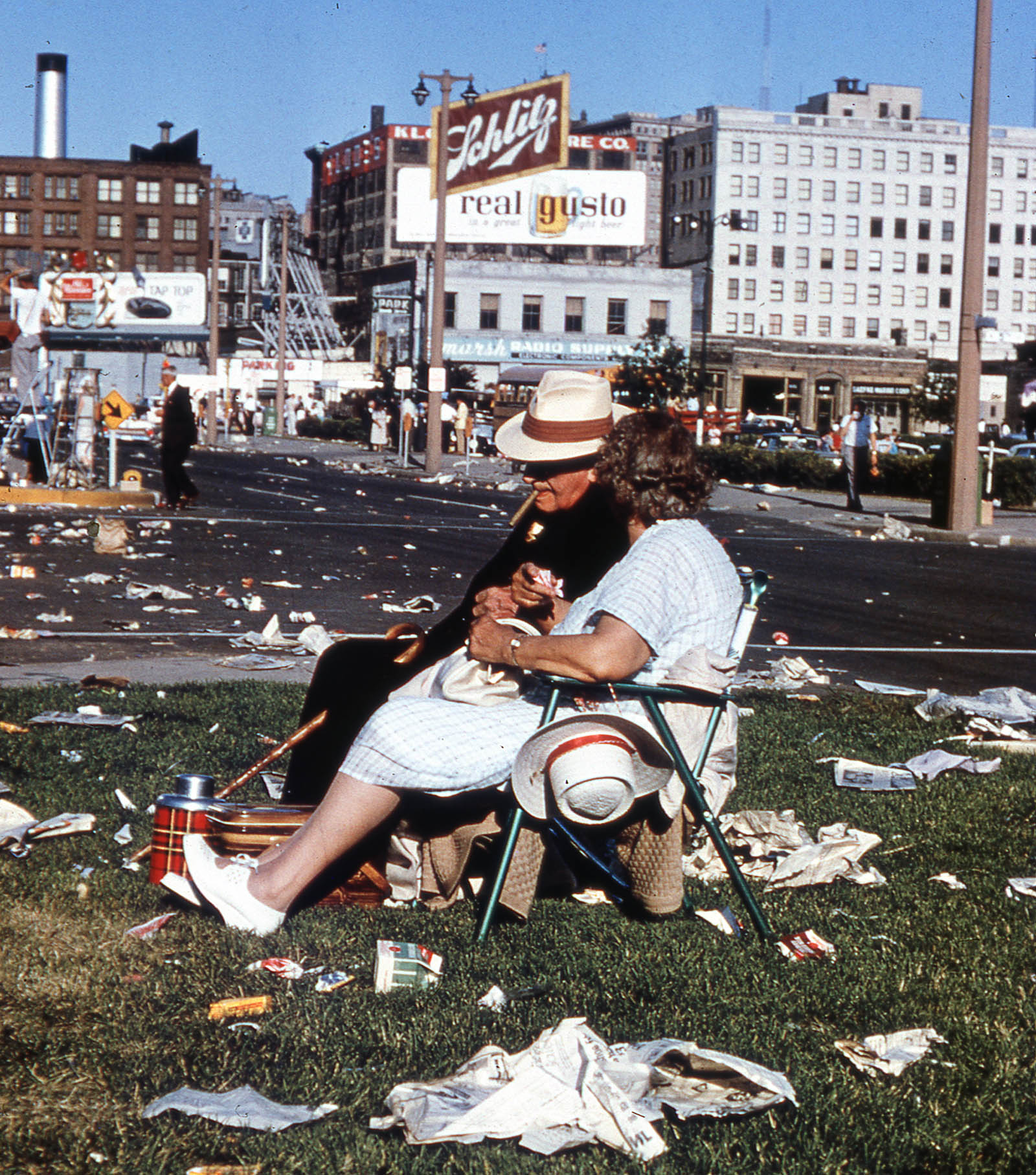 Born in Brooklyn, N.Y., where he lived until he was 17, Bobby received his BA-Mass Communications from UWM in 1989 and has lived in Walker's Point, Bay View, Enderis Park, South Milwaukee and on the East Side.
He has published three non-fiction books in Italy – including one about an event in Milwaukee history, which was published in the U.S. in autumn 2010. Four more books, all about Milwaukee, have been published by The History Press.
With his most recent band, The Yell Leaders, Bobby released four LPs and had a songs featured in episodes of TV's "Party of Five" and "Dawson's Creek," and films in Japan, South America and the U.S. The Yell Leaders were named the best unsigned band in their region by VH-1 as part of its Rock Across America 1998 Tour. Most recently, the band contributed tracks to a UK vinyl/CD tribute to the Redskins and collaborated on a track with Italian novelist Enrico Remmert.
He's produced three installments of the "OMCD" series of local music compilations for OnMilwaukee.com and in 2007 produced a CD of Italian music and poetry.
In 2005, he was awarded the City of Asti's (Italy) Journalism Prize for his work focusing on that area. He has also won awards from the Milwaukee Press Club.
He can be heard weekly on 88Nine Radio Milwaukee talking about his "Urban Spelunking" series of stories.