March is "Bar Month" on OnMilwaukee. Get ready to soak up more bar articles, imbibable stories and cocktailing content all month long. For more of our Bar Month stories click here!
While Budweiser might be more nationally famous for its team of wagon-towing Clydesdale horses, many Milwaukeeans surely recall when our own Schlitz Brewing Co. proudly rolled out its 40-horse hitch for special events like the Circus Parade.
Even though the horses and the Circus Parade are a thing of the past – like Schlitz Brewery (though the brand still survives) – I thought folks might enjoy a little clop down memory lane.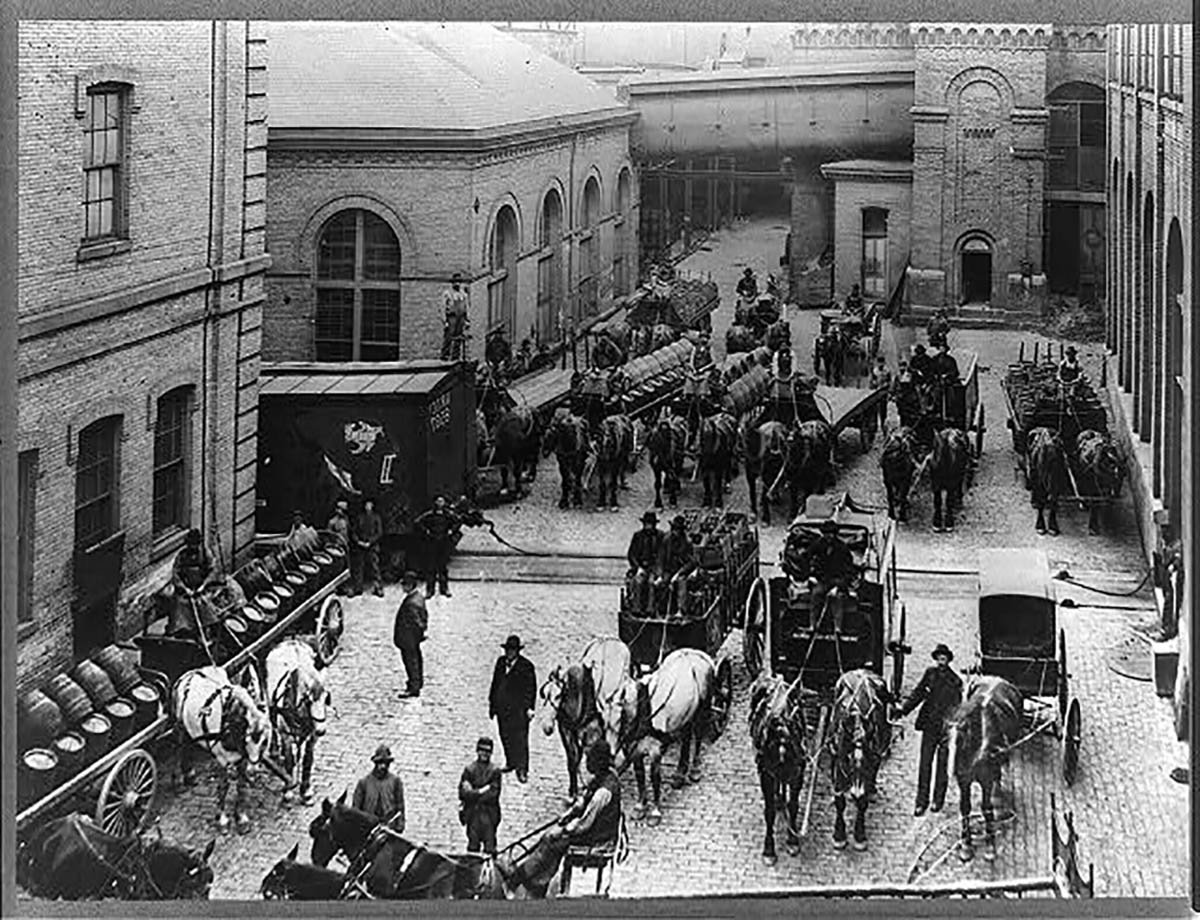 In the 19th and early 20th century, Schlitz, like all breweries (and most other businesses), used horses to pull its wagons that not only moved supplies and ingredients hither and yon but also delivered barrels of beer to saloons around the city.
Many of those saloons were tied houses built and owned by the brewery but leased to operators who sold only their landlord's beer.
At least one of those wagons survives in the collection of a passionate local Schlitz memorabilia collector. (He's looking to find a good home for the restored wagon; email me if you're interested. Serious inquiries only, please.)
In addition to the gorgeous cream city brick stables building – with its protruding painted terra cotta horse heads (as seen in the photo below, courtesy of Historic Milwaukee Inc.) – that can still be seen on Pleasant Street, where it's now an office building, Schlitz had its own horse pasture. Schlitz had stables – as well as tied houses and breweries – in other cities, too.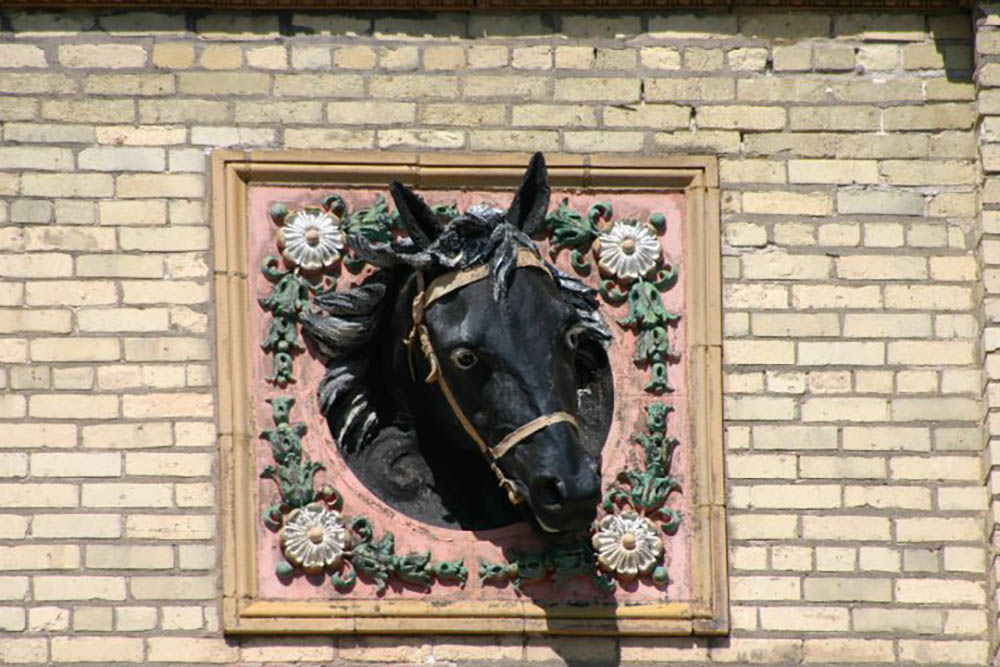 Nine Mile Farm was created from a consolidation – between 1885 and 1902 – of adjacent lands owned by Uihlein family, which owned Schlitz Brewing.
(As a quick primer, August Krug founded Schlitz in 1849. When Krug died, Joseph Schlitz married his widow and took over the company. When Schlitz died in a shipwreck off the coast of England in 1875, Krug's Uihlein nephews assumed control.)
The land became a rehabilitation and recovery farm for injured Schlitz horses, as well as a home for retired animals (the brewery used Percherons to pull its wagons, according to historian Leonard Jurgensen), until the latter were replaced by motor vehicles and, in 1952, the site passed to the Schlitz Foundation. In 1971 it was donated to the National Audubon Center and two years later the Schlitz Audubon Nature Center opened there.
The Schlitz Brewing Company sponsored Milwaukee's popular circus parade and the brewery's stately horses were among the most beloved sights, beginning in 1973.
The parade was held during 30 years, beginning in 1963 and ending in 2009. It restarted in 1985 after a decade-long hiatus.
The hulking Elmer "Dick" Sparrow was the man in charge of the 40 horses – 10 rows of them, four to a row, pulling the impressively built and decorated Schlitz Circus Bandwagon."
In later years, Sparrow's team pulled the famous Two Hemispheres wagon, but that was after Schlitz no longer was a sponsor, according to Jurgensen.
"The gargantuan but ornate Two Hemispheres wagon," wrote the Tampa Bay Times in 2005, "has no doors or cargo access. Back in 1904, the last year 40 horses tugged this Goliath in circus parades across the country, it carried 28 musicians. Built for Barnum & Bailey in 1902, it takes up twice as much space as a regular wagon on a railroad flatcar.
"On the eastern hemisphere side are the gilded seals and flags of Austria, France, Germany, Great Britain, Italy and Russia; the western side sports symbols of Argentina, Brazil, Canada, Chile, Mexico and the United States."
Sparrow, who had a horse farm in Iowa, took the show on the road when the Circus Parade ended its first run in Brew City, bringing the horses to events across the country – including the Cotton Bowl Parade – until 1977, when soaring costs led him to sell the team.
Here is a video showing the hitch near the Sparrow farm in Iowa in 1993:
But he continued to appear in future Great Circus Parades with less gargantuan teams of horses. In fact, Sparrow and his son Paul participated with the horses in the parades after its return in 1985, continuing into the 1990s and early 2000s.
The elder Sparrow died in 2010, the year after the parade ended its second run.
In 1989, Paul – whose team was once again populated with towering Belgians – told Farm Show magazine that it was a team unique in the world.
"Sparrow says he looked at about 5,000 horses before assembling 57 of them and selecting the hitch from that pool," wrote the magazine. "General Foods is paying him $120,000 to do the Milwaukee parade.
"'When you consider the cost of the horses, feed, labor, transportation, equipment and insurance, I've spent a lot more than $120,000,' says Paul. Each horse eats 15 pounds of grain and 30 pounds of hay a day."
They also had to hire a team of humans to train and tend to the horses, to help transport them and to ride on the wagon.
"It's important to have people who know what to do if something goes wrong," he told Farm Show. "For example, the horses could act up, the lines could get tangled or a child could run out under the horses. When we're in training the crew drives by the horses with cars, honking horns and lighting firecrackers, to prepare them for the crowded parade route.
"The lead team will be 125 feet from the driver, so there will be times while turning corners when the driver won't be able to see the lead horses. We'll use two-way radios to maintain continuous communication between the driver and outriders."
Back when I was a kid visiting Milwaukee, one could still tour the Schlitz Brewery and you could get postcards (like the one at the top) showing the 40-horse team, too.
Alas, Schlitz was sold to Stroh Brewery Company in 1982 and the Milwaukee brewery was shuttered.
Fortunately the parade returned and continued for 20 years, though now, sadly, it, too, has passed into history.
Enjoy this video of the Schlitz 40-horse hitch in the 1989 Circus Parade:
Born in Brooklyn, N.Y., where he lived until he was 17, Bobby received his BA-Mass Communications from UWM in 1989 and has lived in Walker's Point, Bay View, Enderis Park, South Milwaukee and on the East Side.
He has published three non-fiction books in Italy – including one about an event in Milwaukee history, which was published in the U.S. in autumn 2010. Four more books, all about Milwaukee, have been published by The History Press.
With his most recent band, The Yell Leaders, Bobby released four LPs and had a songs featured in episodes of TV's "Party of Five" and "Dawson's Creek," and films in Japan, South America and the U.S. The Yell Leaders were named the best unsigned band in their region by VH-1 as part of its Rock Across America 1998 Tour. Most recently, the band contributed tracks to a UK vinyl/CD tribute to the Redskins and collaborated on a track with Italian novelist Enrico Remmert.
He's produced three installments of the "OMCD" series of local music compilations for OnMilwaukee.com and in 2007 produced a CD of Italian music and poetry.
In 2005, he was awarded the City of Asti's (Italy) Journalism Prize for his work focusing on that area. He has also won awards from the Milwaukee Press Club.
He can be heard weekly on 88Nine Radio Milwaukee talking about his "Urban Spelunking" series of stories.