Maybe you can help solve a Beer That Made Milwaukee Famous mystery.
Last year, Laura Coffey Medina and her husband Michael Medina bought a gorgeous, triangular former Schlitz tied house tavern at 9401 S. Ewing Ave. on Chicago's South Side that they are working to reopen sometime this year.
Designed by architect Charles Thisslew and likely built in 1907, the saloon was one of nearly 60 that the Milwaukee brewer erected in the Windy City. Five of the surviving examples – not counting this one – were landmarked by the city in 2011.
(PHOTO: East Side Tap)
Just as Schlitz tapped Milwaukee architects like Charles Kirchhoff to design its hometown tied houses, it hired Chicago architects – like Thisslew, Kley & Lang and Frommann & Jebsen – to draw the ones located there.
"At the time it would have been one of many taverns serving thousands of workers in one of Chicago's largest industrial complexes," wrote Eric Allix Rogers in a great post about the building, which was long called the Bamboo Lounge and is now the East Side Tap. "Employees of Youngstown Sheet & Tube, Great Lakes Dock & Dredge, US Steel's massive South Works, and countless other concerns might have stopped by for a pint after a shift.
(PHOTO: East Side Tap)
"Tied houses used distinctive and high-quality architecture to carve out brand identity and convey an air of respectability. Their substantial buildings were nearly always sited on valuable real estate at prominent corners, where the side doors that could be kept open overnight and on Sundays just so happened to face a street too."
The Ewing Avenue tavern has many surviving details of that high-quality approach, including a terra cotta belted Schlitz globe displayed prominently on its front, original tin ceilings, original glass wall sconces, a stunning back bar and objects like a candlestick phone so old it doesn't even have a dial and a sign dating likely to the 1930s declaring the place a "union bar."
(PHOTO: East Side Tap)
"The building retains many of its beautiful original features," Medina told me. "We are keeping and refurbishing everything original we can."
However, one prominent thing is now gone: the large, arched Schlitz globe stained glass window from the Ewing side of the building.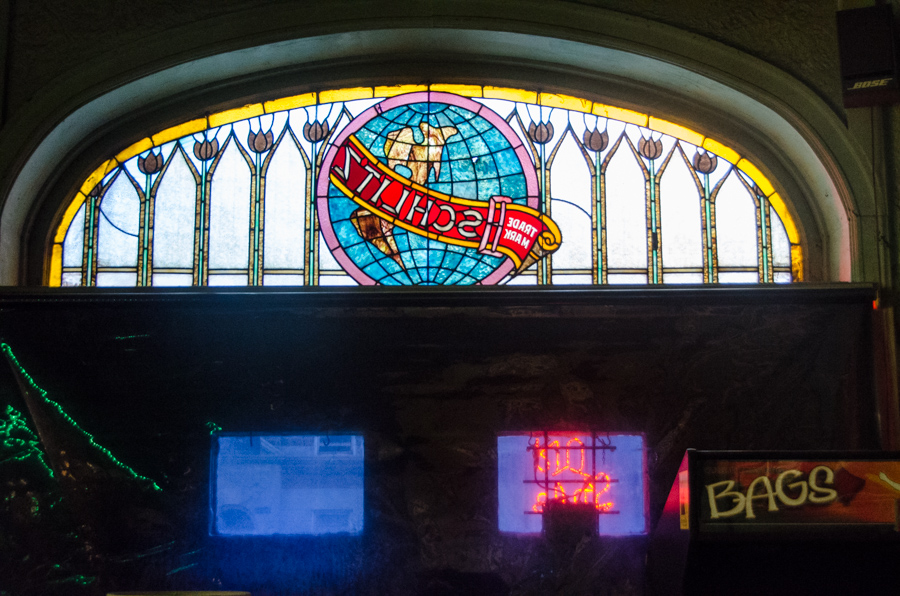 The missing window. (PHOTO: Eric Allix Rogers)
"The tavern was owned and run by the same family from the 1970s until 2016," Medina says. "Then it was sold it to a small group of investors in the neighborhood that purchase old properties and hold onto them.
"At some point between 2016 and January 2017, the original stained glass Schlitz window was removed from the bar. After that, the building sat unaltered and unused until we bought it from the investor group in 2019."
It's unclear who removed and sold the window.
Medina has heard that the stained glass window was sold to a collector in Milwaukee, but that's just a rumor. Maybe.
"We don't know," says Medina, "but we've heard this from multiple people."
Despite the fact that a number of former Schlitz tied houses survive in the Windy City, that window was the last remaining Schlitz tied house stained glass window in Chicago, Medina says.
"So this is extremely sad from a historical standpoint, especially since all the other tied houses are landmarked and we want to landmark ours, as well," Medina says.
If you have the window or know who does, please contact the Medinas via the Facebook page for the tavern and I will connect you to Medina.
"We are planning to have it recreated if we can't recover it," she says, "but obviously the original is what belongs on the building for all time."
Update
After this story appeared, word spread fast and though numerous leads have yet to turn up the actual window, something amazing did emerge...
Eric Suevel says he got the window pattern from the designer – whose name he doesn't recall – many years ago. The artist, who was living in the Crown Point, Indiana, area at the time, was well into his '90s, Suevel guesses.
According to tavern owner Coffey Medina, "This man had done all of the stained glass windows for the Schlitz buildings. They were a few different patterns, although similar to each other. The pattern Eric has in his studio, though, is the very pattern the artist had used to do our window."
The artist even had some vintage windows.
Suevel says he's confident he could recreate the window from the pattern, upon which each shard of glass was numbered by the artist.
"If I can better pictures (of the window) I can probably get the actual glass. It's all Kokomo glass, (which is) made in Kokomo, Indiana."
Suevel says that he never knew to which tavern the pattern was related, until he read this article.
"I'm just glad it might come to use to help someone. It's wonderful when old things like the bar are bought and brought back to life. So much history."
Coffey Medina is encouraged by this amazing find and says she now has an artist who could help her put a window – if not the window – back into its rightful place.
"If we can't get the old one back, absolutely," she says. "He is mega talented. His studio was so impressive. He can help us restore ours too if we get it back."
Born in Brooklyn, N.Y., where he lived until he was 17, Bobby received his BA-Mass Communications from UWM in 1989 and has lived in Walker's Point, Bay View, Enderis Park, South Milwaukee and on the East Side.
He has published three non-fiction books in Italy – including one about an event in Milwaukee history, which was published in the U.S. in autumn 2010. Four more books, all about Milwaukee, have been published by The History Press.
With his most recent band, The Yell Leaders, Bobby released four LPs and had a songs featured in episodes of TV's "Party of Five" and "Dawson's Creek," and films in Japan, South America and the U.S. The Yell Leaders were named the best unsigned band in their region by VH-1 as part of its Rock Across America 1998 Tour. Most recently, the band contributed tracks to a UK vinyl/CD tribute to the Redskins and collaborated on a track with Italian novelist Enrico Remmert.
He's produced three installments of the "OMCD" series of local music compilations for OnMilwaukee.com and in 2007 produced a CD of Italian music and poetry.
In 2005, he was awarded the City of Asti's (Italy) Journalism Prize for his work focusing on that area. He has also won awards from the Milwaukee Press Club.
He can be heard weekly on 88Nine Radio Milwaukee talking about his "Urban Spelunking" series of stories.