After a long day, what better way to unwind then going out to the bars with your friends and participating in some trivia? It is a great way to socialize, test your knowledge, win prizes while getting the best deals on drinks and food.
So, get prepared to see if your trivia teams rise to the top or completely fall to the bottom of the rankings, but no matter how it goes, be ready for some fun!
Trivia nights taken place everywhere around Milwaukee throughout the week. Here are at least 20 you can check out around the city.
1. Blackbird Bar
3007 S. Kinnickinnic Ave., Thursdays at 7 p.m.
Pick your smartest friends and assemble a group for team trivia. Each week Blackbird has sponsors like Lakefront Brewery and Great Lakes Distillery that provide prizes along with a loser's choice category that can range from '90s boy bands to art history. Challenge your friends to trivia, then play pinball and arcade games afterward.
Gather the squad for team trivia at Black Irish Rose every Wednesday night. While you're there, you can get your grub on with $1 burgers and two-for-one Water Street Brewery taps to go with it. Stop on by for a fun-filled night.
3. Caffrey's Pub
717 N. 16th St., Mondays at 9 p.m.
Head out to Marquette's campus to see how much you know about movies, politics, music, sports and more. Put together a team and pay $1 per member to participate. As you play trivia, you can drink up and enjoy $3 Long Islands, $3 Bacardi mixers and $3 big ass beers, including Caffrey's light.
4. Camp Bar
525 E. Menomonee St., Mondays at 8 p.m.
Feel at home in this Northwoods cabin atmosphere while you test your knowledge on a variety of trivia questions. There's also $10 Miller Lite pitchers and $12 microbrew pitchers if you need a little extra brain power.
5. Flannery's
425 E. Wells St., Tuesdays at 7:30 p.m.
If you can dominate at Flannery's Pub quiz trivia you could win a Flannery's gift card. As you answer questions about anything and everything, you can get $1 beef or veggie tacos and $2 chicken tacos. Wash it all down with $3.50 margaritas and Mexican cerveza.
6. Jack's American Pub
1323 E. Brady St., Tuesdays at 7:30 p.m.
Quizmaster Trivia comes to Brady Street at Jack's American Pub every Tuesday night. There are half-price pitchers, $5 tall Smirnoff cocktails and $3 Tullamore Dew shots.
Wednesday nights at Jackson's Blue Ribbon Pub are wings and trivia night. Try your best to answer all the questions and eat as many $0.50 wings you can. Grab some $2.50 domestic bottles and have a fun night with friends.
8. Karma Bar and Grill
600 E. Ogden Ave., Mondays & Thursdays at 7 p.m.
Test your knowledge in any and every possible topic ranging from chick flicks to sports history to geography.
9. The Loaded Slate
1137 N. Old World 3rd St., Thursdays at 8 p.m.
Thursday is not only trivia night at The Loaded Slate, it is also Mexican night! So, come out and try to win gift cards with your team, while also enjoying $1 soft tacos and $10 Coronita buckets.
10. Mcgillycuddy's
1135 N. Water St., Tuesdays at 8 p.m.
Head on over to McGillycuddy's Drink While You Think trivia Tuesday nights, with $7 domestic pitchers, $3 Dr. McGillycuddy's shots and $4 featured vodka doubles! There are $5 Reubens and corned beef sandwiches.
11. Milwaukee Ale House
233 N. Water St., Wednesdays at 7 p.m.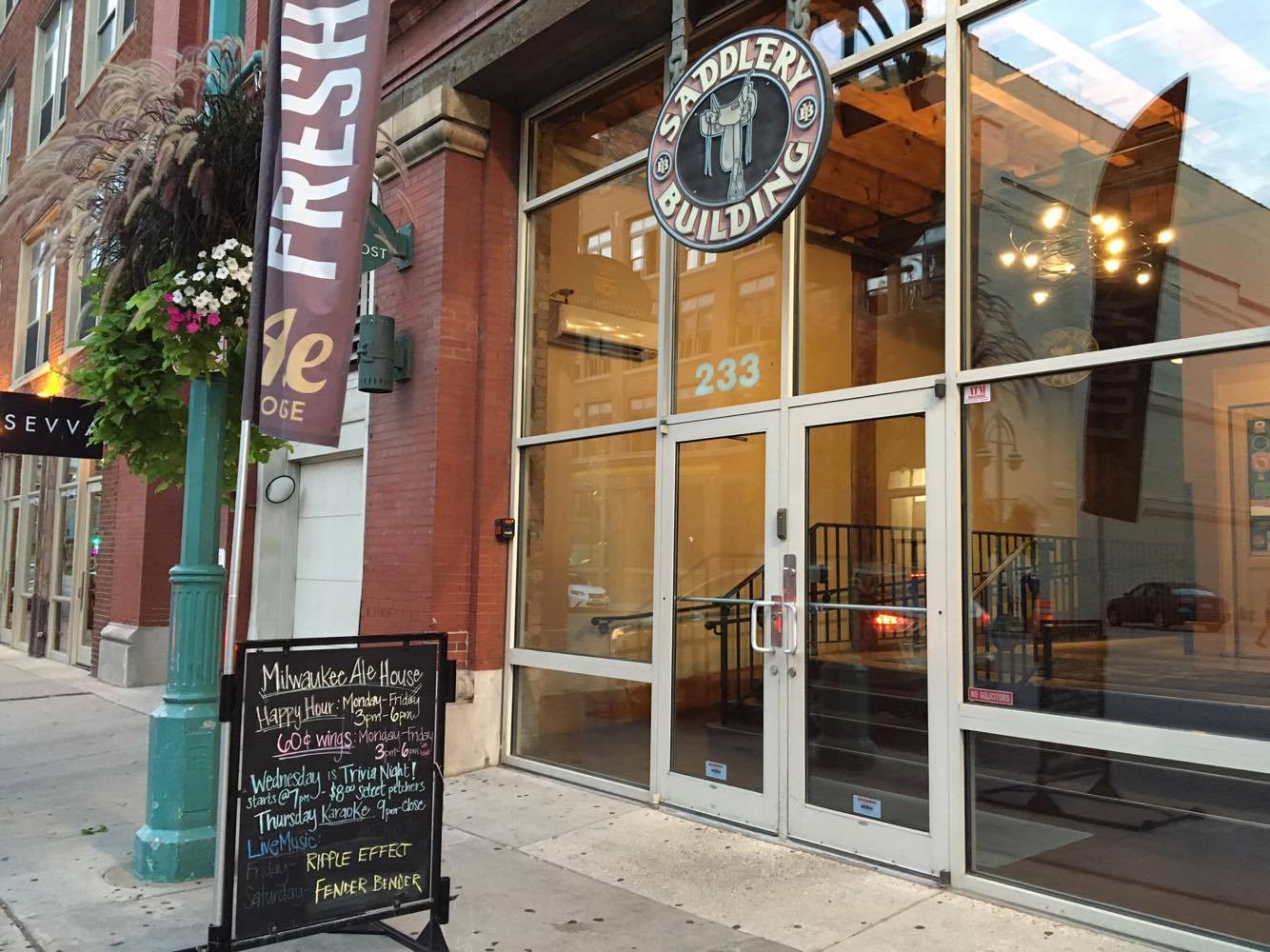 While your brain is going crazy trying to answer some tough trivia questions, you can enjoy $3 select MKE Brewing Co. beers and $8 select pitchers. If you take home the gold, you will even take some MKE beer home with you.
12. Oakcrest Tavern
4022 N. Oakland Ave., Thursdays at 8:30 p.m.
There is no size limit on teams at Oakcrest Tavern's league trivia. There are $0.65 wings, and gift card prizes for the winner.
13. Puddler's Hall
2461 S. St. Clair St., Mondays at 7:30 p.m.

Puddler's Hall is one of the oldest bars in Milwaukee. Why not head there on a Monday night to enjoy some trivia? The team trivia is free and there are prizes for the winner. Plus, Lakefront Brewery IPA is $3, so what more could you want?
14. Riverwest Public House
815 E. Locust St., Wednesdays at 7:30 p.m.
This free trivia night is hosted by Lakefront Brewery and features $9 pitchers of Lakefront beers.
15. Three Lions Pub
4515 N. Oakland Ave., Wednesdays at 8 p.m.
Not only is it Winston's Wednesday at Three Lions Pub, it's also trivia night. Put your smarts to the test while also enjoying delicious $5 British beers, $5 pudding toffee and $10 select pitchers.
16. Vintage
2203 N. Prospect Ave., Wednesdays at 7 p.m. & Sundays at p.m.
There's no limit on team members, and no limit on $2 PBR tallboys to help you think through all the questions. If you can't make it Wednesdays, be sure to come out for Trivia Mafia on Sundays.
17. Von Trier
2235 N. Farwell Ave., Tuesdays at 7 p.m.
Spend trivia Tuesday on the East Side at Von Trier. Drink up the German atmosphere and get $1 off your wurst while dominating trivia. There are also deals on bottled beers and prizes for the top three teams.
18. The Wicked Hop
345 N. Broadway, Tuesdays at 7:30 p.m.
Gather your trivia crew and head to The Wicked Hop every Tuesday. Your team gets half-price bottles of wine while you work through the questions.
19. The Winchester
2321 N. Murray Ave., Thursdays at 7 p.m.
(PHOTO: Leslie Peckham)
Our very own Nick Barth hosts Wisconsin's Hardest Trivia each week at The Winchester. It's free to play so come on by with your friends, say hi to Nick and see if you can conquer his challenging questions. There are also $0.50 wings and ladies' night drink specials.
20. World of Beer
418 N. Mayfair Rd., Wednesdays at 7 p.m.
Head here Wednesday to compete in the World of Beer trivia challenge. If you win, you will not only earn bragging rights, but also a WOB gift card to enjoy.