What's in a restaurant? In this series, we ask chefs around the city to describe their restaurants in their own words and recommend three dishes that embody the best of what they offer. In this edition, we talk with Chef Mike Holz of Brunch, who released a new menu for the breakfast and brunch spot last week.
Brunch
800 N. Plankinton Ave.
(414) 210-5381
brunchmke.com
"When I think of brunch, I think of friends and family going out, spending time together and forgetting about the work week and focusing on just having fun," says Chef Mike Holz of Brunch.
"I really try to create a menu that showcases different flavors and ingredients that really promote sharing, and that go well alongside maybe a bloody mary or mimosa. We're taking common ingredients like bacon and eggs and putting them into dishes that are a bit more creative, maybe unexpected."
"I like American food, classics like biscuits and gravy. And I really try to use some of those great basics on the menu, but with twists that really make them special, interesting. I like to have a burger on the menu, and a steak. I also started off making Chinese food, so that background shows up in items like the adobo noodles and breakfast egg rolls.
"As floor manager Richard Gomez always says, Brunch is 'homestyle cooking with a gourmet twist.' And that pretty much sums it up."
1. Bacon flight
Thick cut bacon, house smoked bacon ribs and Canadian bacon ($11).
"Bacon has really come a long way in the last 10 years, from being a side dish to being the main focal point of many dishes at restaurants. We try to offer bacon in three delicious and unique ways. First we have our thick cut, honey-cured hardwood-smoked bacon that you'll find in all of our dishes and side options. Then we add our house-cured hardwood-smoked Canadian bacon. We use maple syrup in the cure for sweetness and cider vinegar for a kick. Then we add everyone's favorite: house-smoked bacon ribs. We take baby back ribs and cure and smoke them the same as our Canadian bacon until they're fall-off-the-bone tender."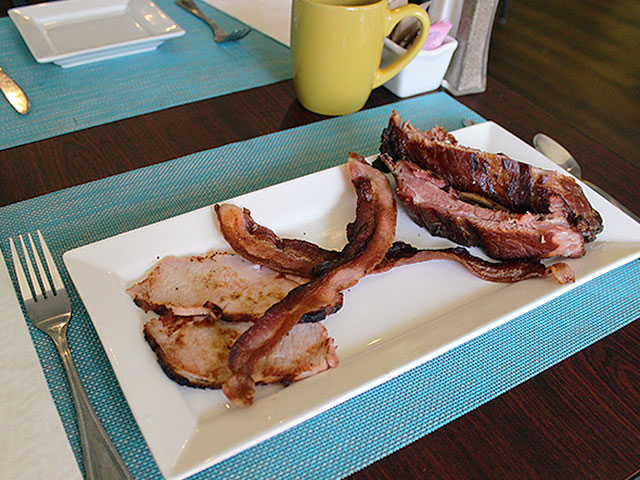 2. Biscuit and gravy Benedict
House-made sausage patties and sausage gravy, chive oil, poached eggs, biscuit muffin, served with breakfast potatoes ($13).
"One of my favorite things I do as a chef is taking two different dishes and combining them into a great meal. That's what I tried to do here. Two of my favorite brunch dishes are biscuits and gravy and eggs Benedict, so I started with a biscuit muffin, split in half and char-grilled to be soft, yet crisp on the outside. Then we add a house-ground sausage patty made with a blend of sage, peppers and seasonings to each side and soft poached eggs on top. We finish it with our house-made sausage gravy and topi it all with chive oil for color and a hint of onion. It's served with our fried breakfast potatoes. I'd also suggest topping it with our house-made Brunch hot sauce. It's hot with just a little sweetness to complement the sausage."
3. Hangover burrito
Bacon, French toast bites, scrambled eggs, maple syrup, Sriracha, flour tortilla, served with waffle fries ($12)
"I think brunch and drinking go hand-in-hand. And whether you're hungover from going out on the town Saturday night or day drinking with your friends, the hangover burrito will go perfectly with your mimosa or bloody. I start with a flour tortilla and add scrambled eggs. Then we pile on our thick cut honey-cured bacon and diced up pieces of brioche French toast. I love the flavor combination of bacon and maple syrup, so we cover everything in syrup and wrap it into a burrito. We seal it on the griddle and add our Brunch trademark. The syrup and Sriracha blend together for a sweet heat that everyone loves, and the french toast helps soak up all of your favorite Sunday funday drinks."
Brunch is open Monday through Friday from 7 a.m. to 3 p.m. and Saturday and Sunday from 8 a.m. to 3 p.m.
Lori Fredrich (Lo) is an eater, writer, wonderer, bon vivante, traveler, cook, gardener and girlwonder. Born and raised in the Milwaukee area, she has tried to leave many times, but seems to be drawn to this quirky city that smells of beer and alewives.
Some might say that she is a little obsessed with food. Lo would say she is A LOT obsessed with food. After all, she has been cooking, eating and enjoying food for decades and has no plans to retire anytime soon.
Lo's recipes and writing have been featured in a variety of publications including GO: Airtran Inflight Magazine, Cheese Connoisseur, Cooking Light, Edible Milwaukee, Milwaukee Magazine and the Milwaukee Journal Sentinel, as well as on the blog Go Bold with Butter, the web site Wisconsin Cheese Talk, and in the quarterly online magazine Grate. Pair. Share.