What's in a restaurant? In this series, we ask chefs around the city to describe their restaurants in their own words and recommend three dishes that embody the best of what they offer. In this edition, we talk with Chef AJ Dixon of Lazy Susan in Bay View. Dixon will be among six featured chefs at the upcoming Moveable Feast event at the Milwaukee Public Museum.
Lazy Susan
2378 S. Howell Ave.
(414) 988-7086
lazysusanmke.com
"I had a conversation the other day with someone," says Dixon, "And they asked me why I do so many vegetarian and vegan options when I'm not vegetarian. But, I believe that when you go out to eat, everyone should have a good meal, a full meal. I've worked in too many restaurants where a table comes in that has vegetarian, vegan or gluten-free diners, and the staff gets upset. But I'm not that person. Why wouldn't you go out of your way to just make something awesome for them?
"Lazy Susan is a place where you can go to share a meal with friends and family, no matter who you are or what you choose to eat. We aim to offer delicious, shareable portions of food in a comforting atmosphere."
1. Bread cheese
Clock Shadow Creamery Brazilian grilling cheese with prosciutto, candied mangoes, white balsamic drizzle and baby kale salad ($7).
"We have toast on our menu with various toppings. And I've used the grilling cheese for other dishes. I was trying to find a way to make a gluten-free toast; in this case, the cheese takes the place of the bread. I like the idea, and we'll be playing around with different toppings for the cheese in the future. This combination combines the saltiness of prosciutto with sweet mango. We can also make it without the prosciutto for vegetarians."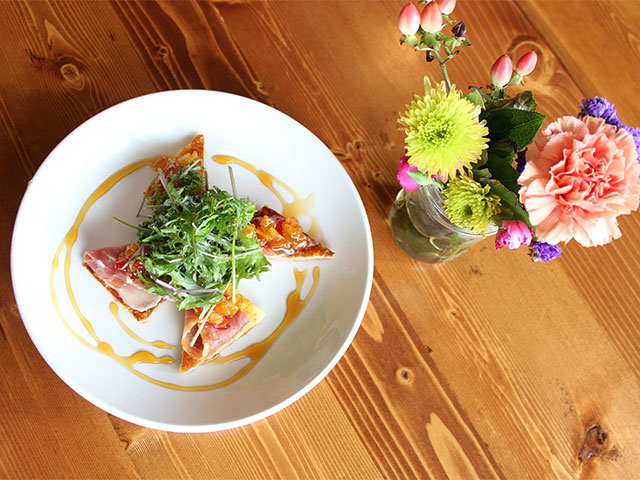 2. Albodingas
Spanish style quinoa "meatball" with sauteed spinach and saffron tomato sauce ($13).
"I did a dinner for the American Liver Foundation two weeks ago. Typically, I always get the vegan, vegetarian and gluten free table, so I was brainstorming dishes to make. I almost always have quinoa on hand, so I decided to use that. We do a lot of meatballs here, and I've occasionally made albodingas. So why not a vegan version? This is really a simple dish, and it's healthy, but it's also really delicious. In fact, I've had a lot of meat eating customers comment on how good they are."
3. Jerk shrimp
Grilled jerk marinated shrimp with cheddar popcorn grits and zesty pineapple slaw ($16).
"Everyone does shrimp and grits, and they do it lots of different ways. I also love popcorn. Popcorn grits are a pain to make, but they're buttery, cheesy and popcorny. So every now and again, I bring them out for a dish. And they work really well for this dish. I really like jerk seasoning; I love the sweet, spicy salty and acid of it, and the seasonings just go really well with the popcorn grits. As for the slaw … maybe it's the [Cafe] Lulu in me – from when I worked there – but I always love a good slaw."
Lori Fredrich (Lo) is an eater, writer, wonderer, bon vivante, traveler, cook, gardener and girlwonder. Born and raised in the Milwaukee area, she has tried to leave many times, but seems to be drawn to this quirky city that smells of beer and alewives.
Some might say that she is a little obsessed with food. Lo would say she is A LOT obsessed with food. After all, she has been cooking, eating and enjoying food for decades and has no plans to retire anytime soon.
Lo's recipes and writing have been featured in a variety of publications including GO: Airtran Inflight Magazine, Cheese Connoisseur, Cooking Light, Edible Milwaukee, Milwaukee Magazine and the Milwaukee Journal Sentinel, as well as on the blog Go Bold with Butter, the web site Wisconsin Cheese Talk, and in the quarterly online magazine Grate. Pair. Share.