What's in a restaurant? In this series, we ask chefs around the city to describe their restaurants in their own words and recommend three dishes that embody the best of what they offer. In this edition, we talk with Tyler Mason of Wayward Kitchen and Bar.
Wayward Kitchen and Bar
1407 S. 1st St.
(414) 763-1191
waywardkitchenco.com
"The goal for Wayward has really always been to be a neighborhood bar and restaurant," notes Chef Tylor Mason, who owns Wayward Kitchen with his wife Megan. "The vibe was never meant to be stuffy, but when it comes to food, we're shooting for upscale comfort food … things that are delicious but still very much things people recognize."
"I really take pride in the food I make. I love food, and that really comes out in the dishes that I make. Everything is made from scratch, and we're really focused on providing really great upscale-style food in an environment that's more relaxed. We're constantly bringing in fresh items that we work into the menu, like hatch chiles or things we find at the market."
"Wayward is a lot of things. You might stop by during brunch on the weekend, and we'll have a DJ. And you might drop by for a beer dinner, and we'll make things that are a bit more over the top. But the goal is always to create things that are accessible, that people will enjoy."
"Things have definitely evolved since we opened. As the neighborhood has developed, we've really been able to develop along with it. All the bars and restaurants here really work together, and we all support one another. It's exciting to see more and more foot traffic in the area, and it's great to see so many regulars coming back in time and time again. We're really looking forward to more of that."
1. Green eggs and ham
House-made creamed spinach, pulled ham, and two eggs (prepared your way). Served crushed potatoes and baguette. $13
"It's totally a play on Dr. Seuss, and in that way, it's something that everyone recognizes. But there's no green coloring. Instead we're using fresh spinach. This dish is really the best of brunch. It's yolky and creamy and perfect soaked up in a crisp baguette. And it's even better with a Bloody Mary."
2. Southern style mussels
Andouille sausage, fresh corn, bourbon cream sauce. Served with grilled bread. $8 (all you can eat on Thursdays from 4 to 9 p.m.)
"All of our mussels dishes tend to be really spontaneous, and they vary from week to week. In this case, we're using corn because that's fresh and delicious. And I grew up all over the place, but I spent quite a bit of time in the South. Alabama, Texas, Florida ... and this preparation really captures some of that influence."
3. Meatloaf
Bacon-wrapped meatloaf with cheese curd mashed potatoes, house-made gravy and a side of seasonal vegetables. $18
"The only reason why you don't like meatloaf is if your mom didn't make a good one. If that's who you are, this is everything that you don't remember from your childhood. It's tender. There are fresh herbs and sauteed vegetables and lots of flavor. And you get the smokiness from the bacon to boot."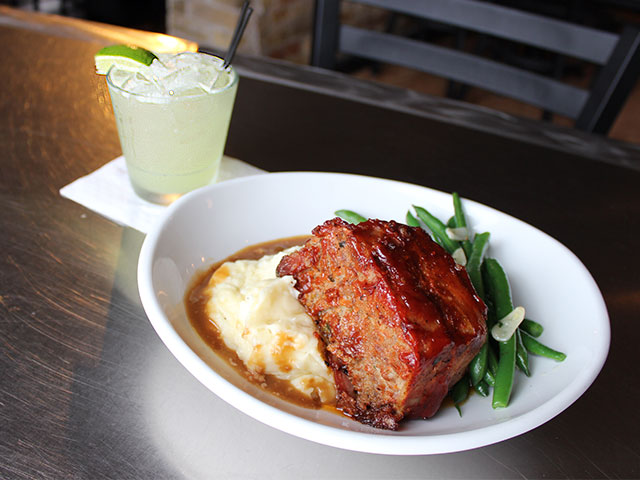 Wayward Kitchen & Co. is open Monday 11 a.m. to 3:30 p.m. (brunch menu); Tuesday, Thursday and Friday 3 to 10 p.m., Saturday from 11 a.m. to 10 p.m. and Sunday from 11 a.m. to 4 p.m.
Lori Fredrich (Lo) is an eater, writer, wonderer, bon vivante, traveler, cook, gardener and girlwonder. Born and raised in the Milwaukee area, she has tried to leave many times, but seems to be drawn to this quirky city that smells of beer and alewives.
Some might say that she is a little obsessed with food. Lo would say she is A LOT obsessed with food. After all, she has been cooking, eating and enjoying food for decades and has no plans to retire anytime soon.
Lo's recipes and writing have been featured in a variety of publications including GO: Airtran Inflight Magazine, Cheese Connoisseur, Cooking Light, Edible Milwaukee, Milwaukee Magazine and the Milwaukee Journal Sentinel, as well as on the blog Go Bold with Butter, the web site Wisconsin Cheese Talk, and in the quarterly online magazine Grate. Pair. Share.